A lot can change, and fall away, in just a few months. Just ask the thousands of restaurateurs, chefs, servers, and other hospitality industry employees — as well as customers — who have been impacted by the current state of affairs.
Yet, as the pandemic plays out, there are things the industry was thinking about pre-coronavirus that will remain relevant and continue to drive restaurant development. Conversations around identity, innovation, and customer experience were focal points, as chains hustled to meet consumers' ever-changing expectations.
In some ways, the current COVID-19 situation will only fast-track much of these discussions, instilling in chains a sense of urgency to adopt digital, delivery, and other convenience-focused initiatives.
How these imperatives will shape the future was examined during a featured discussion at RestaurantSpaces '20, shortly before the new realities of the COVID-19 outbreak really began to kick in. Moderated by Ron Ruggless, Senior Editor at Nation's Restaurant News and featuring Darla Morse, CIO for CKE; Mandy Shaw, CEO of Blaze Pizza; James Walker, SVP, Restaurants for Nathan's Famous; and Chipotle Chief Development Officer, Tabassum Zalotrawala, the dynamic mix of skill sets and backgrounds led to a dynamic exploration of what a restaurant could look like 10 years from now.
Accommodating a Changing Customer
A decade ago, few could have imagined using their phone to order a burrito, then driving to the restaurant to pick it up from a shelf, before heading home without so much as a few words or a dollar bill exchanged.
Today, that's the reality for restaurant chains around the country, driven by consumer expectations for hyper-convenience — an expectation that has accelerated significantly in recent months. With most restaurants forced to shut their dining rooms, chains have been left with few options aside from delivery and online ordering.
Failing to step up and make such sweeping, often difficult, changes, Zalotrawala said, can lead to stagnation.While Chipotle has long pioneered disruption and innovation, the last few years in particular have seen the company take a deeper look at how it operates to facilitate necessary evolution. Reshuffling its corporate makeup, hiring a new CEO, and rethinking store designs are just a few ways Chipotle has taken to revolutionize how it serves customers.
"When organizations trump opinion over data, when it's the highest paid officer that gets heard, that's a trap," she said.
To help execute company-wide shifts, Zalotrawala said Chipotle has prioritized narrowing its focus down to just five key objectives at any given time.
"Once you rally everyone around the same side, good things happen."
The shakeup has enabled Chipotle to implement a number of radical store reconfigurations across the country. Last year, the chain debuted "Chipotlanes" — a drive-thru concept for those purchasing through the company's mobile app only.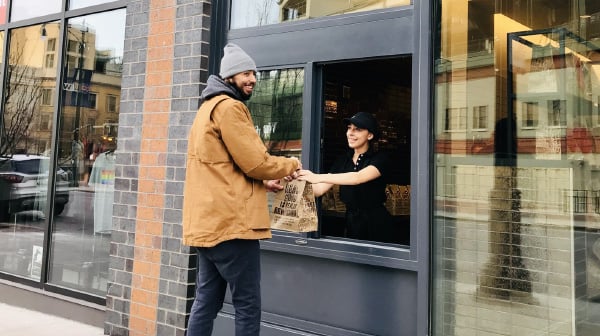 One of Chipotle's walk-up locations
Zalotrawala anticipated that by year's end nearly half of the company's new stores will have a similar drive, or walk-thru, option. That, of course, could change given the COVID-19's impact on the industry.
Additionally, as many other chains have done, Chipotle has implemented separate make lines to facilitate the greater online demand. "One thing we're super proud of is every kitchen in our 2,500 stores has a digital make line," Zalotrawala said. "It's let us reevaluate how we design our space."
Similar company evolutions have taken place at Blaze Pizza, Shaw said, pointing out that working across departments has been instrumental in the brand's ability to prepare for the future.
"We're using people as a paradigm shift," she said. "If I don't see marketing and design gathering a lot, we're doing something wrong. We're one singular voice."
That singular voice has allowed the company to improve convenience with drive-thrus, mobile pick-up, and a greater variety in products.


However, while it's obvious brands will have to adapt to keep customers happy with the restaurants of the future, staying true to who they are and where they come from is just as important.
That's certainly true for Walker and Nathan's Famous, a brand that has been around for more than 100 years.
Long-touted as "the flavor of New York," Walker notes the brand uses that statement as its "north star," influencing how the company presents itself and its products.
"Introspection is one of our primary priorities," he said. "Defining who we are and making sure we're steadfast in that. Who do we want to be, and who can we be in a way that we can monetize. We have to find something attainable and reachable."
Focus on Technology
Despite this need to stay true to brand and mission, companies must also be able to recognize the technology investments required to meet the demands of an evolving customer.
Adopting new technology, though, can be a tricky thing to achieve.
"We don't want technology that is good today, but would be outdated in five years and we'd be stuck with it," Walker said.
Morse, with CKE, said that any technology the organization puts in place must be in-line with customers' behaviors.
"We can design a lot of things, but I'm not sure we've always thought about how the guest wants to see it," she said. "We have to ensure that speed, service, accuracy and customer service is number one for us."
Morse said as well as investing in digital menu boards and other in-store tech infrastructure, the company is currently working on a new loyalty program tied to its app and online ordering options.
But it's not always easy for organizations like CKE to implement new technology based on the sheer size of the company and its franchisee base.
"How do you not scare the franchise community? It's about the partnership, you have to work together," Morse said, adding that the company has two standards when it comes to investing in technology: making sure it builds on their current customer base and that it can be successful across the board.
"For the future, we want to adapt, learn, test and rollout," Morse said.
Remaining Relevant Means Relentless Innovation
More important than just investing in the right tech, as Zalotrawala pointed out, is the need to create a company-wide culture of experimentation.
"There are, at any given moment, hundreds of experiments going on in our organization," she said. "If we conduct 10 experiments and get two successes, then it's mission accomplished."
For Blaze Pizza, recent innovations have included experimenting with drive-thrus. While not an innovation in the service industry, it is for Blaze.
But Shaw said Blaze has also had to look beyond the store, even having to adapt its product offerings in order to improve the digital experience. An example is the creation of a 14-inch pizza and different crust options, including a keto version. The larger pizza, which is only available for purchase online, allowed Blaze to better control the quality of its product for delivery purposes. Shaw noted that the smaller 11-inch pizzas don't retain their heat when delivered, while the larger pizza remains true to the company's quality standards.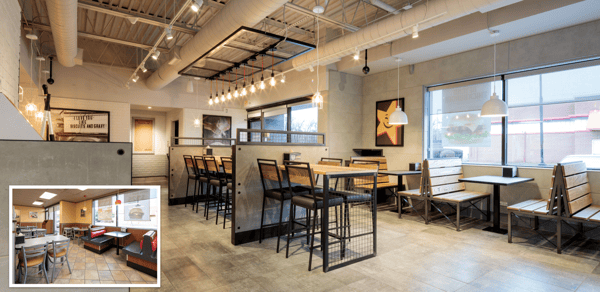 Hardee's Urban-Lite Concept #1
In today's age, prioritizing innovation to create the restaurant of the future also means chains need to think beyond the physical. Without real efforts to keep up in the digital realm, a company won't be rolling out any future restaurants at all. The aim of every chain should be to create an all-round brand experience that keeps customers coming back. Whether that experience happens inside the restaurant or through outside sources is irrelevant.
In no area is this truer than with delivery. Being serious about convenience, as this time of social distancing is proving, is a non-negotiable… as difficult as that can be.
Morse said that one concern with supporting delivery through partner companies like Postmates and DoorDash is the assurance of quality.
"Delivery is very popular, but there are concerns," she said. "I think the other piece is when you get complaints, is to stay on top of them. They are going to happen but for our brand, it's our brand, they are representing us."
Shaw echoed those sentiments, noting that Blaze works with its delivery partners to ensure they understand the brand.
"When I hand the food off, it's on you," she said. "The bar is going to get raised."
Walker said that while more chains turn to delivery, it's not all about the convenience factor.
"It's the brands who deliver an experience instead of just a meal that will win," he said. "I think it's an opportunity for late adopters to experience delivery and it's an opportunity for us to wow them with the experience. It's everything from packaging to preparation and the relationship with the third-party vendor, the technology and how you process that order."
Though restaurant chains across the nation — and the world — are currently navigating an uncertain future amid the coronavirus pandemic, there's no doubt they'll need to continue thinking about how to attract and retain customers through innovation, technology, and enhanced experiences as a new normal emerges.
---
Click here to learn more about RestaurantSpaces.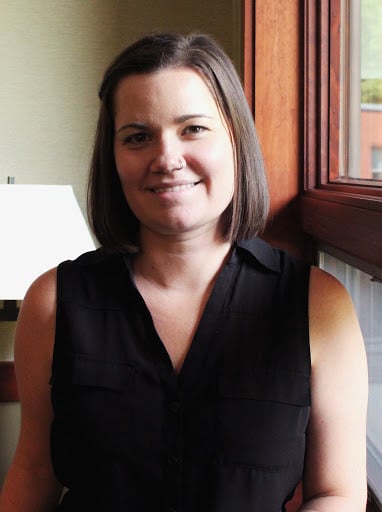 Posted by
Ashlee Kieler is an experienced multimedia journalist based in Iowa. She is passionate about telling stories about healthcare, education, retail and a smorgasbord of other topics.
Chain Restaurants Reimagined.
The Retreat to Reimagine Restaurant Development, Design + Technology.
Oct 1-3, 2023 | Miami Beach, FL
Learn More