Restaurants are expensive to build, the profit margins are razor-thin, skilled labor is getting harder to find and more expensive overall, and none of that is news to anyone. For a restaurant operator, the ability to have the upscale, highly-Instagrammable design and sophisticated food of fine dining with the operational efficiency, affordability, and throughput of quick service is something of a utopian dream. But…what if it could be reality?
This idealized restaurant concept doesn't just have to be a mere idea. In fact, Livit has implemented it themselves as one of their "lab stores." The firm's CEO Ben Calleja outlined these experimental restaurant concepts at RestaurantSpaces.
QSR in a Lifestyle Wrapping
By conducting research and focus groups all over the world, Calleja explained, Livit has learned what customers want out of a restaurant—a place that is aspirational but also affordable. They've also learned what operators want: "The traffic and throughput of QSR in a lifestyle wrapping."
Operators want their brands to be relevant but they need a great return on investment capital; they want efficiency but have problems with skilled labor, and so they would like to be highly tech-driven as well.
"With all this information you gave us we said, 'What if we could take the efficiency of QSR—affordable prices, quick service—and plugged that into a fine dining environment where you have elevated food and damn good cocktails in an aspirational setting? What would that look like?'"
Calleja's team decided to conduct their own experiment to answer that question. The firm launched its own "Fast-Fine" restaurant concepts—18|89 in Stockholm and V in Los Angeles and Malmo, Sweden—to test out how exactly a restaurant could strike that balance between fast-casual and fine dining, with high operational efficiencies and low capital expenditures.
"Our lab brief was that we wanted a fine dining environment at fast casual prices," Calleja explained. "We wanted a high throughput—measured as a guest every 30 seconds—and a high transaction capacity of 1,000 guests per day."
Their "lab stores" have tight footprints: V in Sweden is only 3,500 square feet with 200 seats inside. They also only hire team members that have never before worked in a restaurant—people who don't have the preconceived notions or the previously developed bad habits of seasoned food service workers. There are no chefs, and all team members are cross-trained on every single station so they can be shifted around as needed. In addition to having flexible staff, Livit also wanted the stores to be largely powered by technology in order to achieve profitability in high-cost markets (like Sweden).
V in Downtown Los Angeles opened last fall and has garnered recognition and accolades for its eye-catching design. Calleja said the two-story location has already become a popular one for filming and private events, and that the bathrooms are the most Instagrammed bathrooms in the United States (we'll have to just take his word on that). He proudly noted that many people in the restaurant design industry thought the 4,800-square-foot build-out of this 1925 building cost $3-3.2 million; in fact, it only cost $1.5 million, in large part because they sourced everything—furniture, granite, marble—directly from the factories and only hired out MEP.
"We're just disrupting the way we build and design restaurants," he said. "We think out of the box in how we source things and jump over a lot of the steps. We're globally connected with vendors and there's a lot of money to be saved doing that."
Flexible Labor for Optimal Efficiency
Calleja's goal was to create a concept that works from early morning breakfast to late night lounging; where people can bring their laptops and linger during the day and come in for cocktails at night. To keep their food costs low and their throughput high, the menu is a simple one, full of upscale pizzas, salads, and shareables (all items with low food costs) at fast-casual prices. A Michelin-starred chef created the menu, but it is executed on an assembly line by cross-trained employees in a 600-square-foot kitchen.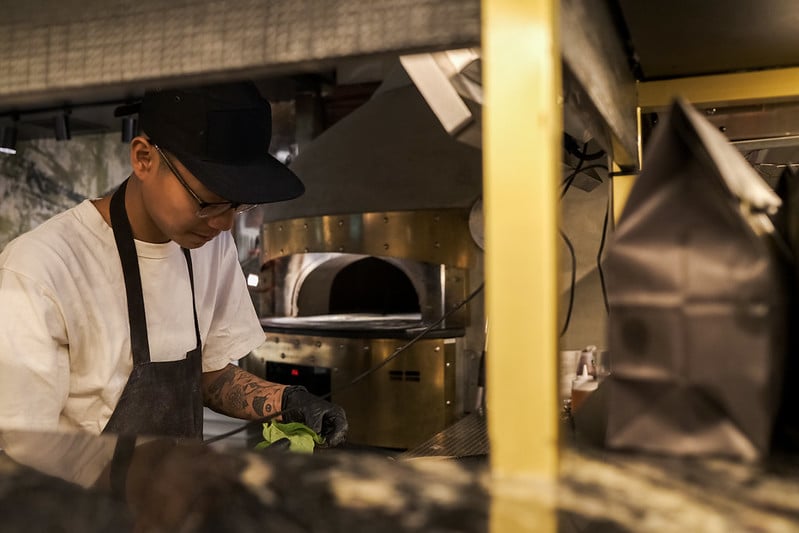 An employee in the kitchen at V, Los Angeles
Out of that tiny kitchen, they can serve 1,000 meals per day. There are no chefs, and there also aren't any mixologists: Cocktails are pre-batched with a focus on presentation—Calleja said they're all designed to be shared on Instagram Stories.
Employees self-train on an app, and the more stations they are trained on, the more money they make. The cross-training significantly improves operational efficiency: At 18|89, they are able to serve five guests per labor hour, and their calculated labor hours include cleaning, which team members also do themselves.
"That's the trick to be profitable," Calleja said. "You should be able to do eight table turns per day once you get efficiency in your rotation and your team member structure."
Using Tech to Take it Next-Level
These "lab" restaurants are also full of technology. They are packed with sensors that measure everything: the MAC addresses and Bluetooth beacons inside the store, heat-mapping, everything. They know how many cell phones are inside the store. They know where those customers come from and if they've been to the store before. They know their capture rate. They track dwell time and time value, and through that learned that half of their guests are in the restaurant for fewer than 30 minutes, with only 20 of those minutes actually spent dining.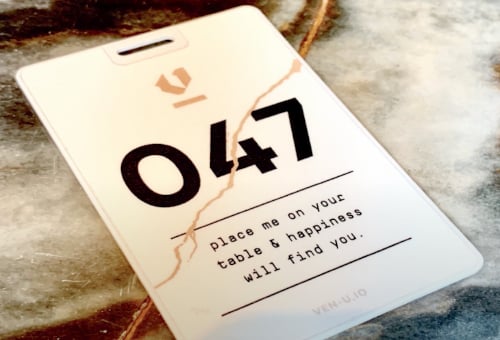 Tech driven experience
"We want to know how much value we can get out of every minute of our guests and we try to take out every minute of the experience that is not adding value," he said. "So we try to take out all the waiting parts, and that's how we can have eight table turns in our restaurants."
Theirs is the first restaurant in the world to have cell phone location tracking accuracy within one inch, meaning they know where a particular phone is within one inch of its actual location. Livit is currently beta-testing their app so that in the future, a person can order their food in advance on the restaurant's app, ensuring the order is fired off as soon as that person walks through the door. Once the guest seats themselves they won't have to wait for or interact with a host, and within five minutes their order will arrive on their table. They can be in and out in 20 minutes and have a truly frictionless experience.
By having all of these operational efficiencies, including cross-trained employees and technology utilized wherever possible, Livit has been able to achieve a throughput of 30-minutes per guest at their lab stores. Pairing these efficiencies with a menu full of items with low food costs means they are also able to keep the prices low—the most expensive item on their menu is a $16 pizza. Their cocktails are also inexpensive, all around $12, which has also translated into high liquor sales.
"Thanks to throughput, scale, and efficiency, you can really have affordable prices in an environment like this," Calleja said. "All of these solutions are available. We've just taken them from other sectors."
---
Click here to learn more about RestaurantSpaces LIVE.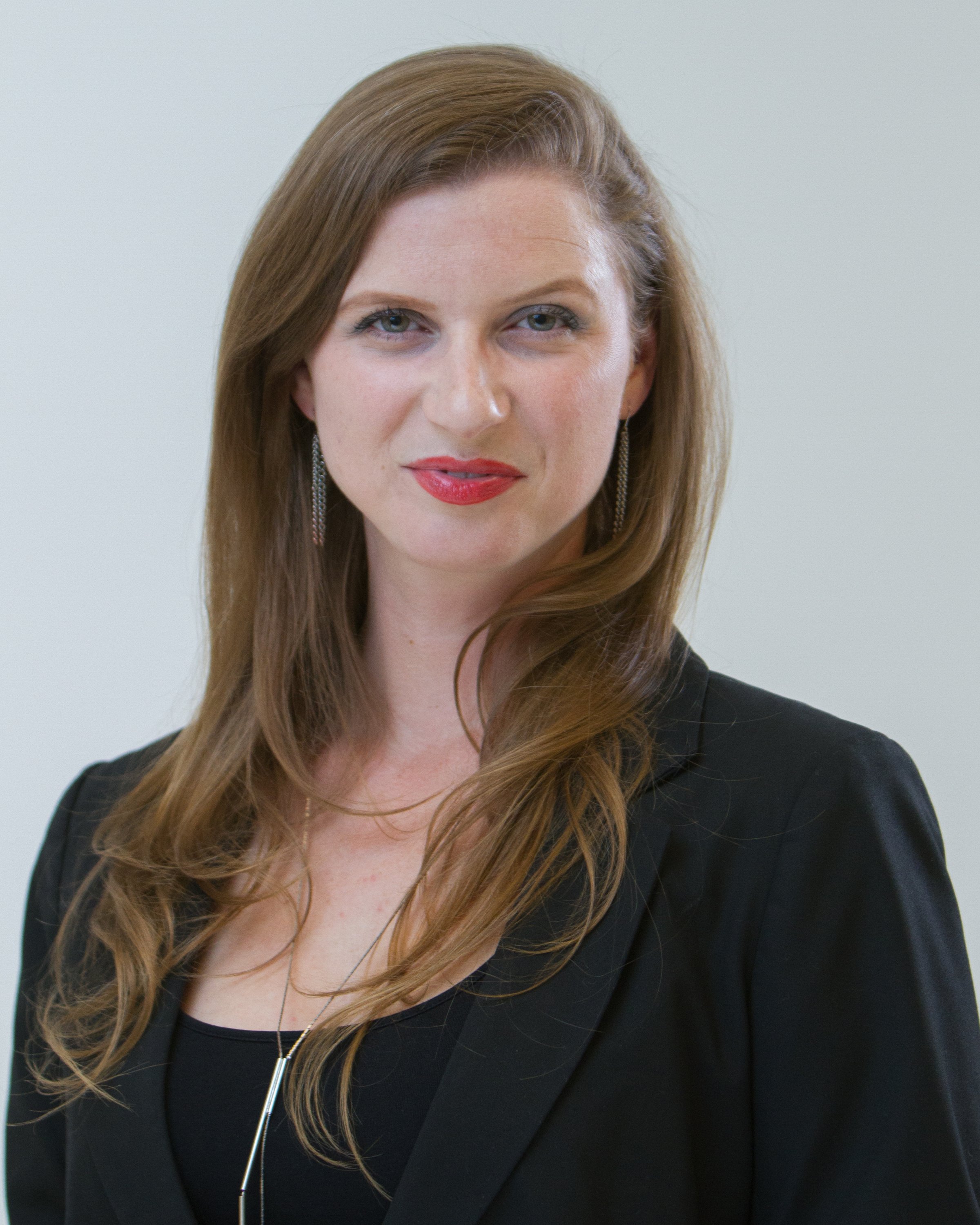 Posted by
Nicole Rupersburg is a content and conference producer for influence group focused on education healthcare and hospitality. She also is a frequent freelance writer covering food, travel, arts, culture, and what-have-you.
Chain Restaurants Reimagined.
The Retreat to Reimagine Restaurant Development, Design + Technology.
Oct 1-3, 2023 | Miami Beach, FL
Learn More