Today, merely spitting out the occasional press release and keeping a flashy, yet neglected corner of the company website labeled "Values in Action" reeks of an afterthought.
Modern customers will sniff out a restaurant chain's lack of substance and see straight through it. They actually want to see hard evidence of the mission brands are claiming to champion. They want real action.
Statistics have demonstrated this for some time. A report last year showed 86% of American consumers expect companies to do more on social and environmental issues. At the same time, 76% would happily boycott a brand if they were to learn it supports an issue contrary to their beliefs.
Today, emerging players are building entire brands around causes, signifying more of an industry shift toward purpose, as opposed to the dogged pursuit of profits. What's more, these chains are successfully using their restaurants to showcase their values, and write customers into the story of the movements they're creating.
Here are five restaurant companies using clever design and powerful storytelling initiatives to make a bold statement about what they stand for, and ultimately, appeal to an evolving consumer.
Tender Greens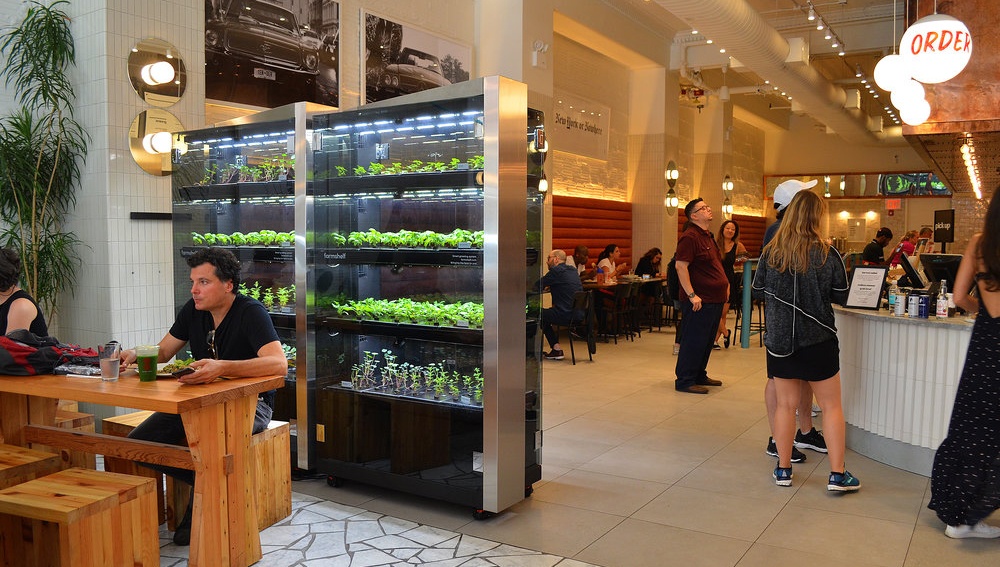 When customers walk into Tender Greens' Flatiron location in Manhattan, the first thing to catch their eye is a glass cabinet full of leafy greens. On closer inspection, one can see each section of plants is labeled with a country name and a random year. As an example, a tag tucked into the soil of a tuft of butterhead lettuce has "France 1775" scrawled upon it.
This Farmshelf display is a nod to the fast-casual chain's partnership with the Crop Trust — an organization funding seed banks across the world. Little known or understood by the general public, Tender Greens is on a mission to educate customers about the vital importance of preserving global crop diversity and soil health.
Earlier this year, the company worked with local farmers to plant seeds drawn from the US seed bank, growing produce in New York and California and serving it in restaurants. This, alongside thoughtful design initiatives like the farmshelf, Co-Founder and Executive Chairman, Erik Oberholtzer, hopes, will help "keep biodiversity alive by giving people a true taste of food that's connected us over centuries."
Zambrero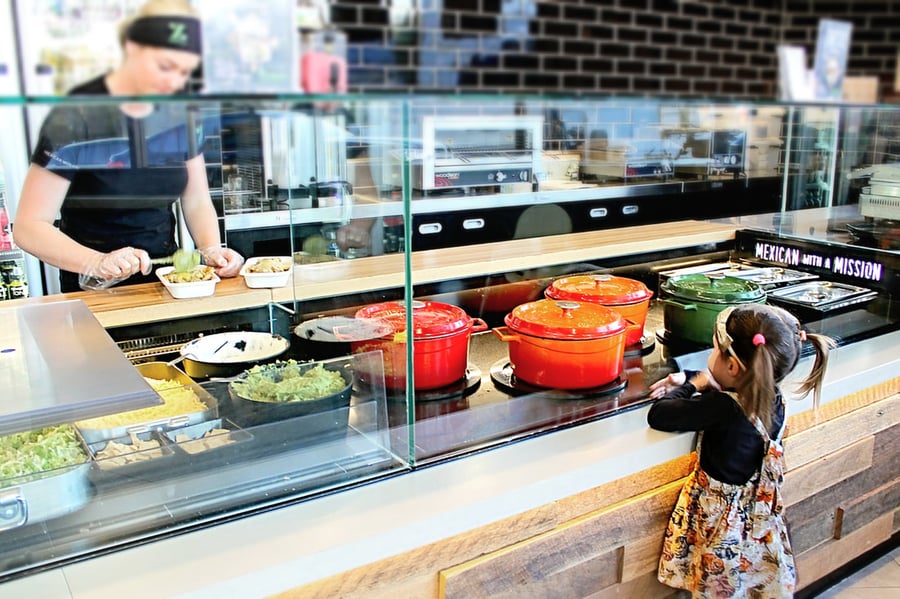 Leaving its Australian roots and expanding to the US last year, fast-casual operator, Zambrero, is centered entirely around its ambitious mission — to end world hunger as soon as possible.
Through its "Plate 4 Plate" initiative, the Mexican cuisine chain donates a meal to someone in need every time a customer buys a burrito or bowl. 13 years since first opening its doors down under, Zambrero has given away a staggering 26 million meals throughout communities in Africa, Asia and the Americas.
In Zambrero restaurants, guests are subject to plenty of reminders of what their appetites and wallets are helping achieve. Neon signs and success stories are plastered across the walls. However, one design innovation, in particular, keeps the campaign ticking over — quite literally. Each location boasts a live donated meal counter, either on digital menu displays, or standalone units. As well as hitting home the message, the clever touch ensures customers and employers alike are actively engaged and involved in Zambrero's mission.
sweetgreen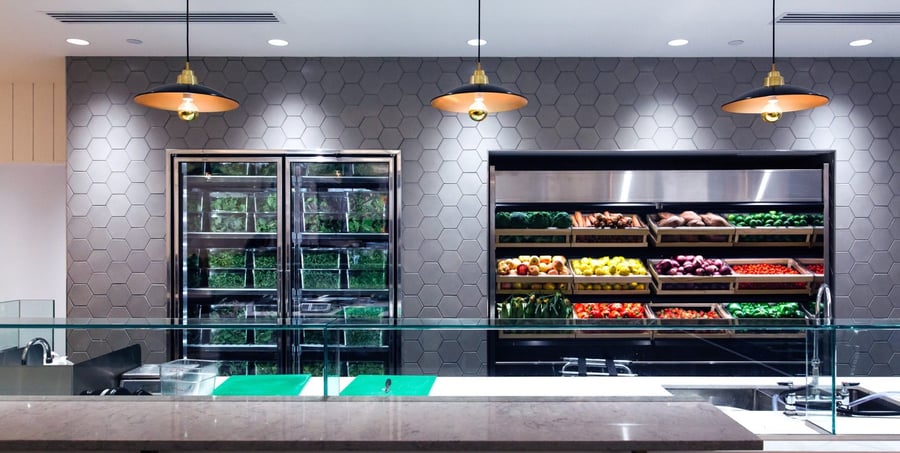 The extra effort sweetgreen expends to communicate its purpose through storytelling and design is perhaps a major reason the chain has attracted an evangelical follower base.
As well as actually enshrining its core values on the wall, the disruptor out of DC has many ways of highlighting its mission to shift thinking and create better, more meaningful connections from farm to patron. To showcase the "sweetgreen in schools" program, some locations feature photographs of elementary students taking part in the company's wellness workshops.
The expanding chain also commissions large-scale feature walls, working with local artists to put a spotlight on health-conscious living and the importance of eating fresh, seasonal food. The artwork is also accompanied by a description of what the collaboration set out to achieve.
Less than a decade since launching, sweetgreen's principles seem to be catching on. A dedication to partnering with local farmers has become standard practice among a growing list of fast-casual chains. CAVA, honeygrow, and grabbagreen are just a handful of examples that have joined the farm-to-counter movement, each displaying exactly where ingredients have been sourced — a restaurant design trend sweetgreen helped popularize.
Nando's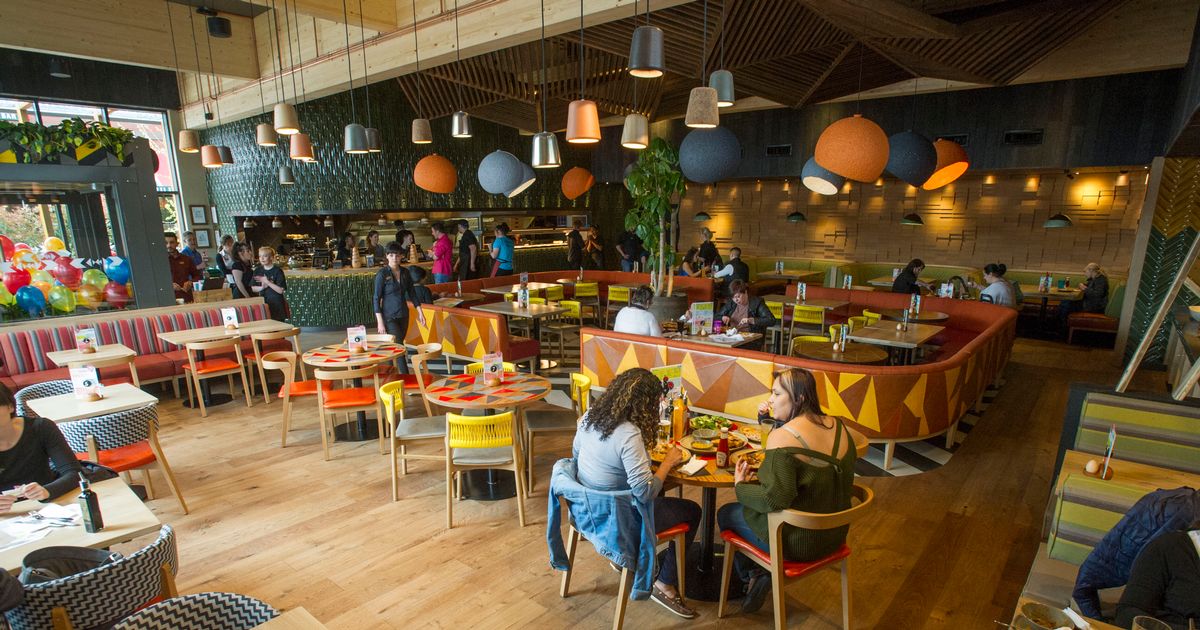 With roots in South Africa, the grilled chicken chain has become one of the most popular casual dining destinations in the UK. With close to 400 locations, the brand's British operations have recently introduced a new sustainable design framework to mirror its dedication to responsibly-sourced food and waste minimization.
Last year unveiling one of the world's most sustainable restaurants, the location has several physical features reminding customers of what the project was meant to achieve. Some internal and external walls are covered in real plants, which receive water from tanks that harvest rainfall. Inside, lampshades fashioned out of mushrooms hang just below large ceiling decorations constructed from repurposed wood, while wool and nettle fibers and upcycled materials were used for seating upholstery. The kitchen also uses chilis grown in the restaurant's lobby.
These effective initiatives help tell Nando's sustainability story and will likely spread to a vast amount of other locations. They also stir interest among guests, leading to larger conversations around the chain's other environmentally conscious measures. For instance, all of Nando's UK restaurants will run on 100% renewable electricity by the end of the year.
Even Stevens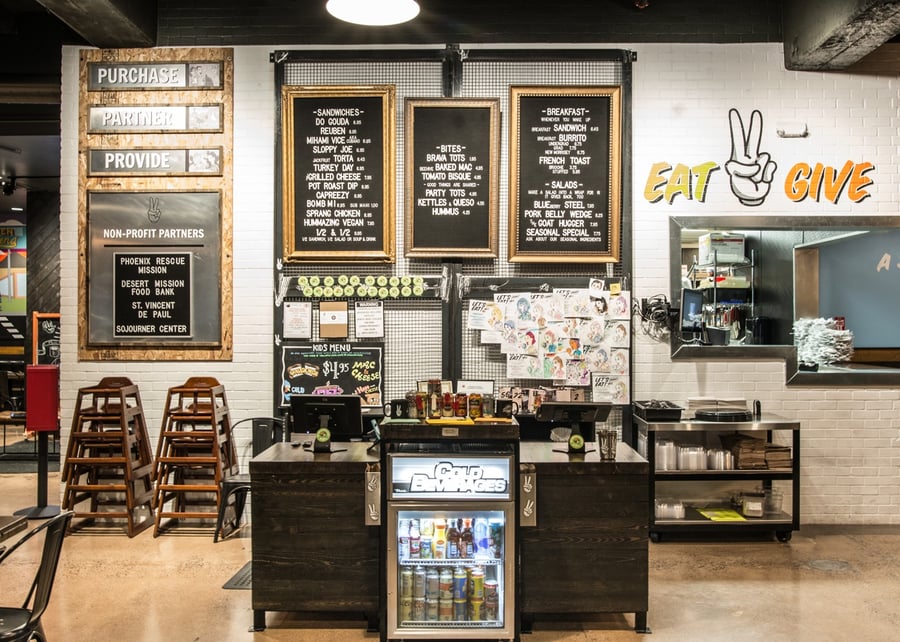 While the Salt Lake City "superior sandwich" chain has recently suffered the ill-effects of overzealous expansion, it remains one of the few US restaurant companies built wholly around a cause. For every sandwich sold, ingredients for another sandwich are donated to local nonprofits that feed people in need.
There's zero possibility guests are left unaware of this mission when they walk through the door. Bright graffiti walls with slogans like "sandwich shop with a cause" are juxtaposed with signs displaying a given restaurant's nonprofit partners. Digital displays keep track of how many sandwiches have been donated (3.5 million since first opening in 2014) and hard-to-miss neon lighting constantly remind consumers that every time they eat at Even Stevens, they're also giving to someone else.
The Bottom Line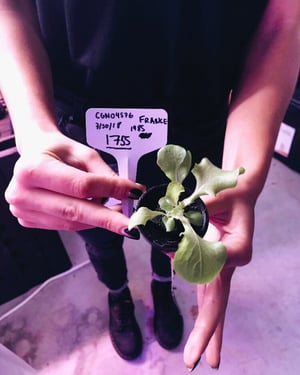 Tender Greens
When customers are immersed in the meaningful restaurant design of a cause-driven company, they get a real sense of being recruited to the mission. Restaurants that get better at telling compelling stories around a genuine desire to do good will have an advantage in coming years.
Also worth noting is the impact of an incoming wave of younger customers. As well as being more health-conscious, they also have a desire to be part of something bigger than the lives they lead… even if just for the dopamine boost they'll likely receive from social media interactions. If a brand can make maturing millennial and gen Z customers feel good about how they spend their money, it makes sense they'll be more likely to develop a deeper sense of loyalty. They may even feel empowered enough to spread the message to as many people as they can.

Failing to realize this, and instead continuing the senseless mad dash for profits could result in another nail in the coffin of those chains resistant to radical ideas and necessary change.

---
Join us at RestaurantSpaces in Miami Beach (February 24-26, 2019) to explore the intersection of restaurant development, design, technology and guest experience.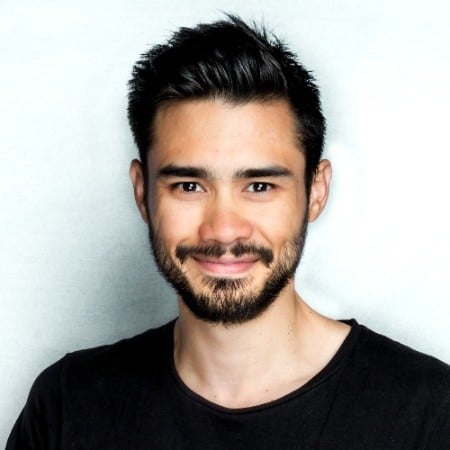 Posted by
Content + event producer with an innate, insatiable curiosity. Fixated on retail, restaurant, and hospitality design.
Chain Restaurants Reimagined.
The Retreat to Reimagine Restaurant Development, Design + Technology.
Oct 1-3, 2023 | Miami Beach, FL
Learn More