Restaurants face more competition than they ever have before, both from within the industry and outside it.
"Millennial foodie culture", proliferation of online delivery services, and the rise of the Grocerant (restaurants inside supermarkets) are just a few forces cooking up big problems. Simultaneously, a thriving fast-casual sector continues to starve full-service dining, fueled by younger customers with an insatiable thirst for affordability and convenience.
While certainly a challenging time, the turbulence is generating a new wave of experimentation as legacy brands attempt to redefine themselves.
We've compiled a list of the most innovative restaurant chain reinventions underway right now.
Taco Bell
Taco Bell is one big brand undoubtedly aware of the relentless rise of fast casual operators. In response to customers gravitating toward the elegant, minimalist designs of its competitors, the Mexican stalwart is undergoing a facelift.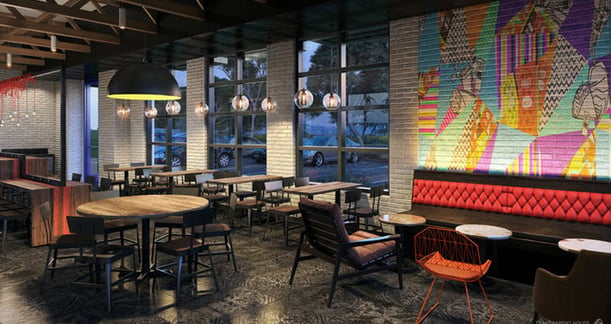 Rustic interiors, lounge chairs and splashes of color upon the walls are key features of prototype stores Taco Bell has been testing. Each theme exhibits a distinct look and feel inspired by a store's geographical location to instill a personalized feel. In its bid to lure Instagram-ready millennials in for longer, the chain is also experimenting with unique pop-up concepts like this particular store, modeled around shipping containers.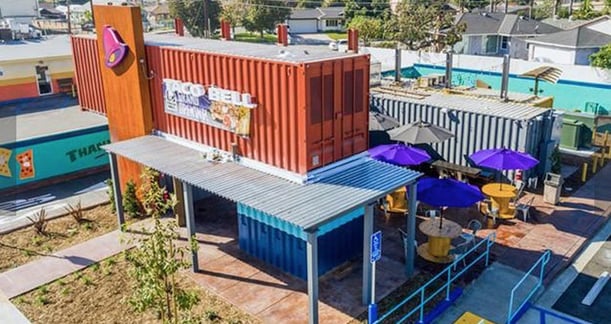 Also on the way are as many as 350 Cantina concepts, which feature bar-style seating, as well as the alcohol to go with it.
Dominos
With over 50% of its orders handled online, it seems the move to invest in a highly intuitive app and website has helped Domino's survive the arrival of delivery services.
But the pizza giant has also kept a firm grasp on its physical store strategy. In a move to complement its digital success, Domino's pickup customers now enjoy more seating, grab-and-go sections and large TV screens while they wait for orders. However, the overhaul centerpiece is the Pizza Theater, which turns guests into spectators as their crusty creations transition from dough ball to baked and boxed.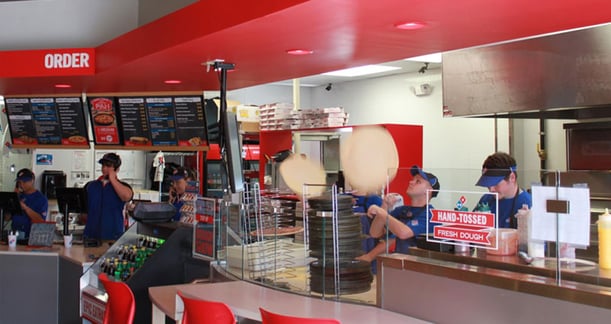 Perhaps one of the most successful instances of digital and physical convergence, this reinvention has allowed Domino's to maintain its standing as a go-to household name.
KFC
Besieged by falling profits at the hands of chicken rivals like Chick-fil-A and Popeye's, KFC is making a crispy comeback, due largely to its reinvention efforts.
Hundreds of complete store redesigns have resulted in bolder exteriors. The most notable of which being a $2 million makeover of the iconic poultry monolith in Marietta, Georgia.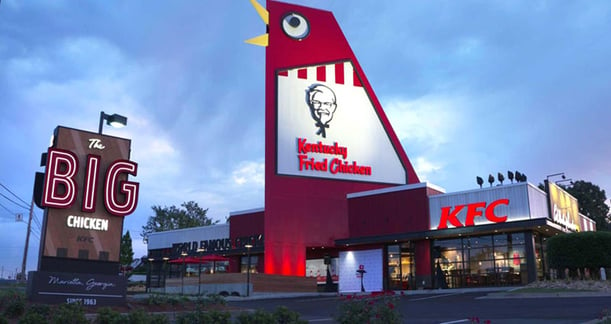 But it's from within the restaurant that customers will notice the most drastic change. New revamps emphasize a return to KFC's roots, presumably a reminder of the chain's place in American restaurant history. The new store designs revolve around the Colonel, with his image alongside quotes and memorabilia emblazoned on feature walls. Classier seating complete with chandeliers shaped like KFC's famous chicken buckets have also replaced the tired fast food designs of decades past.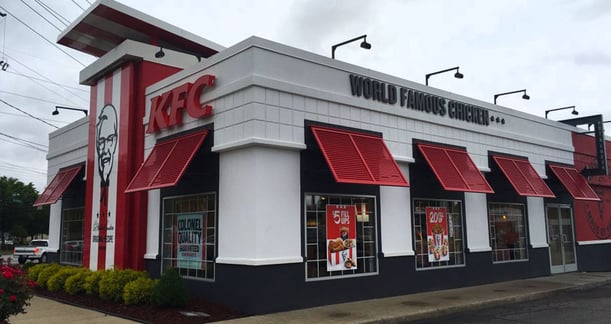 Wendy's
Pinpointing falling grocery prices and ballooning labor costs as a major reason behind muted foot traffic, Wendy's is another legacy chain opting to upgrade.
Attempting to entice guests to sit and dine for longer periods, the hamburger chain has introduced upscale interiors including wifi bars and even fireplaces. A variety of seating options have also been rolled out in its "Image Activation" stores, featuring booths, lounge chairs and other seating with wooden finishes to evoke a more inviting feel.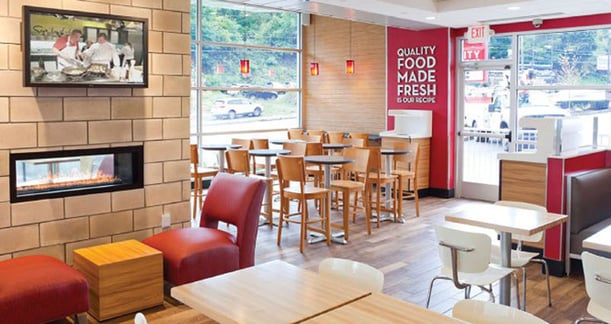 Digital menu boards, as well as paper menus, are available for perusal. To top it all off, guests even have the choice of dining alfresco at locations sporting outdoor seating areas and patios with low-strung lights for added ambiance.
McDonald's
Falling profits, in addition to upstart fast-casual competition like Shake Shack, have plagued fast-food's founding father in recent years, resulting in a massive repositioning effort.
In creating its "Experience of the Future," McDonald's is deploying kiosk ordering following successful trials overseas. It's even testing table service, utilizing Bluetooth tokens which diners take to their seating after placing an order.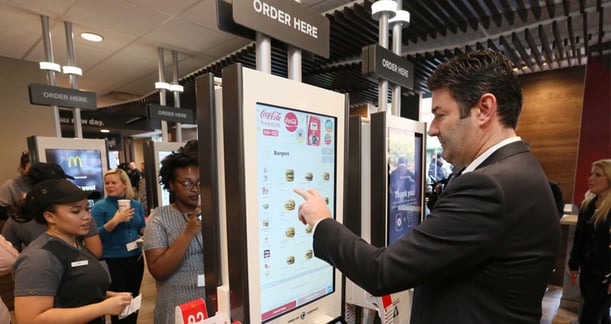 The actual act of dining will also be revolutionized. Similar to Taco Bell, McDonald's has unveiled six different store designs with added homely touches to simulate the feel of one's living room.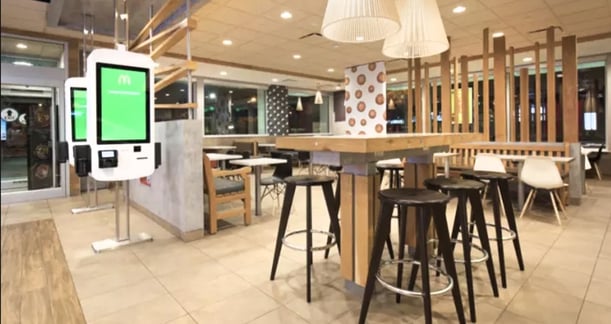 Back-of-house operations are getting an overhaul too, with the aim of improving speed, as well as perceived food quality — a move to satisfy health-conscious diners
Chili's
To say casual dining has been feeling the heat in recent years would be quite the understatement. The sector has experienced some of the steepest downturns in performance, as digital natives search for something less reminiscent of the family outings from their childhood.
In an attempt to bring them back, Chili's has rolled out a simpler, less cluttered layout and has invested in enhanced customer-facing technologies. Bolted onto tables, tablets now allow customers to order without a waiter. They can also keep themselves entertained with integrated games while their food is being prepared.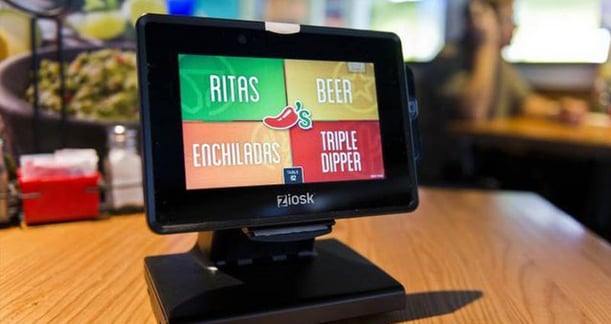 In addition to increasing add-on sales like desserts and beverages, the tablets provide Chili's the opportunity to collect invaluable customer data to help shape future design and development decisions.
Chick-Fil-A
Only open six days a week, yet generating more revenue per restaurant than any other fast-food chain in the US, Chick-fil-A has no real need to reinvent itself. Despite this, the chicken sandwich success story is investing heavily to improve convenience.
The chain this year opened its latest Innovation Center, where it's testing approaches to overcome the well-documented drive-thru wait times it's experiencing across the country. The facility is one of three massive locations constantly trialing a host of new restaurant designs and technology.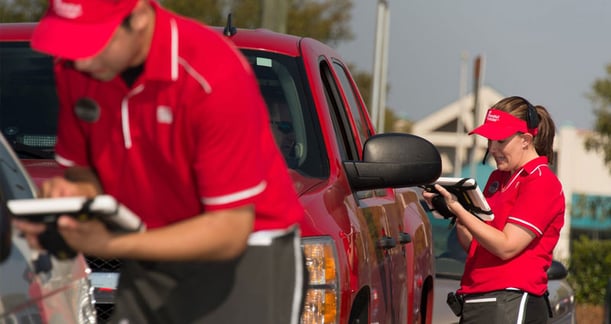 The deployment of servers armed with improved mobile technology is just one measure being unveiled to provide customers greater convenience. Fans of Chick-fil-A can also expect to see food trucks hitting the streets as the company expands and attempts to keep abreast of demand.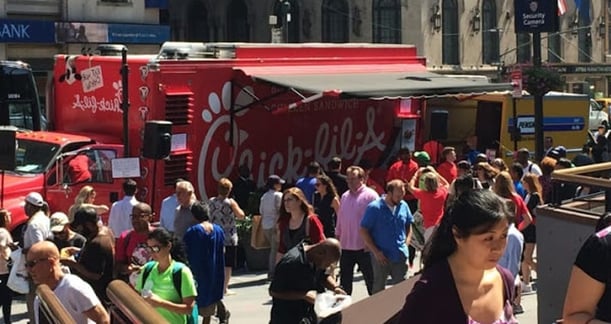 Embrace the Change
No business outgrows the need to change. But those that embody a constant, chameleon-like state of transformation are most likely to thrive well into the future.
The distractions impacting the industry right now will only continue to grow louder, not to mention more numerous. Fueling this phenomena is a customer base becoming increasingly fickle by the minute. In a future of diminishing loyalty and unpredictable technological tides, companies will need to take frequent risks and wholeheartedly accept the possibility of failure in order to evolve. Without this mindset, many may sink, sadly, into obscurity.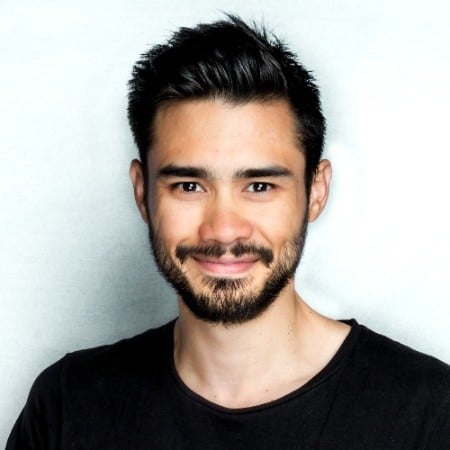 Posted by
Content + event producer with an innate, insatiable curiosity. Fixated on retail, restaurant, and hospitality design.
Chain Restaurants Reimagined.
The Retreat to Reimagine Restaurant Development, Design + Technology.
Oct 1-3, 2023 | Miami Beach, FL
Learn More