When your employees are so passionate about your company that they choose to get your logo tattooed on their bodies, you can bet your brand is doing something right. You can also bet that passion gets translated into the service your employees provide to your customers.
This is the point that Andy Hooper, &pizza's President and COO (then Chief People Officer), made during his talk at RestaurantSpaces: for as much thought that goes into restaurant design and the customer experience, that same level of consideration should be given to the design of the restaurant's culture and the employee experience.
Building a Home for Your Tribe
Given the pain much of the industry is feeling because of third-party delivery growth, Hooper said designing spaces that speak to your staff should be high up on everyone's priority list.
"In a future state where off-premise is so proliferated in the business, how do you create a scenario where somebody actually has a reason to go into the shop?" he asked. "It starts with creating a reason for employees to go into the shop."
"It starts with creating a reason for employees to go into the shop."
Hooper explained &pizza is a brand built around purpose-driven values, which include connectivity, inclusivity, and "oneness." Many brands may pay lip service to their culture, he continued, but &pizza walks the walk, putting their employees — their wants, their needs, their vision — first, and trusting that attitude will in turn carry over into exceptional experiences for their customers.
"There's a lot of time and energy put into the physical space through the lens of, 'What does the customer want?' But how do you actually create a place where your employees feel at their best so that there's a reason for them to go into the space?"
From a design standpoint, Hooper said, &pizza tries to create an atmosphere where the "tribe" — AKA, its employees — feels at home as much as possible.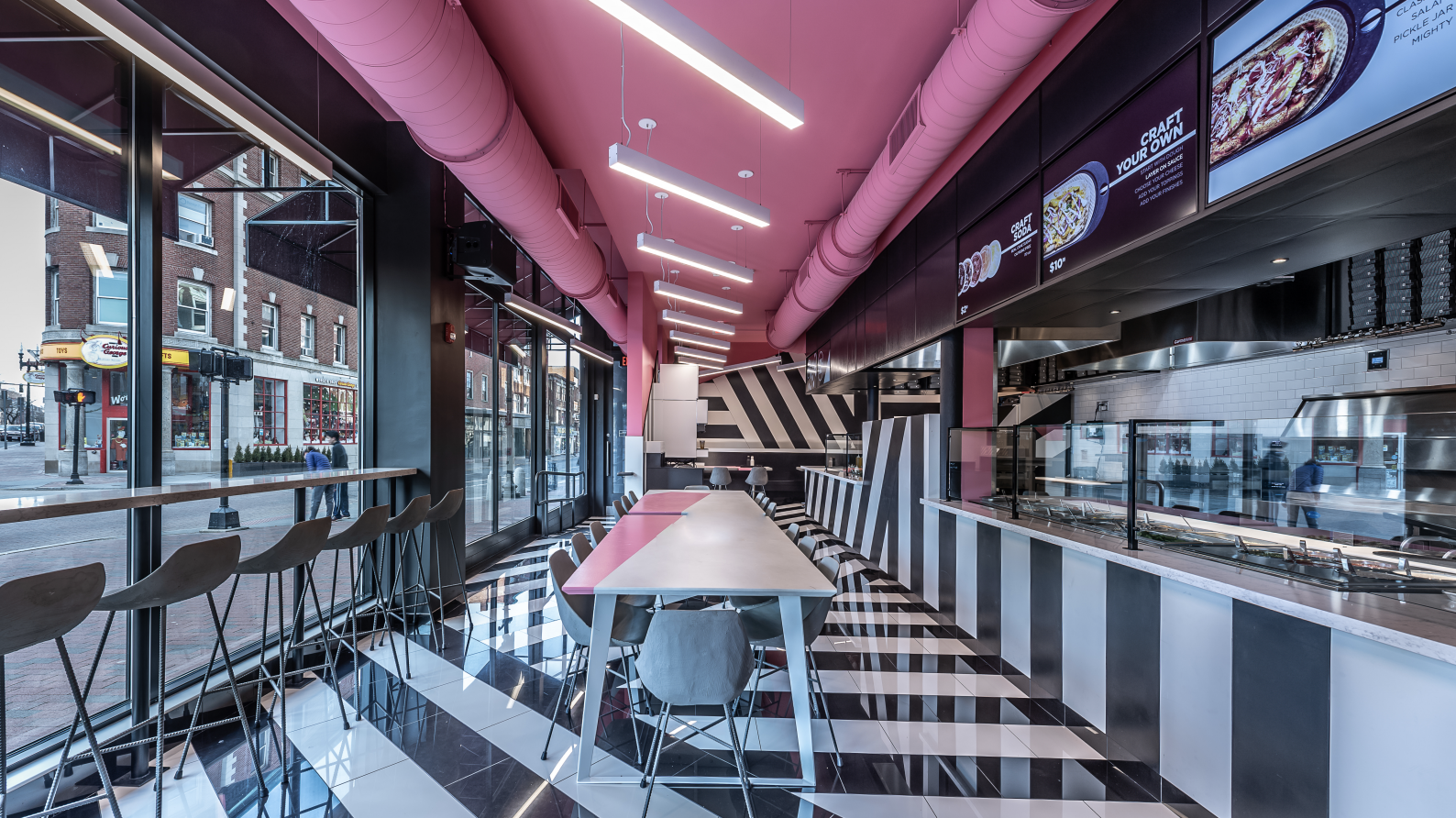 Putting Your Staff in the Spotlight
In achieving this, all &pizza locations are intentionally unique. Each shop has its own name — which tribe members select — as well as its own story that that reflects the history and culture of the neighborhood. There is no color inside: Stores are all decorated in high-contrast black and white, with the idea being that tribe members are able to use these "arrestingly beautiful" spaces as backdrops for their own personality, and the food itself, to shine through.
Tribe members' uniforms are also all black, and were designed with their input in partnership with D.C.-based clothing startup EAT.
"If you want someone to feel and look great, ask them what they want to wear," said Hooper. "Our tribe took pride in what they had a part in creating. The all black is a display of our oneness and solidarity, but also an opportunity for people to express that oneness with their own flair and style."
"The work experience should exist by design, not by default."
That style includes wild hairstyles and visible tattoos — which Hooper says is part of the culture of &pizza. "It's not because we're trying to be some cool brand, but because that's when people feel at their best: when they don't have to cover up the tattoos or change the hair color. If they don't have to shift the way they dress, they're going to have more to give to the guest and more of that can spill across the counter."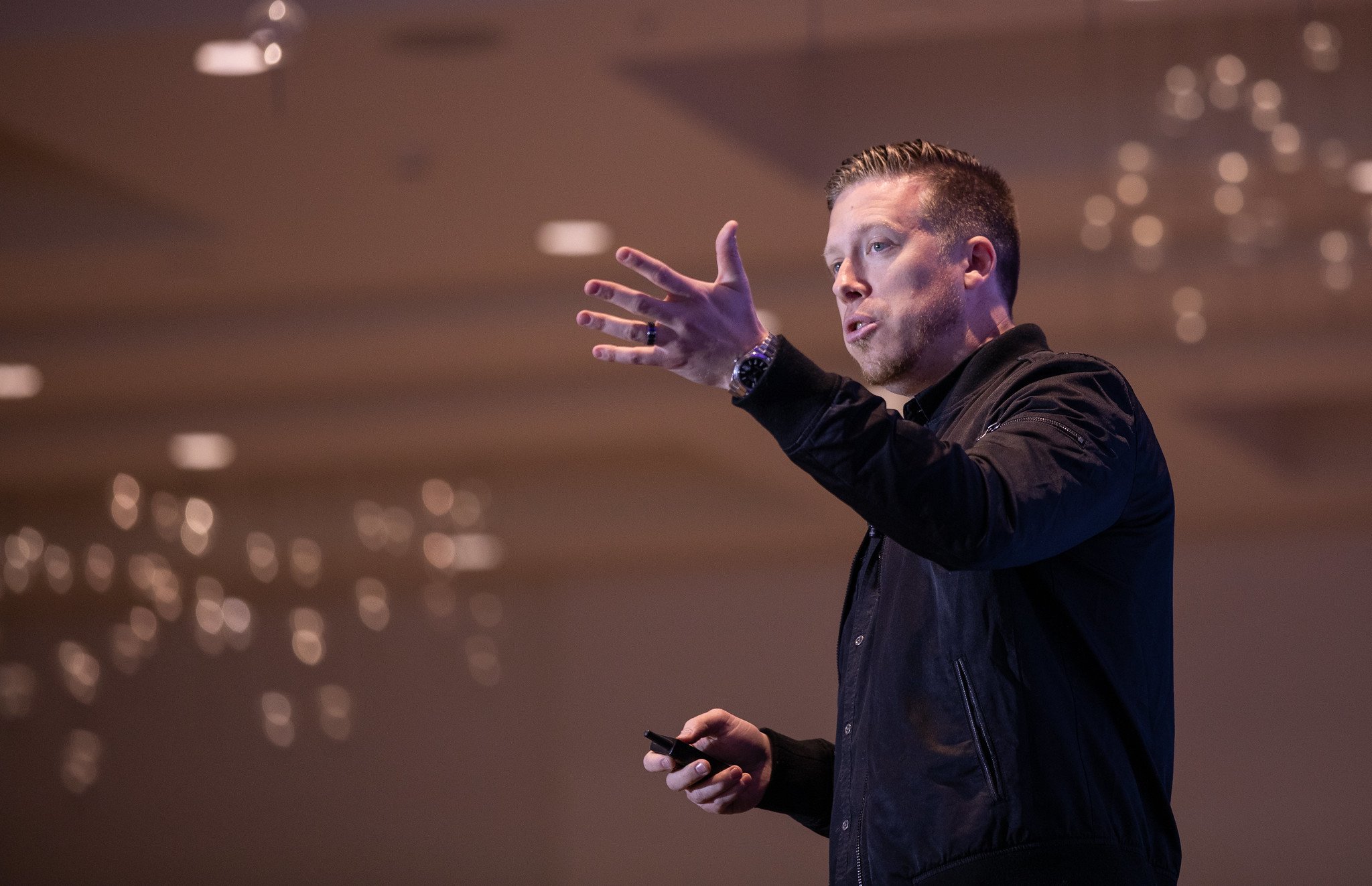 Happy Employees = Happy Customers
Hooper said it all boils down to a truth he lives by as an HR leader: the guest experience is never going to exceed the employee experience.
"The very best thing you can hope for after putting $500,000, $1 million, or $2 million of capital into a physical space is that your people show up and literally give everything they have to the paying customer," he said. "The work experience should exist by design, not by default."
Making this a reality means considering how tribe members feel while at work. To this end, &pizza allows them to help create the "vibe" of the shop through creative collaborations and playing their own music.
"We want to make darn sure that anyone coming into our shop is getting an experience where our tribe is at their best because they're vibing in a way that makes sense to them," he said. "All of these things come from engaging our tribe and getting them involved in the process. We find when we do that, we're able to create things we would never have been able to create on our own."
Only by allowing people to be themselves at work will restaurant brands be able to create meaningful one-on-one interactions between employees and customers. And with the majority of restaurant business happening off-premise in just a few years' time, Hooper predicted, companies need to create in-store experiences that rely on much more than just the food.
"You have to go above and beyond. You have to be intentional about creating that experience in-shop if someone is going to choose that over a far more convenient way of getting your product," he said.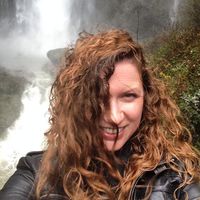 Posted by
Nicole Rupersburg is a freelance writer who has covered the restaurant and hospitality industry for over a decade. Her work has appeared in Thrillist, Cosmopolitan, Fox News, the New York Post, Matador Network, and many more. Follow her on Instagram at @eatsdrinksandleaves. ---
Join us in Pasadena!!!
The retreat for those shaping the future of restaurant development & design.
March 1-3, 2020 | Pasadena, CA
Learn More