&pizza has been anything but quiet about its lofty goals to transform the restaurant industry. So far, all the commotion has attracted the right attention.
Last year, the company's firm stance on a higher minimum wage saw Fast Company magazine label it one of the world's most innovative companies when it comes to social good.
The cause has also drawn the right people. Dozens of its "Tribe members" have felt inspired enough to get &pizza's ampersand logo tattooed — at the company's expense.
According to Chief People Officer, Andy Hooper, this kind of motivation and loyalty can only be cultivated when a restaurant chain truly listens to and trusts its workforce. In fact, &pizza even credits this focus on employee engagement as a driving force behind many of its store development and design decisions.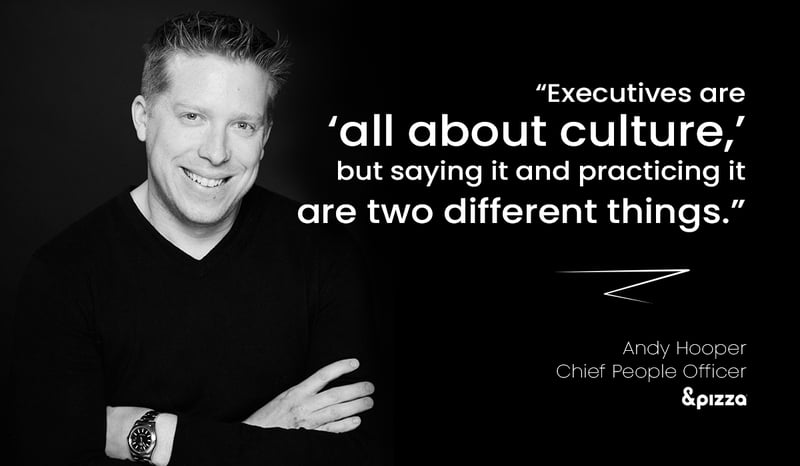 Ahead of Hooper's appearance as a featured speaker at RestaurantSpaces, we caught up with him to unpack how brands should be aiming to boost customer experience with happier, more empowered team members — at every level of the company.
Your experience in foodservice has mostly been in HR, but also in concept development. How do these realms intersect?
They're both fundamentally tied to purpose. Scaling any concept requires having clarity of purpose. When you have that, it's essentially the biggest trade secret you can have. It allows you to make a commitment to building and shaping your culture.
Whether you're talking about the design of physical space or the design of the operating systems, it's important to have a point of view. In the current environment, a point of view that champions unity and connectivity really stands out. At &pizza, we're doing things to put the decisions of the vibe of the shop into the hands of the Tribe. When you start to turn over that kind of creative control to those folks, the lines between HR and the space of the restaurant are more blurred.
How does &pizza involve shop employees in the development of physical spaces?
When you build in a lot of urban centers as we have, you're dealing with second, third, fourth, or fifth generation spaces. You might have a layout that doesn't make sense for something. Historically, there might be four or five people in the development department in their ivory tower thinking that they know best: "I've got 30 years of experience and I know how to solve this puzzle".
"We're trying to achieve true and authentic democratization of the restaurant business."
Our approach is to engage with leaders in the shops and actually walk the space with them and ask them what they think, how something will flow. Crowdsourcing ideas and thoughts from the Tribe helps us make things better. They give us feedback about how many people you can fit in a space or whether cooking pizzas behind where you assemble them will work in a space or not.
It's about making sure that the people actually working there are having their voice heard and that decisions in the business aren't being made by the privileged few. We're trying to achieve true and authentic democratization of the restaurant business.
Storytelling is a huge component of &pizza's branding and in-store design. How much creative input do team members get in this process?
One thing they get to do is name their shop. Every pizza shop window has the number of the shop, the name, and then a story about the location and the neighborhood it's in. For example, our shop in Potomac Yard used to be part of a major shipping center in Northern Virginia. The Tribe there wanted to name it The Yard. We have another location in a glitzy, glamorous part of town. They named their shop The Dazzle. Other than that, there's The Corner, The Mark, The Point.
Dupont Circle in DC is very tied in with the Pride movement. So that shop has a lot of design elements celebrating unity, inclusivity, and tolerance. You can be a multi-unit restaurant operator but have real, authentic elements that actually feel like the neighborhood. When you combine that with using a local architect or a local artist for a mural on a wall, these stories aren't lost in the design, they become front and center.
The company is currently experimenting with pizza trucks in Miami
What is it about &pizza's approach that differs to other brands when it comes to engaging staff, and ultimately, enhancing customer experience?
When you grow something quickly, a lot of restauranteurs deal with what I call dissolution of their brand. Scale and intimacy are at odds with one another. Culture has been a buzzword for years now and executives are "all about culture," but saying it and practicing it are two different things.
A tangible example is music. If you allow the Tribe to play their own music, they're more likely to enjoy the physical space and the vibe they're creating. Their engagement and advocacy go up. Another example, if you have uniforms that are designed by and influenced by what your team likes to wear outside of the shop, their level of comfort goes up. When people feel at their best, they make great decisions.
Historically, people focused a lot on the space of the restaurant in terms of ergonomic interior design and industrial engineering type stuff. And that's valuable, that's important. But I think the other stuff like the music, the uniforms, the overall vibe, the values being lived out, is what really increases people's commitment and connection to the brand.
What would your advice be to legacy chains in striving for an engaged, empowered, and passionate workforce?
The industry faces a lot of economic pressures right now with things like raising minimum wages and overtime. Instead of running from that, our approach has been to ask what would happen if we leaned into it. What if we figure out what the Tribe's point of view is in tackling this stuff and involve them, under the auspice that 300 or 500 minds will probably be more effective than five. So far that has worked. For example, in the summer, we put over 150 base points in raw cost into our P&L by raising wage rates across the board. We actually saw a lower labor cost almost immediately because of greater Tribe productivity and because they also got involved in identifying opportunities.
We had some shops tell us that we should probably be doing some prep at a different time of day when we would need to have some people in the shops anyway. It allowed us to take hours away from pre-opening and helped us be more productive. By involving them in business challenges, rather than dumping it on them, we've seen great results.
You must have some out-of-the-box approaches and ideas to motivating and empowering restaurant staff… Can you share any?
We received feedback that there might be better ways to communicate information. That led to us starting a weekly podcast. We have a team internally that produce it, they invite members of the Tribe to participate, they champion success, share appreciation. The podcast fits for us because it's an intersection of music, culture, fashion, and pizza, which is essentially the vibe we're creating in our physical spaces. We decided against creating our own cheesey corporate intranet and trying to change their behavior. Instead, we met them where they're at.
The more you listen to the people on the frontline doing the work, the better the ideas tend to be. Having the courage to do that as a leadership team is very different than thinking about it esoterically. But when it's the Tribe's idea, you better believe that execution is higher, because they're telling everybody that someone listened to their ideas.
What is your utopian vision of the perfect workplace from an employee's point of view?
When I think about what people are looking for in foodservice, they want to be able to be themselves, they want to be able to make an impact, they want to be part of something that matters, and they want to learn and grow. Foodservice is part of many journeys, but not their entire journey. So we have a responsibility to help them learn and grow as they move through or onto something else.
2018 saw some experimentation with different formats… Can you shed any light on what's on the horizon for &pizza?
We've got ideas that we're testing. We've learned that we can produce pizzas in a truck that's about 180 sq ft. If we take that learning and apply it to all of the real estate options out there in the world, we believe we can show up in really creative locations in small footprints, in non-traditional ways. That makes &pizza really interesting compared to its peers.
From a design standpoint, we're evolving how we think about the physical space so that we can be as convenient as possible for folks while making sure that when they do come into our pizza shop, it's a truly special experience for them. We know now that they can get our pizza 18 other ways. So the fact they chose to walk into our shop is saying something about what they want from us.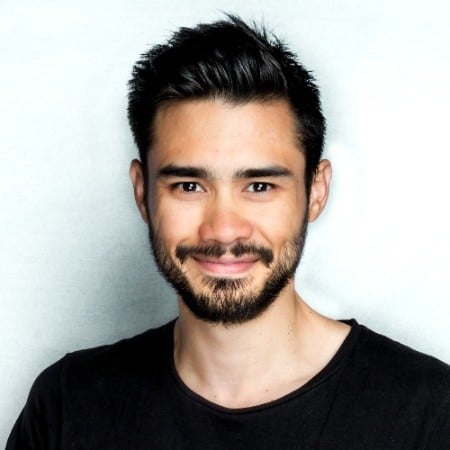 Posted by
Content + event producer with an innate, insatiable curiosity. Fixated on retail, restaurant, and hospitality design.
Chain Restaurants Reimagined.
The Retreat to Reimagine Restaurant Development, Design + Technology.
Oct 1-3, 2023 | Miami Beach, FL
Learn More