After two years of disruption, restaurants are finally settling into the fact that nothing will ever be the same. While some are happily dining in again, others are sticking to the drive-thru; still others—or, yes, the same ones on different days—are availing themselves of all the new delivery options at their disposal, thanks to titanic venture capital infusions in ghost kitchens and third-party delivery services.
It may also be the calm before the storm—that is, the next storm. As Meredith Sandland, former Chief Operating Officer of Kitchen United and co-author of Delivering the Digital Restaurant, explained at RestaurantSpaces Fall, the restaurant industry is still teetering on the precipice of great change. To adapt to the coming age of digital-first dining, restaurants will need all of the same agility and adaptability it took to survive Covid-19.
Say Goodbye to the Suburbs (Sort Of)
What's behind the next wave of transformation? Same as the last wave of transformation: as consumers change, the world changes with them. From 1992 until the real estate collapse in 2007, Sandland explained, the population rose 32% as interest rates declined and suburbia rapidly expanded. Hundreds of thousands of restaurants were built across the country in these new suburban markets. Then the financial crisis hit, and developers were forced to re-strategize.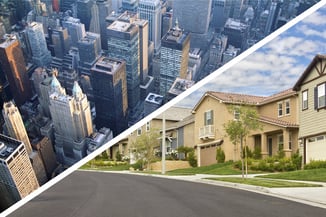 Restaurant chains need to take into
account the rise of "surban"
"We had to start doing infill growth. We had to start figuring out how to build street-side. We had to do a lot of redevelopment, and if we were lucky that redevelopment was a former restaurant; if we weren't so lucky it was a dry cleaner or an auto use," Sandland said. "We could no longer just stamp down a prototypical restaurant. We had to figure out, how do I make this look like the environment that it's going into?"
The next 30 years will be a similar period of change. With the population set to grow another 30% by 2050, the Millennials and Zoomers who will make up tomorrow's customer base are dramatically different from their predecessors. Not only are home ownership and car use expected to keep declining, but the outward retail growth of the last expansion is reversing course. "The definition of where to live—of what's cool, where people wanna be—is different," Sandland said. "Now urban areas have captured twice their historic share of growth in the last 10 years… Suburbia is not expanding at the rate that it was." In this new, less suburban world, delivery will be king.
You can already catch glimpses of these tectonic shifts if you know where to look: the SoftBank Vision Fund's massive bets on companies like REEF, DoorDash, Gopuff, Kitopi, and Ordermark, for instance, reflect the looming prominence of delivery. Still, Sandland acknowledged that her vision of a more urban-centric future for restaurants might seem at odds with the pandemic-era dominance of drive-thru.
"Everyone who owns a restaurant fleet knows that their urban locations did the worst in the last two years; suburban locations did far better," she said. "Before, we defined fast casual as a place that didn't have drive-thrus. And now Chipotle and Panera both have drive-thrus. Everyone aspires to have a drive-thru. So how could both these things be true? How could we be adding all this population, changing the ways in which we live, the younger kids today want to live in more urban environments… and also drive-thrus?"
Introducing Surbia
The answer may lie in surban environments. Coined by John Burns Real Estate Consulting, the term describes mixed-use areas that combine the best of urban living (walkability, restaurants, retail) with the best of suburban living (low crime, low rents, great schools).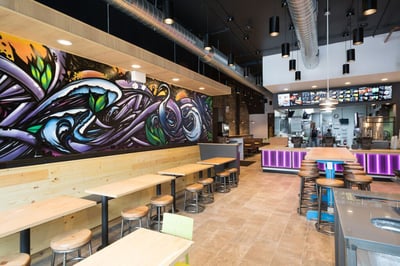 Taco Bell's first Cantina concept in Wicker Park, Illinois
Examples include Reston Town Center in Virginia; Santana Row in San Jose, California; Downtown Tempe, Arizona; and Wicker Park, Illinois, where Taco Bell opened its first Cantina unit under Sandland's stewardship. "These places are places that Millennials and Gen We aspire to live," she said. "They are going to want to move to the suburbs, but the kinds of suburbs they want to move to are different."
Municipal leaders across the country have seen the writing on the wall. As Sandland explained, they're already adjusting planning codes to make their cities more attractive to the next generation of Millennials and Zoomers. "They are in particular trying to create diverse dining options, coffee shops, walkable areas, outdoor recreation," Sandland said, drawing on her own experience seeking approvals from planning commissions. "They say things like, 'We want no setback. We want your restaurant right up against the sidewalk. We don't want a drive-thru.'" What they're not looking for, she stressed, are single-story casual dining units "surrounded by a sea of parking."
Omnichannel-Fluid, Tech-Optimized, Capital-Light
What this means for the next 30 years of restaurant development may not yet be apparent, but it will be dramatic. "It's going to affect where we build, what we build, and how we build," Sandland said. "It's going to be a lot more of this suburban infill, urban-surban downtowns. We're not going back to the days where suburbia is ever-increasing and a new power center goes in every five miles. It's not going to happen."
Developers will have ample opportunity to deploy the lessons they learned from Covid. "All the things that you guys have experienced in the last few years—about trying to figure out how to take down an existing drive-thru and convert it—is going to become even more important," Sandland said. "In terms of what we build, these buildings are going to need to be omnichannel fluid, multi-brand ready and make very efficient use of land. That means they're going to need to be tech-optimized, because that drive-thru is going to be replaced with delivery."
It also means they'll be relatively capital-light, especially as off-premise dining takes up an ever-bigger slice of the pie. But Sandland doesn't think these changes will mean the death of in-person, any more than retail delivery meant the death of Nordstrom. It's just a new facet of the restaurant experience, one that requires a nimbler approach.
"The restaurant that is the dine-in needs to be able to do delivery and takeout and all these other things," she concluded. "But you're also going to have times when something like a REEF or a Kitchen United just makes way more sense, because it's focused on doing that off-premise occasion."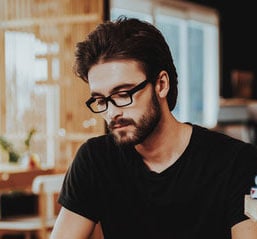 Posted by
Steve Manning is a journalist based in Idaho. When he's not writing, he can usually be found at the theater or taking his dog on a hike. If he could only go to one restaurant for the rest of his life, it would be Al's Place in San Francisco.
Chain Restaurants Reimagined.
The Retreat to Reimagine Restaurant Development, Design + Technology.
April 14-16 | Los Angeles, CA
Learn More