As the restaurant industry returns to its pre-pandemic strength, one segment is dominating the rest. In 2022, quick-service restaurants generated 107 percent of their 2019 revenue, compared to casual dining's 81 percent and fine dining's 87 percent.
These figures reflect the industry's increasing polarization, with midscale restaurants struggling to succeed in a field dominated by attention-grabbing experiential concepts at one end of the spectrum and QSR brands on the other.

For Aaron Noveshen, Founder and CEO of Starbird Chicken and co-founder of Pacific Catch, the numbers also reveal the key to success in this polarized space: convenience. Brands that deliver speedy, seamless experiences without losing quality are outpacing their competitors while enjoying higher efficiencies and guest engagement thanks to their adoption of new digital paradigms.

"Convenience is rapidly becoming the new normal," said Noveshen, who is also the Founder of consultancy The Culinary Edge. In an illuminating session at RestaurantSpaces '22 in Santa Barbara, he discussed why this new normal came to be and how brands can embrace it.
The Ascension of Gen Z
The new importance of convenience was driven largely by Gen Z, a powerful and digital-native consumer demographic. Its members possess $360 billion in disposable income and dine out 11 percent less frequently than Millennials, according to research by NDP Group. This poses a new challenge to restaurant operators, who have to figure out how to reach a group that's less and less interested in the traditional restaurant experience.

Fortunately, that's not to say they're not interested in food and beverage; quite the contrary. "They love it," Noveshen stressed, citing research that shows 80 percent of Gen Z-ers say they're more likely to order takeout than they were before the pandemic, while 54 percent are monthly active users of third-party delivery services. At the same time, 53 percent of all adults say that purchasing takeout is an essential part of their lives.


Many brands are continuing to adopt self-order kiosks

"They can't even conceive of living without ordering takeout and getting things off-premise," Noveshen said. "Because of this behavioral change, consumers are often disassociating themselves from the four walls of a restaurant, and they're more concentrated on the product than the place."

These changes coincide with a broader shift in the way people conceptualize meals themselves. Gone are the days when American families sat down around the table. Today, meals are "increasingly multitasked," Noveshen said, with young people eating at the same time that they're engaged in other activities — socializing, working, gaming, shopping, whatever the case may be. A whopping 40% of Gen Z-ers, meanwhile, say that they prefer to eat many small meals throughout the day rather than the traditional three, giving rise to a "snacking culture" in which convenience is king.
The Importance of Friendly UX
As consumer behavior evolves, operators have to find new ways to give their customers more control over the guest journey. Inside the restaurant, that may be a matter of using digital kiosks and QR codes. Not only do these provide more seamless ordering experiences for the customer, they also tend to ensure greater order accuracy, higher check, and better labor efficiency for the operator.

But the more important journey happens outside the restaurant's walls. At Starbird, for instance, 85% of customers order digitally. This means that in a $100,000 week, $85,000 in sales comes from digital channels. In a world where the majority of orders take place online, Noveshen argued, the brands that win will be the ones that bring the restaurant experience to life in the digital realm.

"User experience is critical," he said. "You have to engage the guest at every step of the way in this journey."

It's not just a matter of friendly app UX, although friendly app UX is paramount. For brands to win in a digital-first world, they have to accept that innovation is no longer constrained to their brick-and-mortar locations, but by the customer's need for convenience.

"The industry is coming with tons of new innovations — product innovations, experiential innovations — to allow the consumer new ways to dine," Noveshen said. "No matter who you are, whatever segment of the industry you're in, whatever problems you're solving for, you can learn and participate in this convenience world."
Mastering The Digital Guest Journey
How can restaurant brands stay relevant in the digital world? For Noveshen, the name of the game is designing brand touchpoints at every step of the digital guest journey. He breaks that journey into five stages: discovery, or how your guest finds you; ordering, or how your guest buys your product; production, or how your product comes to life; transportation, or how your product reaches your guest; and consumption, or how your guest receives and consumes the product.

For operators, the goal is to deliver a frictionless, personalized, and transparent experience at every step:

Discovery. To engage guests at the discovery stage, Noveshen recommended developing strategies for popular social media platforms like TikTok, building partnerships with popular influencers, and finding ways to generate earned media (á la Popeyes' fried chicken sandwich). "We need to think about what gets people excited about our brand and how we broaden the base," he said. "How can your brand be discovered in ways that are new and creative?"

Ordering. "Building personalization into the ordering experience is really key to success," Noveshen said. In addition to giving customers the opportunity to personalize their orders, apps should incorporate a distinct voice that lets the user feel like they're participating in the brand. "I love the brand voice of Philz," he offered. "Their brand voice comes through so loud and clear when you're on their app; there's a calmness. If you're a Philz user, you can really connect to the experience."

Production. Engaging with the customer at the production phase is a matter of ensuring order accuracy. One way to achieve this is by integrating backend technology that helps the operator's employees, like Chipotle's kitchen displays that lay out which items associates need to prepare an order.

Transportation. At this step, brands should endeavor to reduce customer anxiety about their order's journey from the restaurant to their door. "Bring the guest along for the ride," Noveshen advised. "It's all about the transparency associated with that guest receiving your products. Keeping in touch from start to finish is key."

Consumption. Not to be overlooked, the final step of the customer journey is a vital opportunity to "bring the brand home" with creative, engaging package design. At Pacific Catch, for instance, Noveshen's team developed 100% compostable bento boxes that built brand loyalty among their Bay Area customer base. "It's about bolstering the product with surprise and delight," he said. "How do you create this experience where you think about what you're eating, how you're sharing things, the colors, even how you get rid of this stuff?"

As he wrapped up his presentation, Noveshen encouraged operators to continue exploring innovative ways of connecting with their customers in the digital world. "The convenience movement is pioneering new ways for diners to experience your restaurants," he concluded. "With digital touchpoints that engage the guests all the way from discovery through their consumption, you too can have the power to engage and impact your guests."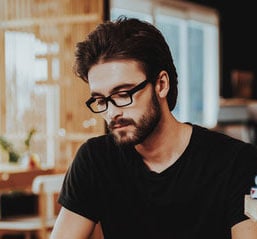 Posted by
Steve Manning is a journalist based in Idaho. When he's not writing, he can usually be found at the theater or taking his dog on a hike. If he could only go to one restaurant for the rest of his life, it would be Al's Place in San Francisco.
Chain Restaurants Reimagined.
The Retreat to Reimagine Restaurant Development, Design + Technology.
April 14-16 | Los Angeles, CA
Learn More