As restaurants head into 2023, they face no shortage of existential threats, from ballooning labor costs and shrinking real estate availability to frustratingly persistent supply chain disruptions. Then there's the ever-increasing footprint of third-party platforms like DoorDash and Uber Eats, which charge exorbitant fees for the privilege of serving a restaurant's own customers.
In the battle against these platforms, restaurants have few weapons as powerful as the loyalty program – provided, of course, that they wield it correctly.
In a recent address at RestaurantSpaces in Santa Barbara, California, Thanx CEO and Founder Zach Goldstein envisioned the loyalty program of tomorrow, which is nothing like the loyalty program of the past. Instead of relying on discounts and rewards that drive short-term revenues without building lifetime value, brands can use data-driven strategies to create highly personalized loyalty programs that win customers back from the platforms without offering a single discount.
"The future of loyalty is very bright," he said. "We need to stop thinking about it as a discount-only program and start thinking about it as driving lifetime value."
Creating Great Experiences
Goldstein argued that restaurants should respond to the rise of disruptors like DoorDash the same way hotels responded to online booking platforms like Orbitz and Expedia. On the one hand, they created best-in-class first-party digital ordering experiences. On the other, they built massive loyalty programs designed to keep the customer in that first-party ecosystem.
"This was not always the case," Goldstein said. "When you used to book through Expedia and you came to this hotel, you'd get the same room as everyone else. You book through Expedia now, you do not get loyalty points. You do not get a good room. You are looking at the parking lot. You have no chance for upgrade. That is the reality of differentiating with your loyalty program. You book direct, you get points, you get free upgrades, you get great experiences."
Restaurants are already lagging behind their third-party delivery competitors, some of which have already built robust loyalty programs. Part of the challenge is that restaurants have to play an industry-wide game of catch-up when it comes to collecting and implementing customer data, though brands like Chipotle and McDonalds show that once a loyalty program gets off the ground, it can scale very quickly.
Using a model called the digital flywheel, Thanx distills best-in-class loyalty programs to three essential components: acquisition, measurement, and personalization. The first step is acquiring known guests. "They cannot be anonymous to you – if they're anonymous, they're likely going to DoorDash," Goldstein said.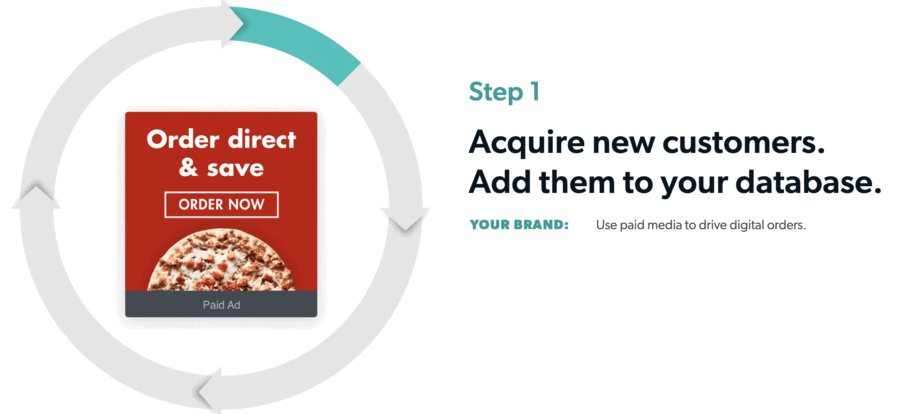 Photo Credit: Thanx

He stressed that measurement efforts should focus on whether a brand's marketing is driving incremental revenue, not merely whether customers are opening emails. ("Clicks do not equal incremental revenue.") Key to this is personalized messaging, which drives revenue six times higher than generalized messaging, according to Thanx's data.
"We have to personalize and keep this cycle going," he explained. "What drove revenue? Then, how do I target those people with more personalized marketing and can I drive more revenue? It's all about lifetime value."
The Future is Personalized
Goldstein acknowledges that some restaurant leaders may groan at the notion of building a loyalty program, especially given all the other pressures on the industry right now. But the loyalty program of the future is not the loyalty program of the past, one historically associated with discounts, Buy One Get One, and marketing departments that have no clue whether they're actually making a long-term difference.
"The future of loyalty is entirely personalized," he said. "It is treating consumers as the individuals that they are, establishing a relationship with them, and measuring, 'Am I driving lifetime value?'"
What this means in a practical sense is that any loyalty program worth its salt has four jobs: driving frequency, driving check, reducing breakage rates, and – crucially – gathering the data to prove it does each of these.
What it doesn't mean is that a good, effective loyalty program has to give out discount after discount. As Goldstein argued, the personalized loyalty program of tomorrow makes its customers members in an exclusive club.
"We want to feel special; we want to be a part of things," he said. "That's why you spend extra money to fly your preferred airline, on the possibility that you'll get upgraded."
He cited Chipotle's rewards program as an example that encourages customers to earn badges and unlock prizes like "Guac Mode," driving revenue not through discounts but by making customers feel like they're part of an in-group.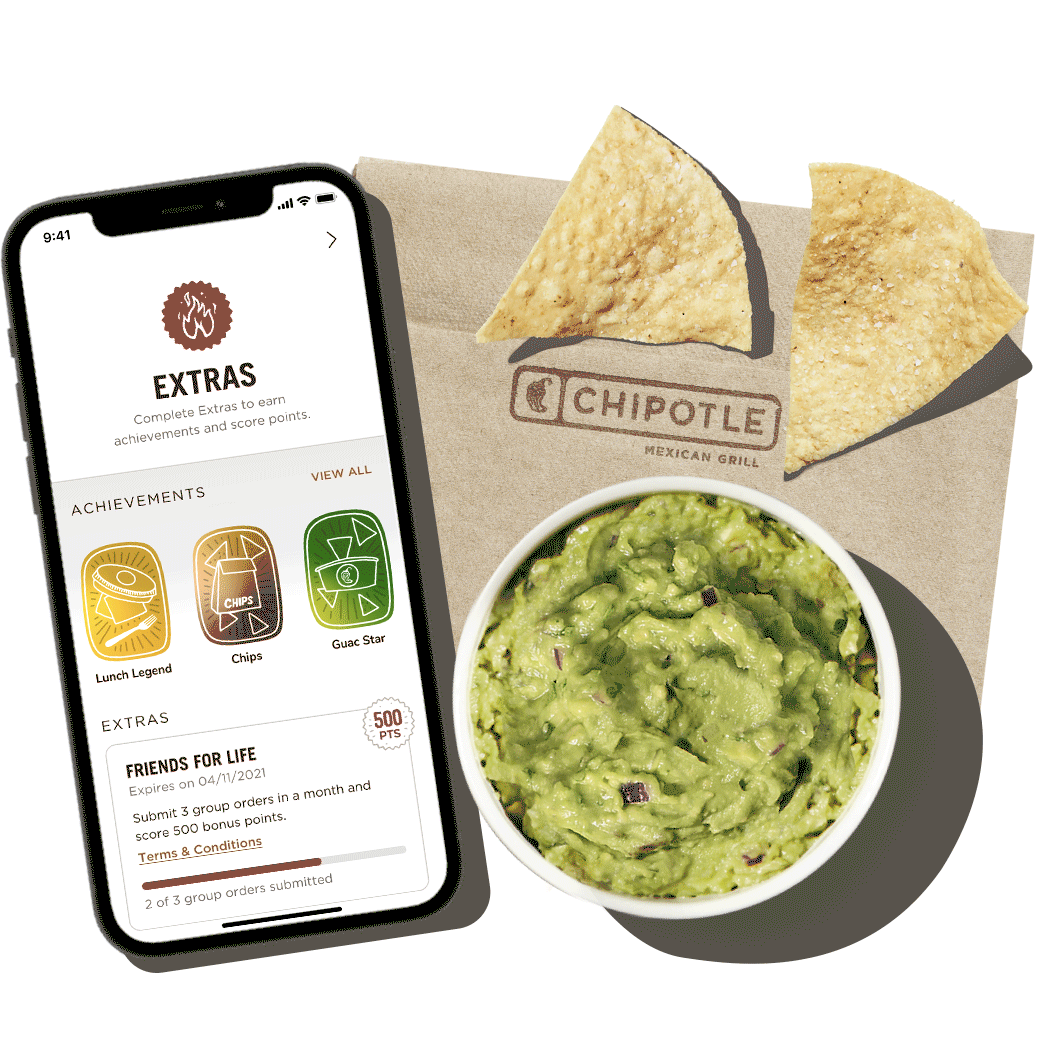 Photo credit: Chipotle Rewards

Then there's Velvet Taco, which is turning its rotating "Weekly Taco" feature into an exclusive menu for members of its own loyalty program, The Velvet Room.
"Guess what? Those people spend more money," Goldstein said. "Thirteen percent reached the next tier of their loyalty program, because they wanted access to that exclusive item."
The brand also saw six percent check growth in six months, while reaching more than 30% of its customers. "They are growing, on a per store basis, their loyalty program 10 times faster than Chipotle. They offer zero discounts as a part of their loyalty program."
Secret Menus, Swag, and More
Most of Thanx's partners prefer to keep the specifics of their own envelope-pushing loyalty programs under wraps, so Goldstein imagined a hypothetical brand that embodies a few best practices: Super Greens, a health-conscious, fast-casual restaurant serving lunch, dinner, and a brunch day-part. The customer's first interaction with Super Greens is in its app, which offers big, bold imagery and simple, one-click ordering.
"DoorDash has 50 designers on staff," Goldstein pointed out. "How many designers do we all have on staff? You need to have the right partners that can iterate on this."
In addition to delivery and takeout, Super Greens offers contactless table-side ordering, allowing guests to skip the line, place an order on their phone, and enjoy a drink or two (or three) while they wait.
"Checks are much higher through this, and now you're actually getting labor efficiencies at the same time," Goldstein said.
By displaying a secret menu hidden by a lock icon, Super Greens entices guests to take whatever actions are required to access the next level of the secret club they're in: spending a certain amount in a month, buying three categories of items, bringing a friend, the possibilities go on.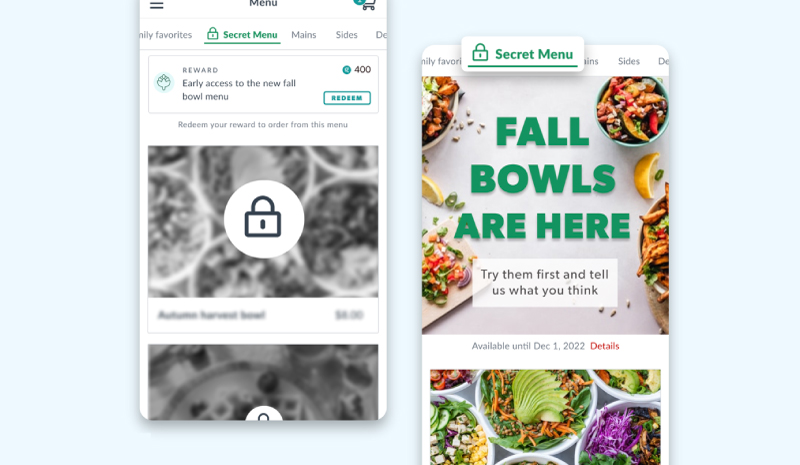 Photo Credit: Thanx


"You can get them to do the thing you want them to do, which ultimately is maximize lifetime value," Goldstein explained. "And it's not just secret menus. Events – access to exclusive events. We have a customer that used to do a focus group every quarter to try out their seasonal menu. They paid money to get input on their seasonal menu. What did they do? They took that entire thing, they offered it exclusively to VIPs. Now they turned a cost center into a revenue driver, and they're getting feedback from VIP customers who know a lot more about the menu than the random people that are in focus groups."
Another strategy: swag. "If your brand is big, your customers want to wear it," Goldstein said. "Let them – don't give them a discount. Give them once-a-quarter access to an exclusive, limited-edition piece of swag. You will be surprised, the people that would fight for your gold shoes or your purple hat or whatever fits your brand."
"This Is How We Win"
No matter the specifics, the key to a successful loyalty program is a design experience that makes it easy for users to opt-in, defines what they're earning, and clearly lays out what they need to do next. Equally important is treating customers as individuals, which may mean offering different experiences to different guests.
"Your loyalty program does not have to be the same program for every person," Goldstein explained. "An engaged customer can get different challenges with different things that they need to do to unlock rewards than a disengaged customer."
That points to another essential ingredient: data. "You gotta make it super easy, with very simple tools, to unlock data-driven A/B segmentation, testing, and revenue-generating marketing," he added. "That is ultimately, in our opinion, what will bring this industry to the level of sophistication that we've seen in e-commerce, in their use and capturing of data."
By putting all these pieces together, restaurants will be able to take power back from third-party platforms, protect their margins, and drive lifetime value. "This is how we win in a third-party enabled world," Goldstein concluded. "They're not going away, and it's not just as simple as 'Take 30% on your menu prices and cross your fingers and hope.' They are innovating and we have to as well."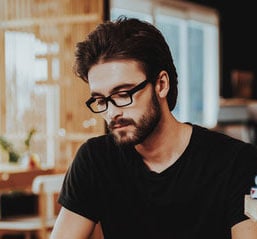 Posted by
Steve Manning is a journalist based in Idaho. When he's not writing, he can usually be found at the theater or taking his dog on a hike. If he could only go to one restaurant for the rest of his life, it would be Al's Place in San Francisco.
Chain Restaurants Reimagined.
The Retreat to Reimagine Restaurant Development, Design + Technology.
April 14-16 | Los Angeles, CA
Learn More