What started as a simple climate-conscious initiative — a reusable salad bowl — has mushroomed into a multi-faceted sustainability strategy for one national restaurant chain.
And earlier this year, Just Salad took the next logical step toward achieving its ambitious aims, unveiling a cutting-edge, sustainable store design in Miami, Florida.
At RestaurantSpaces Spring, Chief Concept Officer, Caryl Scobbie took a deep dive into how the redesign came to be, the many ways it communicates the company's mission, as well as how the project also led them to take a closer look at their development process.
It Starts with a Solid Foundation
"Sustainability is very much a part of our brand," Scobbie explained. "When Nick Kenner, our CEO, started the company in 2006, the reusable salad bowl was born, so this truly is the hero of our brand. We incentivize customers to use this bowl by giving them free toppings every time they come in to reuse it."
The fast-casual restaurant chain has since expanded this reusable bowl program for to-go orders. Customers ordering online can opt to have their meal delivered in a reusable bowl, which they can bring back the next time they visit a brick-and-mortar store.
Just Salad was among the first restaurants to list carbon labels on their menus to measure the environmental impact of food choices. Its online menu has a climatarian dietary filter to highlight which items have the lowest carbon footprint, another climate-smart initiative.
"We also partner with Too Good To Go, an app where customers pay a very discounted price for a meal at the end of the day. It's food that we would have otherwise thrown away," Scobbie pointed out. "So the customer's happy, and we are able to save thousands and thousands of pounds of food from going to waste."


Upping the Ante
In 2019, Sandra Noonan was hired as the brand's first-ever Chief Sustainability Officer. This move furthered the core mission, including the chain's decision to redesign its stores through the lens of everyday health and sustainability. The Miami store at 800 Brickell Avenue was chosen as the prototype.
"We wanted to be very intentional about how we source things. Obviously, you can't do everything because not everything is going to be budget-friendly," Scobbie admitted. "Where we could source things that have a sustainable story or that are made from recyclable materials, we wanted to showcase that within our store in a way that tells the customer that we are sustainable without having to put up a bunch of marketing messaging."
The Redesign
Scobbie explained that while they "kept the guts the same" they "were really looking at affecting the customer touchpoints."
Here are some of the major components of the redesign:
THE SERVE LINE
The millwork die wall design at the counter was changed to an attractive, simple panel system from 3form.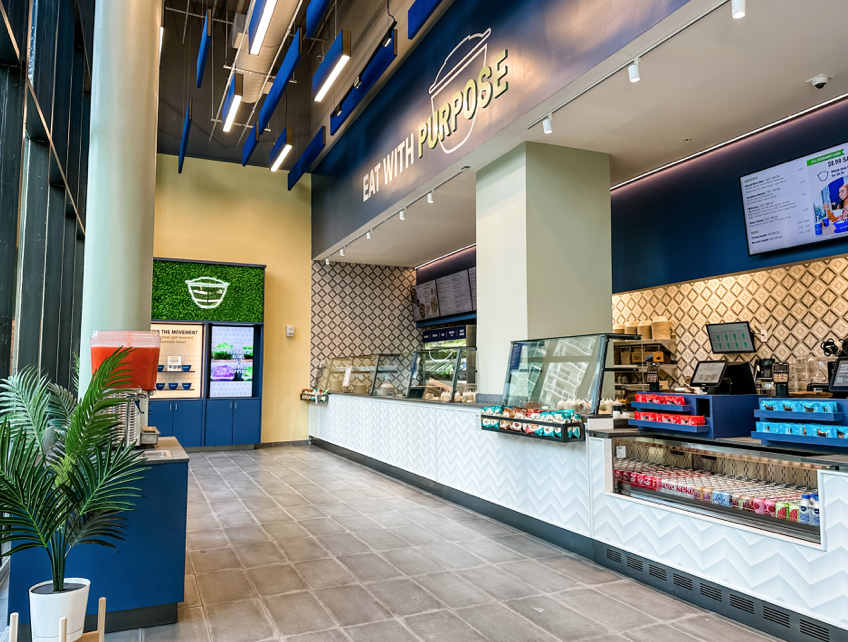 THE CEILING
Because acoustical ceiling tile has a significant carbon footprint, Just Salad opted instead to hang acoustical baffles from the ceiling, via a partnership with LightArt. The fixtures are made from plastic that's turned into pellets and then extruded into recycled felt. As well as providing sound absorption qualities and also providing a source of lighting, the fixtures add an interesting visual element to the high-ceilinged store.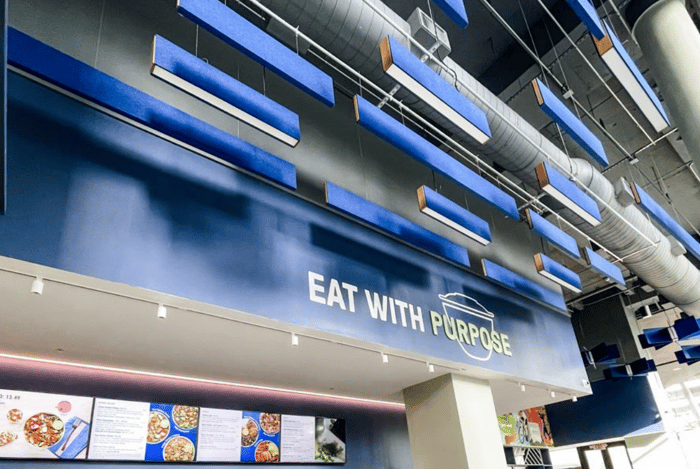 BOWL SHRINE
Shelving for the reusable bowls has always been a part of older store designs. In the new concept, Just Salad elevated this part of the store by turning it into a "shrine." Rather than merely being a merchandising wall for customers to grab a bowl and opt into the initiative, the chain added a digital display to tell the story of the program. To eliminate the need to retrofit locations should company messaging change at some point, the team opted for evergreen language on any signage used in the store.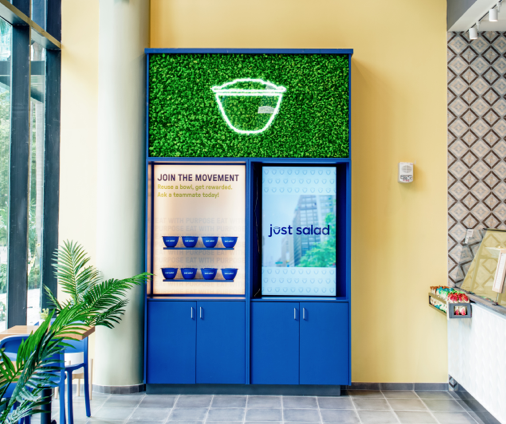 GREENERY
Reindeer moss from Green Oasis added another dynamic visual element while evoking a sense of health and sustainability. Understanding that adding plants and greenery can be a maintenance hassle for operators, Just Salad chose this type of moss for its long-lasting qualities. Because it's been "preserved," the moss is real, but not living — it requires no sunlight, watering, pest control, or other upkeep, and has the same acoustic properties as the baffles in the ceiling.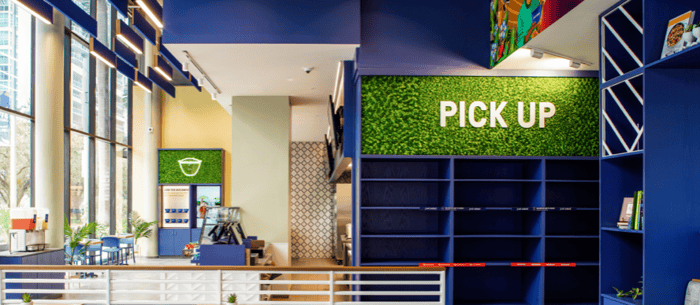 DINING ROOM
Wood table tops came from Forest Stewardship Council (FSC)-certified companies, to ensure all of the wood was harvested responsibly. Any fabric used is Greenguard-certified. Chairs were sourced from Emeco, a U.S. manufacturer that uses recycled plastic mixed with leftover wood and sawdust from lumberyards to give the chairs structural integrity. They also come with a lifetime guarantee and are built to last, which limits the need to replace them every few years.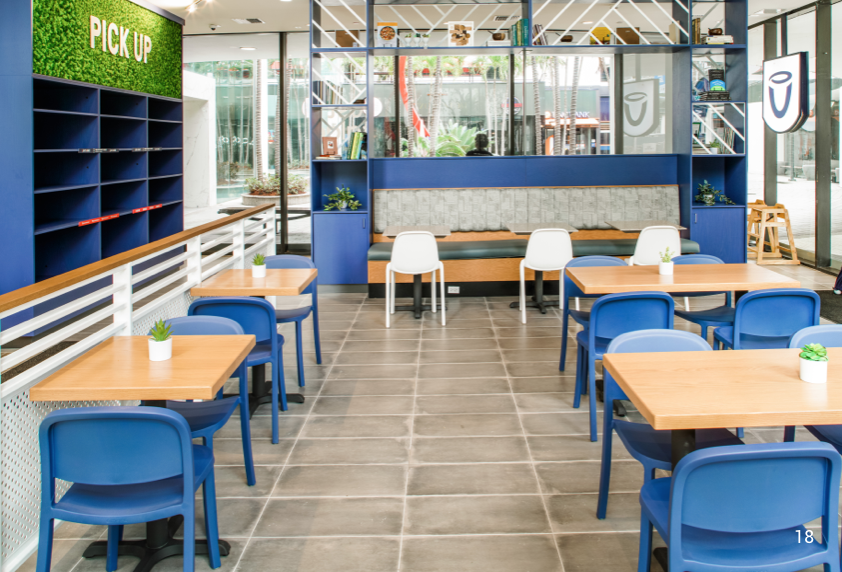 MURAL
As well as communicating Just Salad's reusable bowl program, a prominent mural is printed on DreamScape Terralon made from recycled water bottles.



LIBRARY WALL
A new feature, the take-a-book/leave-a-book library is stocked with a curated collection of used books on active living, healthy eating, the environment, and related sustainability topics. Sourced from Books by the Foot, the books are secondhand and the vendor provides a curated selection based on the theme a client might be looking for. Recycled art is also intermixed on the shelves.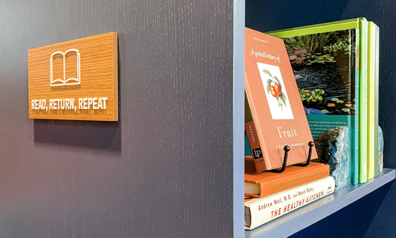 COMPOST STATION
Because waste management is a major objective for the chain, they decided to make its compost station more prominent in the redesign. Instead of hiding receptacles behind cabinet doors, the chain worked with the Leiden Company — an Ohio-based architectural millwork vendor — to source refurbished and powder-coated 55-gallon drums, exposing them to public view. Plaques at the station indicate what to put in each receptacle with openings intentionally sized so compost has the largest, and landfill, the smallest.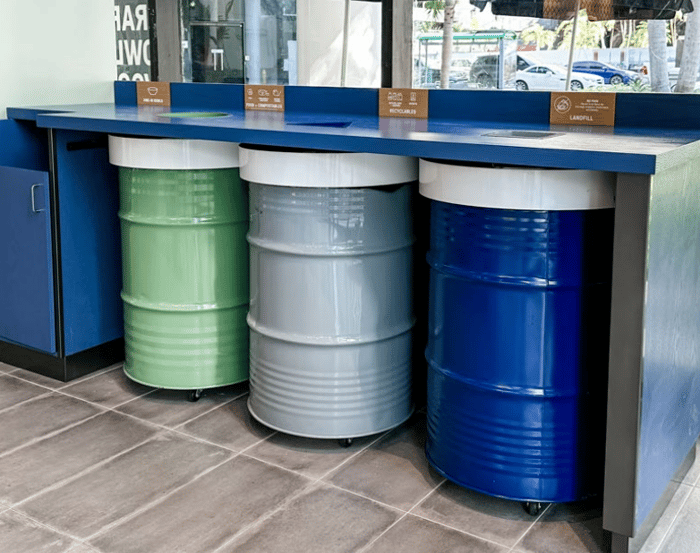 What's Next?
Scobbie provided some parting wisdom for other restaurant design execs that might be unsure of where to begin in their sustainability journeys. Of particular concern to her and her team was ensuring that they partnered with vendors that aligned with the chain's progressive sustainability aims.
"When I started this whole process, admittedly, I didn't know much about sustainability," Scobbie said.
A moment that helped was when she spoke with Building Transparency, a non-profit that manages an online carbon emissions calculator tool called EC3.
"They advised me to ask for the EPDs (environmental product declarations) to help make decisions. Chances are that if the manufacturer does not have an EPD, they are not really forward-thinking as it relates to the environment and sustainability. So maybe you should be looking to another supplier," Scobbie said.
She also explained the importance of ensuring design elements have multiple functions, alluding to the acoustical properties and lighting capabilities of the baffles hanging from the ceiling, while also eliminating the need to budget for as much artwork.
Scobbie closed by explaining what's next for the new store design, which is currently being rolled out at a handful of other locations across the country. Once Just Salad gauges how they perform, the chain will figure out how to execute a widespread rollout. Ensuring each store maintains a strong connection to the locality it's based in will also be a key focus moving forward.
Referring to the second rollout of the new design, Scobbie said they were able to "tweak the finishes, tweak the artwork a little so that it feels like New York City and not that we just picked up Miami and tried to stick it in a New York City box."
Chain Restaurants Reimagined.
The Retreat to Reimagine Restaurant Development, Design + Technology.
Oct 1-3, 2023 | Miami Beach, FL
Learn More