Significant increases in digital ordering and related upticks in drive-thru traffic are perhaps some of the most apparent after-effects of the past few years. They've also led to one of the fastest-growing trends in the restaurant industry today — the rise of mobile order-ahead or app-only lanes at the drive-thru.
Late last year, Chick-fil-A unveiled its first prototype with a designated pickup lane for digital orders.
At RestaurantSpaces Fall in Santa Barbara, Chick-fil-A's Executive Director of Design, Khalilah Cooper, gave the audience an inside look at how the prototype came to be, as well as how the wildly popular chicken chain continues to evolve with shifts in consumer behavior in "a balanced and holistic way."

Chick-fil-A Executive Director of Design, Khalilah Cooper, speaking at RestaurantSpaces
Addressing the Need For Speed
Improving speed-of-service at the drive-thru continues to be a major concern for most QSR chains as they cope with sharp increases in traffic which have lingered since the pandemic.
However, few chains face a need to innovate in this channel as much as Chick-fil-A — a direct result of its widespread appeal. The brand has been the number one restaurant chain on the American Customer Satisfaction Index for eight years running. According to Techonomic, Chick-fil-A locations outside of malls generate, on average, $8 million in sales annually.
The strain of this kind of success on Chick-fil-A's drive-thru has been well-documented. Emerging from Covid, some locations experiencing heavy congestion have had to be converted into drive-thru-only restaurants due to pressure from communities and municipalities.
"We are constantly considering demand management," Cooper said, acknowledging the challenge of adjusting operations in a way that doesn't throw customers off. "We know any time that we make a change or a shift — even moving from a freestanding restaurant to a drive-thru-only — if guests are confused, we create frustration for them as well."

Once order-ahead guests arrive, they check in via QR code, which sends their order to the kitchen
Chick-fil-A's dedication to innovation over the years has paid dividends in many areas of the business — and the drive-thru is no exception. The chain has shaved the average wait time per car to one minute and 47 seconds, making it the fastest of the top 10 chains surveyed last year in that category.
The introduction of a mobile-order-ahead lane at the Tuskawilla Rd location in Winter Springs, FL represents Chick-fil-A's latest effort to enhance experience by leaning into customer tension.

Starting From the Ground Up
According to Cooper, most innovations that become systemized throughout the country start with individual Chick-fil-A restaurants instead of a top-down approach.
"Our team members, team leaders and Operators are constantly innovating, so we're trying to stay in lockstep with them," Cooper said. "Ideally we stay a little bit ahead so we can prepare the way, but they end up taking us further than we ever imagined."
As many locations pivoted during the pandemic to handle more drive-thru traffic, it became apparent that developing a drive-thru mobile-only "express" order lane was necessary. So far, Cooper explained, a significant number of guests are choosing it as an option at the Tuskawilla Rd location.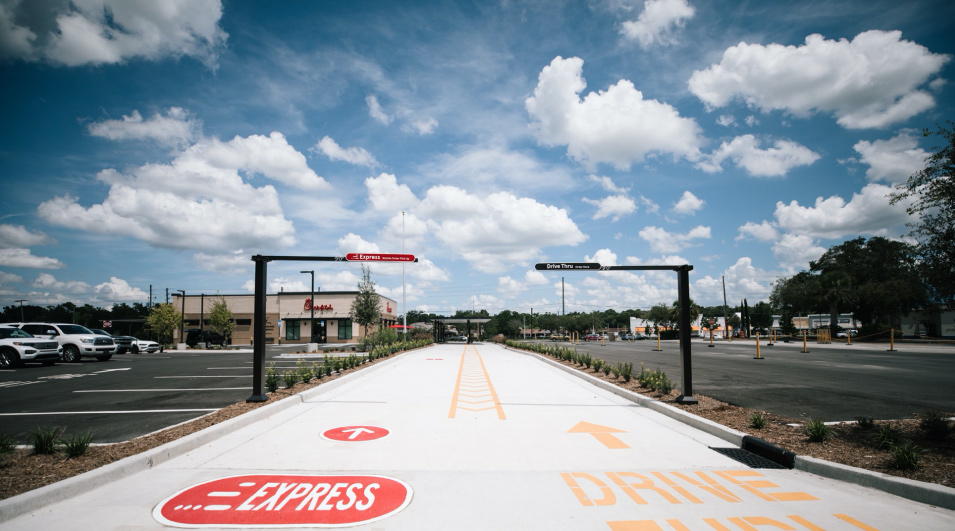 The experience begins with guests pre-ordering in the app. Once they arrive and enter the designated pickup lane, they scan a QR code, which sends the order to the kitchen to be made fresh. When it's ready, customers are greeted by a team member at handoff, ensuring that human connection is still a key part of the process.
"We look at digital interaction and technology in general not as a way to replace the experience with the team members, but to elevate the experience with the team members," Cooper said. "We're not looking at technology for technology's sake, but rather, what is a pain point we can help alleviate for our guests, and how can the technology create a better experience?"
Accuracy has also improved, as a result of customers having greater control over the ordering process.

Having staff greet guests is still an important part of the customer journey
"Finding That Right Balance"
While Chick-fil-A expects mobile pre-orders to continue taking up a larger share of the business, they have no plans to abandon the traditional drive-thru experience, still offering it as an option in a different lane.
The same applies to the in-person dining room, which the Tuskawilla Rd Chick-fil-A has, albeit enhanced to highlight opportunities for digital interaction.
Guests can enter the store for mobile pick-up, but can also order to carry out or dine in using a touch screen, or they can choose to order from a team member at the front counter. The dining room also has a status board to keep customers informed of where they are in line, but the goal is still for a team member to hand off the actual order face-to-face.
R

estaurant interiors and dining room have also received an upgrade
"It's finding that right balance of designing for today, but looking toward the future," she said. "We don't want guests to feel forced into any experience. We want to give them that flexibility, but also accommodate those shifts over time."
The dining room design at the Tuskawilla Rd Chick-fil-A has adapted in other ways, such as offering hand-washing stations outside the restrooms. The location also has a designated team meeting room to support employee interaction and training. Chick-fil-A consistently has some of the highest employee satisfaction rates in the industry.
"We really are supporting our teams in the design of the space, and spaces like this make team members feel valued," said Cooper. "This space for them to feel part of the business is really crucial."
Posted by
Jessi Philips is a writer and educator who divides her time between Michigan and Oakland, California. When not writing, she's usually outside with her dog or inside writing songs on the guitar. She also loves cooking and cross-country skiing, though she is not very good at either.
Chain Restaurants Reimagined.
The Retreat to Reimagine Restaurant Development, Design + Technology.
Oct 1-3, 2023 | Miami Beach, FL
Learn More