While many restaurants faced significant learning curves during the Covid-19 pandemic, one was well-situated for the industry's sudden changes: Popeyes. The runaway success of its chicken sandwich put the Louisiana-based chain on the national stage, creating a wave of momentum that not only brought unprecedented sales and brand awareness, but also spurred its nascent delivery operations. "What the chicken sandwich actually showed us, even before the pandemic, was that our restaurants were built for the past," said Sami Siddiqui, Popeyes' President.
Siddiqui joined Popeyes in September 2020, having spent several years heading up Restaurant Brands International's operations in Asia. His experiences there—where RBI opened 300 restaurants in a single year and delivery orders arrived in 20 minutes—hammered home the importance of flexibility and experimentation in new restaurant development.
Since he's taken the helm, Popeyes has debuted six new restaurant prototypes, including a new digital-centric flagship concept in New Orleans. It's actively testing different layouts and developing a new point-of-sale system, one that might someday integrate restaurants, guests, and perhaps even delivery drones in a single convenient ecosystem—but he can't go into detail on that quite yet.
In a fireside chat at RestaurantSpaces, Siddiqui went deep on Popeyes' recent transformations, explaining what it takes to stay nimble and make great food in a rapidly changing world.
Bridging the Convenience Gap
Siddiqui's top priority upon becoming CEO was to bring Popeyes firmly into the future, first and foremost by building out its digital business. Popeyes was able to lean into the pandemic's delivery demands thanks in no small part to the popularity of fried chicken—"the number two category for home delivery," according to Siddiqui. Whereas delivery was a fairly small part of Popeyes' operations before Covid, it now accounts for 15% of the chain's business. The restaurant's loyalty program, nonexistent before Siddiqui came aboard, now counts 5 million users.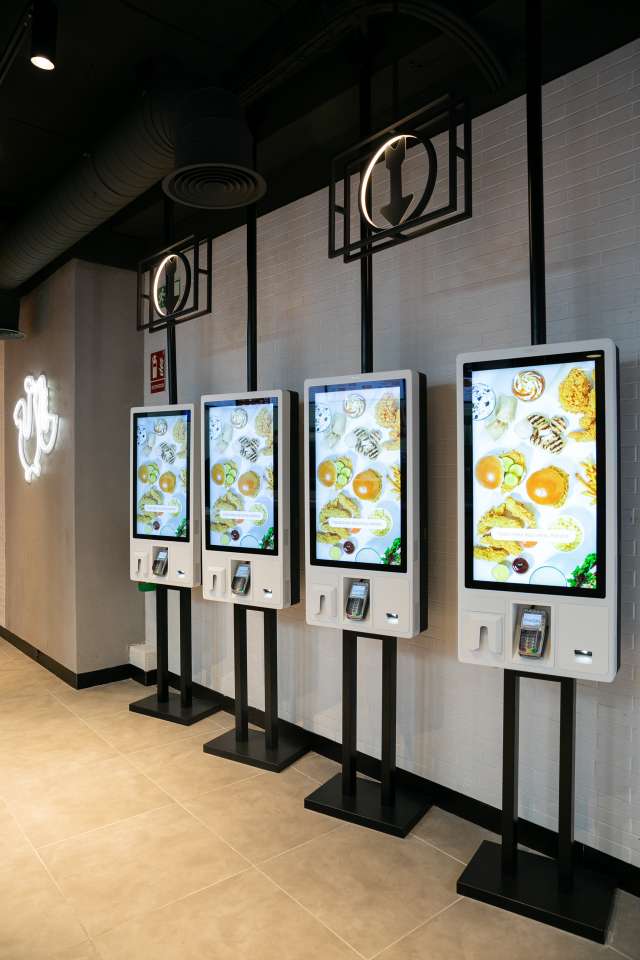 This went a long way toward helping Popeyes overcome one of its main obstacles to growth: with a respectable 3,000 units in the US, its brand awareness isn't quite yet matched by its accessibility. "Convenience remains the biggest barrier to trial," Siddiqui explained. "So for us it was, how do we bridge that convenience gap? Of course it was build more restaurants and be more accessible, but it was also build your digital presence, right? Delivery makes you that much closer to the guest."
The efforts paid off. "Coming out of 2020, we had this immense growth," Siddiqui said. "What that did was actually drive record franchise profitability for our franchisees. Popeyes, in 2021 and beyond, we have one of the best paybacks on new restaurant development." When the company started welcoming new franchisees after the worst of Covid, its waitlist grew longer than almost ever before.
Testing and Learning
Siddiqui's other priority was expanding Popeyes' physical footprint. He knew he couldn't just build the same old formats as before; the world had changed, and customers had changed with it. Even if it didn't take five years to wade through all the red tape involved in building "3,000-square-foot boxes with drive-thrus," Popeyes learned from the chicken sandwich saga that its kitchens weren't built for the sort of sales—$3 million on the high end—that its newfound popularity ushered in. One way or another, the only way forward was innovation.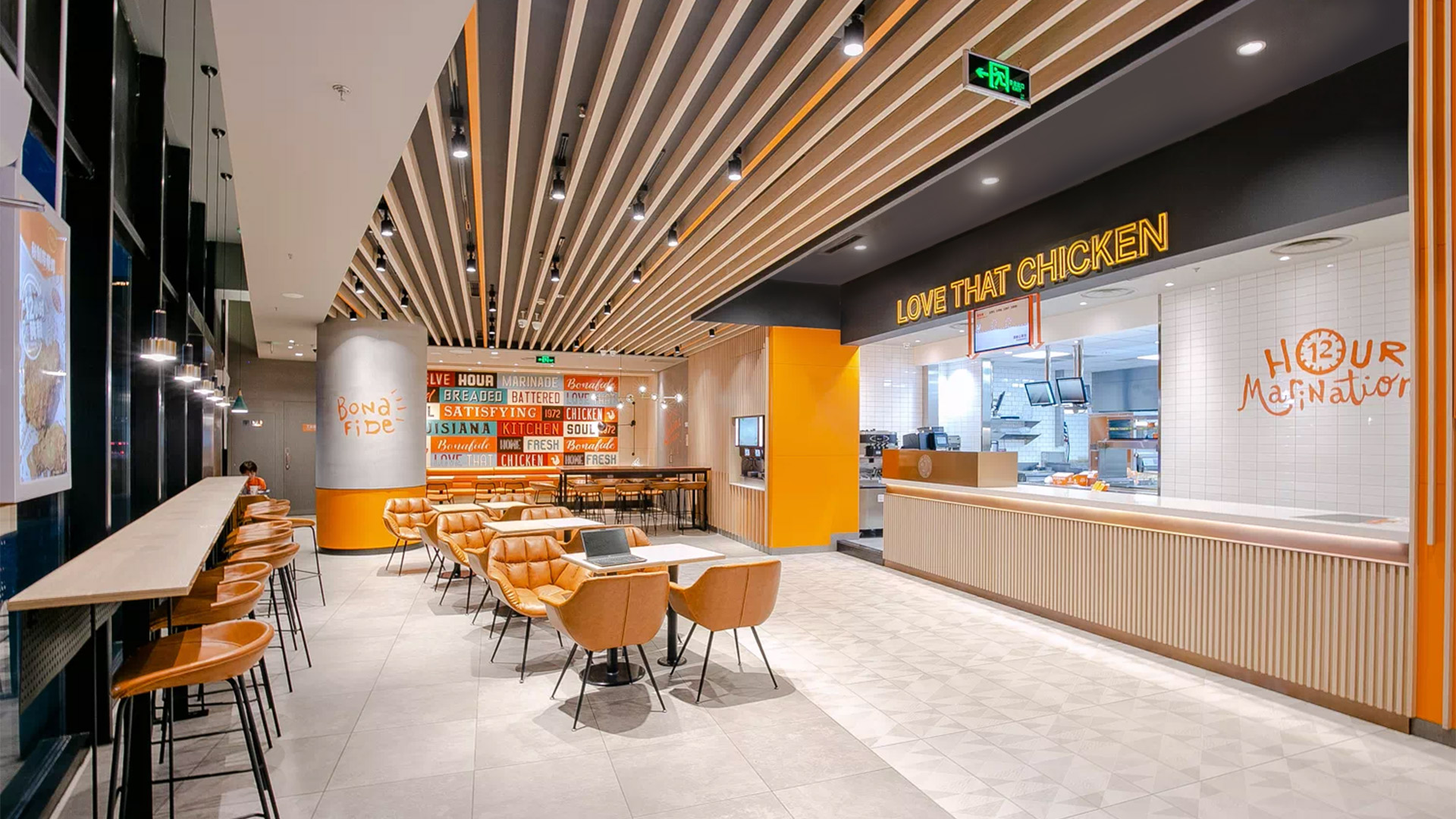 At a broad level, that meant experimenting with smaller dining rooms—if any. "Pre-pandemic, we were building 76-seat restaurants," Siddiqui explained. "In our prototypes, the largest seating area is about 36 seats, and it goes down to no seats at all." Popeyes' six new prototypes include a digital walkup concept in south Miami that's expected to recoup costs in less than a year, a clear illustration of the potential lurking in trade areas that may not support conventional freestanding restaurants. "If you can get a payback in less than a year, for a franchisee, it actually gives them a business case to start thinking about: 'Wow, I should think bigger in this trade area, and I should experiment,'" he said. "That's what testing and learning really gets us."
Then there were more granular innovations, like the redesign of Popeyes' kitchens. This was driven in part by the chicken sandwich, whose massive sales exposed fault lines in existing kitchen operations, and in part by pandemic-induced staffing shortages. Informed by Siddiqui's conversations with employees when he visits individual restaurants—"I'll say, 'If there's one or two things you can change about this restaurant, what would it be?'"—Popeyes reoriented its fryers to simplify a hot, labor-intensive fry-cooking and storage process, and fully changed the kitchen layout to alleviate a major pain point: the massive bags of flour that employees have to carry. "We hand-batter and bread. The bags of flour are 40-pound bags," Siddiqui said. "When you're doing that all day, it's a time-intensive and really strenuous job. So we tried to minimize how many steps they take."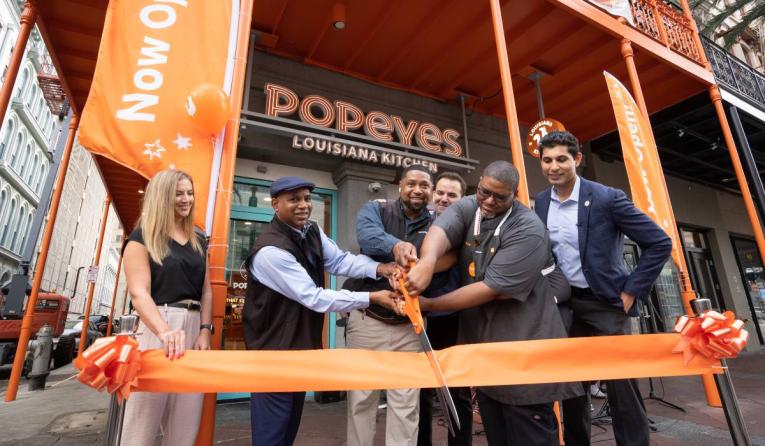 Staying on the Front Lines
The kitchen redesign speaks to one of the most important parts of Siddiqui's job: keeping his finger on the pulse of the company's workforce. While he recognizes that many restaurants are still experiencing labor shortages, he argued that the chief difference between understaffed and fully staffed restaurants is one of culture. "The best operators, they're not running their restaurants from their desks, they're not running it from Zoom. they're not running it from Outlook. They're in the restaurants," he said, describing a recent chat with a franchisee who operates 200 or so locations. Two things about the conversation stuck with Siddiqui: the franchisee only lost five general managers throughout the entire pandemic, and he knew the name of every team member in the restaurant where they met. "Every single team member's name."
"It sort of accentuated the importance in my mind of being on the front lines," Siddiqui concluded. "I encourage the folks who aren't in the office, when they're not in the office, to actually be in the restaurants. Because ultimately that's where we're serving the guests. That's where the best ideas happen."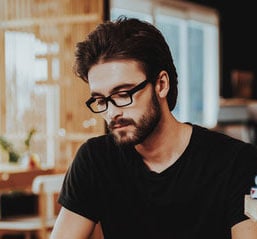 Posted by
Steve Manning is a journalist based in Idaho. When he's not writing, he can usually be found at the theater or taking his dog on a hike. If he could only go to one restaurant for the rest of his life, it would be Al's Place in San Francisco.
Chain Restaurants Reimagined.
The Retreat to Reimagine Restaurant Development, Design + Technology.
Oct 1-3, 2023 | Miami Beach, FL
Learn More