In its heyday, more than 3,500 fans would cram into the hot and sweaty stands of San Diego's Coliseum Federal Athletic Club to witness some of boxing's biggest bouts of the 1920s and 30s.
When the sport moved into bigger arenas, the iconic East Village landmark lived a less exciting life as a furniture store, before being abandoned and for years.
In June, the building's lonely days will come to an end when it reopens, this time as a Punch Bowl Social. With this latest facelift, the 24,000 sq foot venue will transform into a sprawling millennial play space, complete with multiple bars and booths, arcade games, bowling lanes, giant Scrabble boards, ping-pong tables, karaoke and virtual reality gaming rooms.
Taking the stage at RestaurantSpaces, Founder and CEO, Robert Thompson, delved into how his team's distinctive style (something he calls "dirty modern design" — a mix of "mountain lodge, mid-century modern, industrial and Victorian") lends itself to Punch Bowl's irresistible appeal among those under 30.

"If you're going to market to millennials, you better damn well make sure you are authentic, or they will sniff it out a mile away.
"They'll not only sniff it out, they will tell 10 million of their best friends you are not authentic and to not show up there," he said.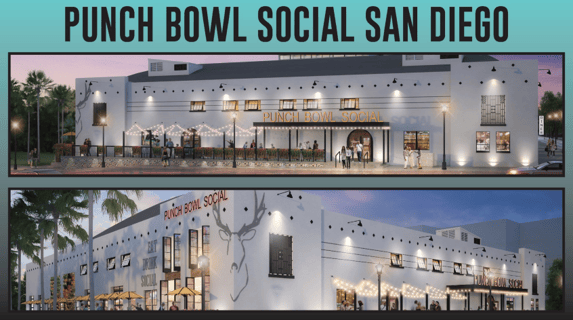 The Punch Bowl Social formula has been so successful at luring the highly coveted, cashed-up generation, Thompson is increasingly being referred to as a "millennial whisperer."

"I put together concepts that appeal to the ethos, activity and enthusiasm of what happens to be this particular generation," he said. "There's nothing contrived about what we do."
Edging out the Legacy Brands
Thompson's apparent air of nonchalance is sure to be the envy of his competitors in the casual dining space.

While the sector scrambles to develop concepts that hit the mark with younger audiences, few have garnered the response Punch Bowl Social enjoys. Speaking a little more candidly after his talk at RestaurantSpaces, Thompson suggested there's a fundamental reason his rivals are struggling to find solutions.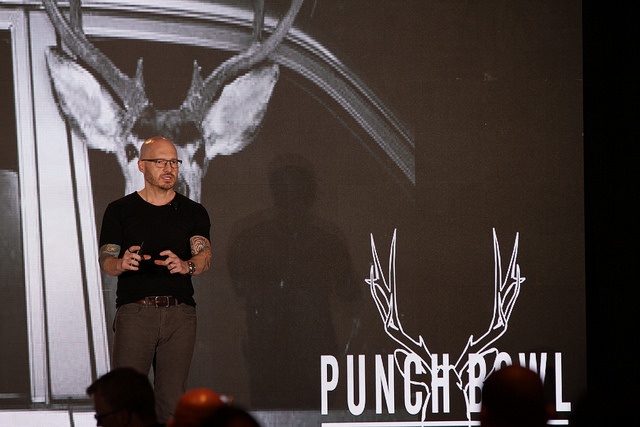 "Brands that don't have authenticity in their DNA just can't transition into the future," Thompson said bluntly. "Applebee's tried to pivot toward millennials and not only did they reject it, but their core target group of boomers and X-ers started to abandon them too.
"I don't know what old legacy brands are supposed to do. I just know it's my job to take their market share."
So far, he's off to a solid start.

Just four years after unveiling its first location in 2012, Punch Bowl Social was pulling $340 per square foot. The company has since grown to 13 locations, with aggressive plans for further expansion underway. Given each Punch Bowl costs around $5 million to get off the ground, the brand's accomplishments to date have been no easy feat.

"Our goal is to become an iconic American brand. We talk about that every day. You can believe it, or you can not believe it. But inside our organization, we do," Thompson said.
Big Thinking = Bold Ideas
In realizing such lofty aspirations, Punch Bowl Social isn't wasting any time. The company is making moves into other verticals entirely in an attempt to strengthen brand recognition throughout their target demographic.

For instance, Thompson revealed they're currently "looking for deals" for the brand's first hotel concept. Retaining hallmark design elements of a Punch Bowl, the venture will also feature highly social, dorm-style accommodation options popular at modern hostels like Freehand. He also has plans to launch a private club with "affordable and accessible" membership rates.

"We think we have an opportunity to be one of the defining voices of this generation from a lifestyle branding viewpoint and one of the ways to connect there would be to pivot into these spaces," he said.

Aligning such big thinking with values millennials keep close to their hearts is what Punch Bowl Social excels at. The company's emphasis on green initiatives at every level of the business is a prime example.
"Any way that we can lower our carbon footprint is critical to our corporate mission," Thompson said. "It's part of a layer cake of connectivity that we think enhances our relationship with millennials."
Reusing the Past to Reshape the Future
With these sustainability goals in mind, adaptive reuse has understandably become a cornerstone of Punch Bowl Social's design strategy.
Restoring unique, yet dilapidated spaces may provide invaluable inspiration and brand differentiation on a project. However, the opportunity to protect buildings from a much more mundane alternative is where the true benefit lies.
"We saved our very first location from becoming an auto body shop. The neighborhood didn't need that," Thompson said. "A year after we'd opened, nearby businesses in Baker (Denver) experienced a 20% lift in sales and real estate values increased more than 100%. It's been a boon to that economy."
It's an approach they've stuck with since then, despite the difficulties adaptive reuse can present. For example, zoning issues and other problems surrounding Punch Bowl Social's Brooklyn development, originally slated to open in 2017, have caused setbacks and delayed completion to sometime next year.
Challenges aside, past preservation projects have really put Punch Bowl on the map. Attracted by the company's budding reputation for adaptive reuse, the City of Denver approached Thompson to convert an air traffic control tower. Originally earmarked for demolition after 23 years of sad stagnation, the monolithic landmark now also serves as Punch Bowl Social's headquarters, "generating a lot of brand equity" in the rebuild process.
"Sometimes businesses don't think enough about ways they can do the right thing while making a lot of money at the same time. Those two things aren't mutually exclusive," Thompson said.
Prescribing an Attitude Change
Motivated by this sense of corporate responsibility, Punch Bowl has recently collaborated with lifestyle brand, Shinola, to deliver its latest attention-grabbing design initiative.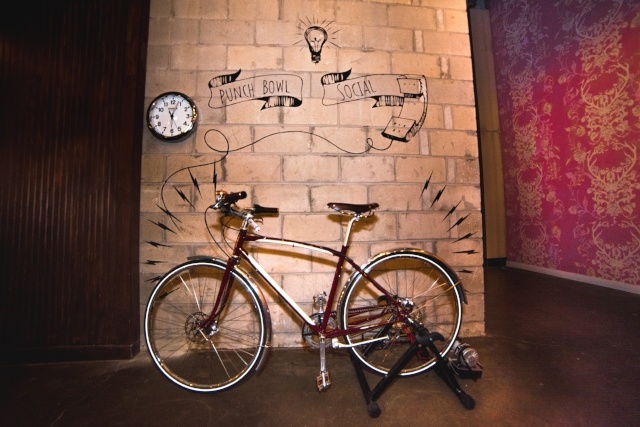 At one of the newest Punch Bowl locations, nestled in Chicago's popular West Loop precinct, guests can charge their phones by pedalling out the required power on a Shinola-branded bicycle.

While the concept likely gets a nod of approval from Thompson's target clientele, he admitted it's exactly the kind of idea that might cause older eyes to roll, just as quick as the wheels of the bike.
"There are a lot of legacy brands out there that just don't get millennials and, unfortunately, when people don't understand something, they usually make fun of it." says Thompson.
Though if the rest of the industry is serious about generating Punch Bowl Social levels of popularity, Thompson suggested brands may need to adopt a deeper respect for the very demographic they're trying to court.

"It's a far less fearful generation," Thompson said. "It takes a lot of gumption to get out there and try new things and experiment and decide to travel in your 20s instead of locking yourself into a mortgage. Until older brands get that, there's going to be this disconnection with curating a body of experiences that millennials crave."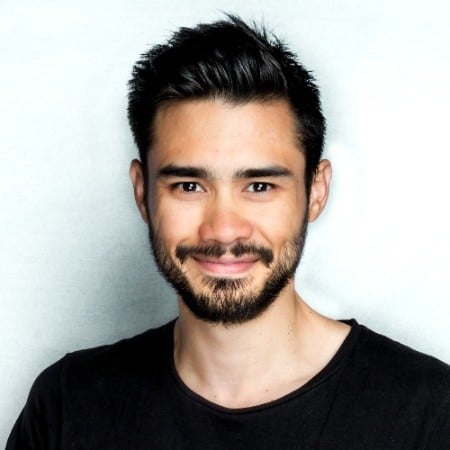 Posted by
Content + event producer with an innate, insatiable curiosity. Fixated on retail, restaurant, and hospitality design.
Chain Restaurants Reimagined.
The Retreat to Reimagine Restaurant Development, Design + Technology.
Oct 1-3, 2023 | Miami Beach, FL
Learn More