The Covid-19 pandemic brought the end of marginality to restaurants, Jim McPhail declared at RestaurantSpaces Spring. People are quitting their jobs because their jobs were marginal. They're moving because where they lived was marginal. They're making different dining decisions because where they dined was marginal. The mission ahead for the restaurant industry, then, is to focus on not being marginal: to instead be the employer of choice, the dining destination of choice, the experience of choice.
"Things are moving into excellence and things are getting out of marginal," said McPhail, Chief Development Officer at Sweetgreen. "Those who are able to accelerate are gonna win, and those who are gonna have to think about it for a while may not be here in a few years." In an expansive conversation with Andrew Bello, VP of Design & Architecture at Inspire Brands, and Tiffany Vassos, VP of Design & Construction at Dave's Hot Chicken, McPhail and his fellow panelists discussed what exactly it takes to win.
Over-Communication Is Key
Supply chain issues have posed one of the most nettlesome challenges over the last few years, and the panelists acknowledged that they're liable to remain nettlesome into the future. Nettlesome, fortunately, does not mean insurmountable. For Vassos — who has benefited from long relationships with vendor partners that she can now leverage to call in favors when needed — communication is key.
"One of the things that has been successful is just over-communicating with those partners so that everybody understands what we're doing, how quickly the openings are coming, so that there's really no gray area between what our needs are and what we need to have delivered," Vassos explained. While she maintains a core list of "brandatory" items that every location needs, she's able to remain flexible with less essential items, turning to alternate vendors or manufacturers when the situation demands. In other cases, she's able to get ahead of supply chain issues by bulk-ordering in advance.
McPhail also stressed the importance of communication and building meaningful relationships with vendors. "Do you have a supplier, a vendor, or a partner? I think if you have a partner, it's a different dialogue," he said. "We're very open with our partners about what we're looking at and we're trying to get done." He added that Sweetgreen has incorporated supply chain issues into the very fabric of its development process. "The very first thing we design now is our engineering," he said. "We will order all of our HVAC and engineering before we're done with our plan sets."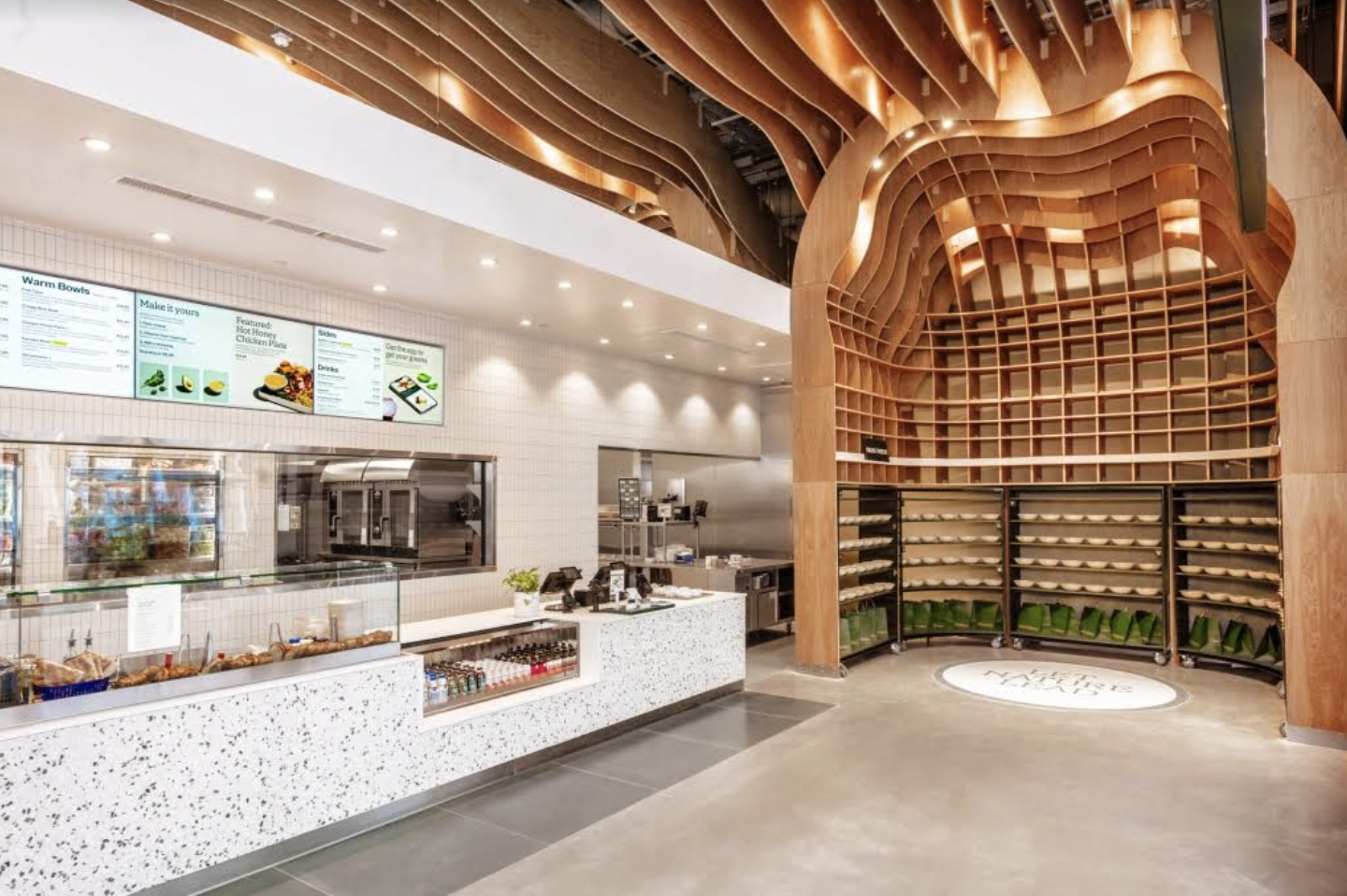 Sweetgreen's WTC location in NYC an example of the chain's deftness in designing for digital
Designing for Changing Customer Journeys
The customer journey is an increasingly digital one, which is to say it's an increasingly complex one. Shepherding the customer along that journey poses both physical and digital design challenges: the most well-designed app, after all, is only half the experience. "It's almost like transportational architecture and how you design airports," McPhail observed. "You want to have certain ways for people to get around so it's not very confusing… Did you order online? Is it being delivered to you? Are you picking it up? Are you picking up in a car? Are you picking up in person? Are you curbside? Are you coming in and ordering and just sitting down and eating, are you coming in and ordering and taking it with you?"
"It's important as a design team to make sure that narrative holds up," Bello agreed. This is especially true for brands entering low-penetration, high-cost markets like New York City, Chicago, and Los Angeles, where off-premise dining is king. "It requires a different format, it's a different cost structure that's gonna rely on digital," he said.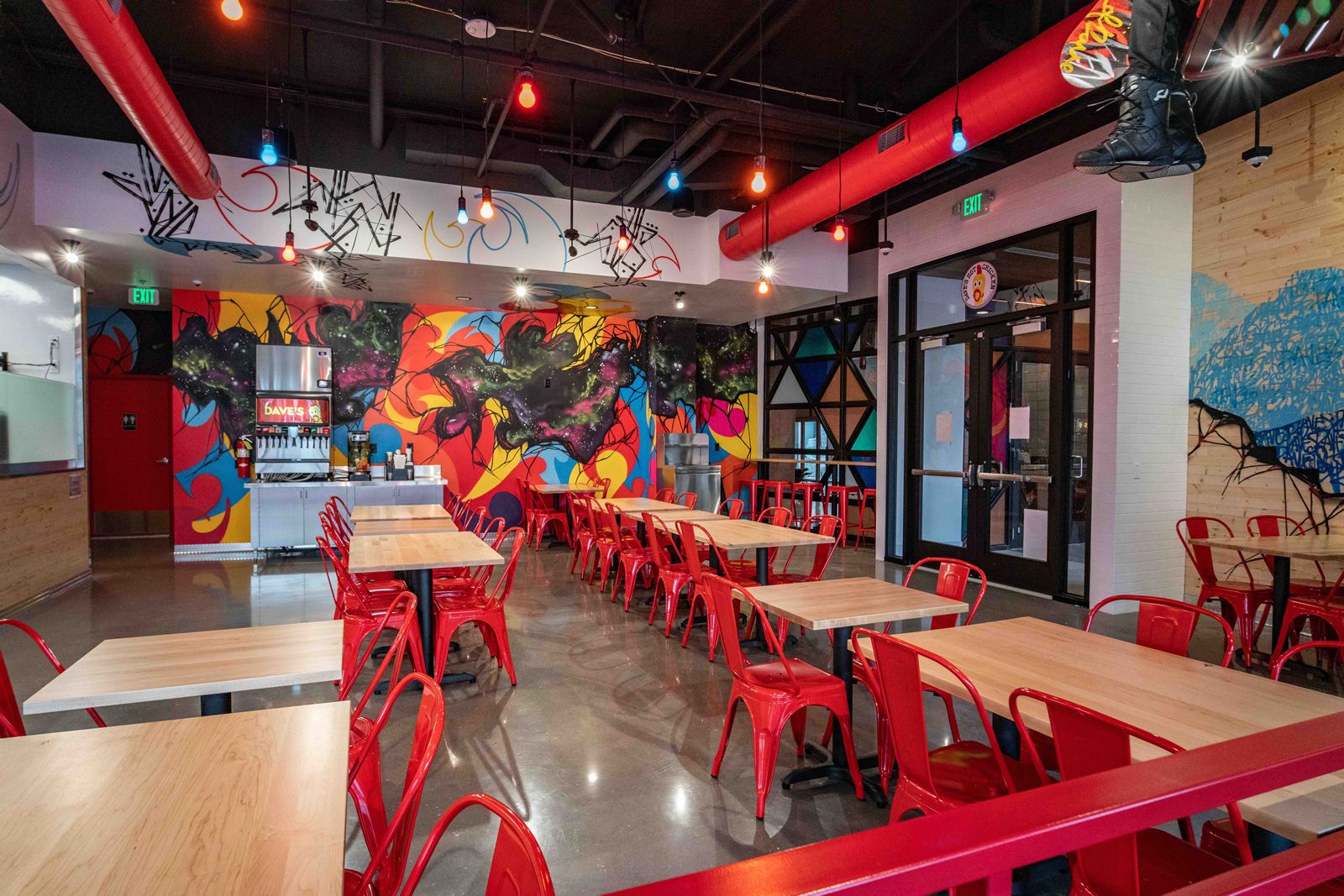 The popular Dave's Hot Chicken is in expansion mode


As the customer journey changes, so must the workflows that make the customer journey possible. As Dave's Hot Chicken adapted to increasing off-premise business during the pandemic, it brought in a company called The Productivity Advantage to help rethink its operations. "We started implementing double-sided and then duplicative make lines, so that we could separate dine-in orders from third-party delivery and online orders," Vassos said. For Sweetgreen, where dual make lines were already the norm, McPhail said that reapportionment and repositioning have been key to reducing congestion.
Community's Coming Back
The panelists agreed that in-person dining certainly isn't going away—far from it. "We think that there's gonna be a comeback to community," McPhail said. "People are tired of working out in the garages, and they're tired of working at their kitchen tables. At some point people want to get back together… It won't be a hundred percent one way or the other, but the one thing that will exist is that as humans, we're communal, and bringing people back into hospitality is gonna be a big part of it."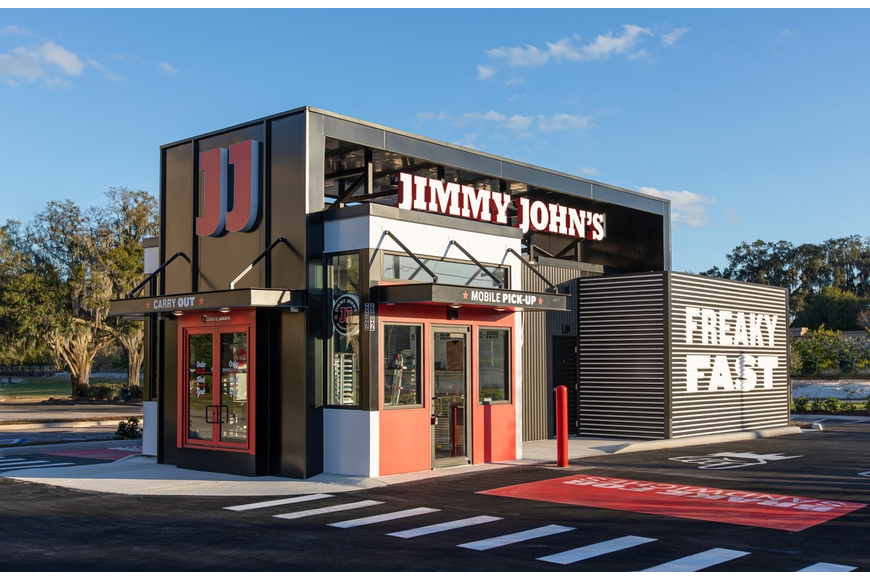 The very first Jimmy John's drive-thru in FL

At the same time, he acknowledged that customers probably aren't going to lose their focus on hygiene anytime soon. The days of "cramming as many people as you can into a restaurant line" may well be behind us. "I don't need an 80-seat Arby's any more," Bello agreed. "We're not gonna become all ghost kitchens… but there's gonna be other format opportunities," like Jimmy John's first-ever drive-thru location in Bartow, Florida. For Bello, this unit exemplifies the lasting importance of physical design; of building more than just white stucco boxes. "Every side of that building is telling the Jimmy John's story," he said. "You're gonna drive by it. You're gonna notice it. You're gonna see it. You're gonna want to go to it."
"One of the things I say is, if you have an architectural concept, and you can take your sign off and put somebody else's sign up and operate very easily—we failed," he concluded. "We don't own anything, then. I think the future for us is to own the outward-facing of our brand and be able to tell that story in a compelling way."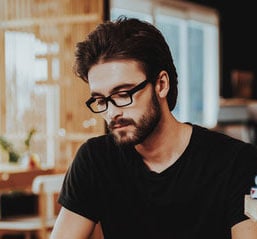 Posted by
Steve Manning is a journalist based in Idaho. When he's not writing, he can usually be found at the theater or taking his dog on a hike. If he could only go to one restaurant for the rest of his life, it would be Al's Place in San Francisco.
Chain Restaurants Reimagined.
The Retreat to Reimagine Restaurant Development, Design + Technology.
Oct 1-3, 2023 | Miami Beach, FL
Learn More