Whether the rise of digital-first brands, the proliferation of AI, robotics, and a plethora of new formats, the restaurant industry has seen a lot of transformation over the past few years. The changes we've seen domestically, however, pale in comparison to international markets, where recent developments offer a dazzling glimpse of the industry's future.
"Our industry is really changing at an enormous speed," said Ben Calleja, Founder and Chief Experience Officer of the restaurant design firm Livit, at RestaurantSpaces. As a designer, operator, and strategist, he's intimately familiar with the innovations taking place in restaurants from London to Beijing… he's even spearheaded a few of them in Livit's test labs. Which means he knows what he's talking about when he describes the fast-moving, unforgiving demands that will define the industry's next few years. "Everyone needs to adapt," he said. "Everyone needs to innovate."
Taking Physical Design to Another Level
As Calleja explained, some of the most interesting and important innovations are driven by changing consumer behavior, especially in younger generations. An expectation of more variety in physical design, for instance, manifests in two distinct trends. On the one hand, companies like Europe's Big Mamma Group offer the same concept across a catalog of different brands; on the other, chains like Bluestone Lane boast a variety of designs under one unifying brand. (On the far end of the spectrum are restaurants like Sublimotion, which changes the physical space with each new dish.)
What they all have in common is a priority to provide an unforgettable experience. "The more experiential part of dining is going to be more and more important," he said. "Because food is a commodity. We can order it at any time, anywhere. So as designers and creatives, we really need to think differently [in terms] of how we design and create our physical experiences."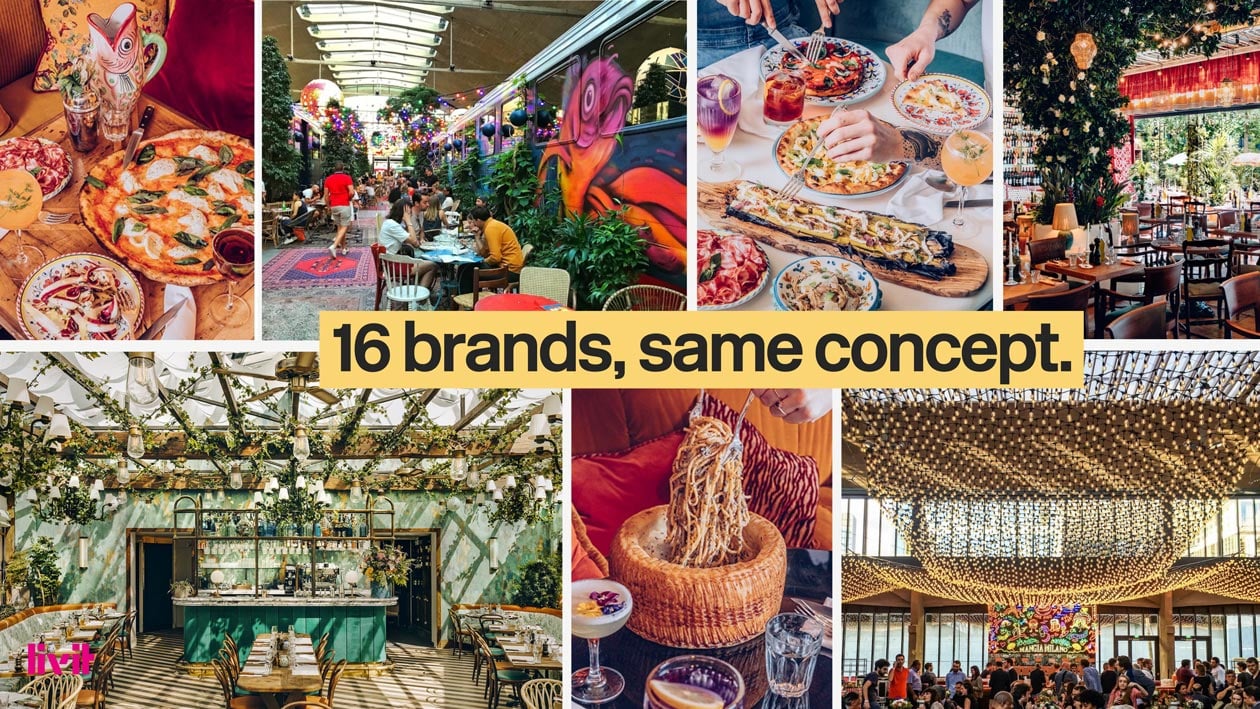 Small details make a big difference. Experiments in Livit's test labs showed that the positioning of physical assets like a restaurant's bar can boost sales by as much as 20%. And it's not just the design of the space itself that matters. When Livit was testing out its swanky pizza box—whose dark, silken exterior slides open to reveal a golden interior—research showed that consumers would be willing to pay more for the high-quality design than standard white packaging.
Even more than that, it turned out that 80% of to-go guests posted about the boxes on social media: Livit could handily take out of its marketing budget to cover the more expensive design, rather than eat into its operating expenditures. "The younger generations are more inclined to be associated with cooler packaging than older generations," Calleja said. "There's a lot of potential, when you think of new designs and concepts, in how to monetize that."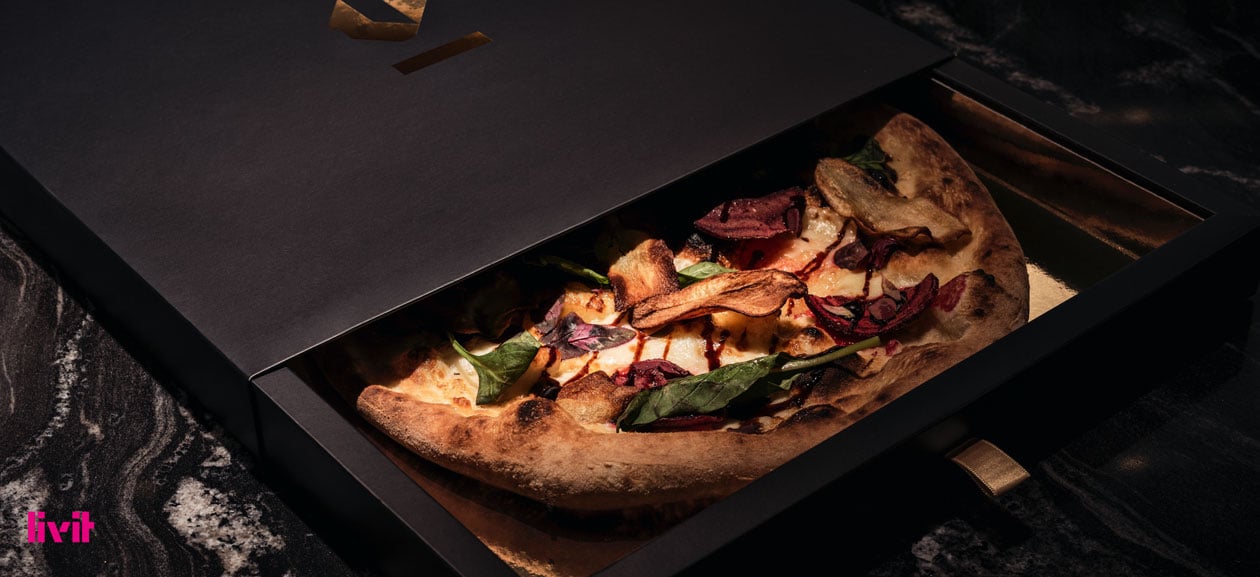 Competing with Social Media
Another trend fueling innovation is the rising prominence of social media: you needn't look any further than MrBeast's growing restaurant portfolio to recognize that as food and beverage brands move increasingly into the digital world, influencers will play an increasing role in their success. Indeed, new research suggests that roughly 40% of consumers are more likely to visit fast food, fast-casual, and coffee chains endorsed by their favorite celebrity.
The trend doesn't end with human influencers, though: in China, computer-generated virtual influencers already make up a $52 billion business. Calleja predicted that social media companies, with their bottomless troves of consumer data, will eventually become restaurant operators themselves. "We really need to be prepared," he said. "A few years ago, we were talking about the delivery companies becoming our competitors. Social media is gonna become our competitor."
In a similar vein, retail and CPG companies are making moves into F&B, pouncing on the opportunity to leverage their own brands in new spaces. "They have the client, they have the following, it's easier for them to just create a product," Calleja said, citing KFC Malaysia's partnership with a local brand to launch a new line of streetwear.
Then there are the CPG companies approaching restaurants to make meal kits and other supermarket products, capitalizing on their loyal clientele. Research shows that 51% of consumers would be more likely to purchase fresh, uncooked food items if offered by one of their favorite restaurants.
The Future Is Virtual
Calleja offered global context for a trend already familiar to domestic brands: the rapid spread of off-premise delivery. Not only is the phenomenon here to stay, he said, but a 2021 study predicted that ghost kitchens will comprise a trillion-dollar market by 2030. Then there's the rise of pickup-only virtual restaurants, which Calleja described as a "hub-and-spoke" trend, where an experiential flagship unit (the hub) creates brand value with consumers, who go on to order from virtual kitchens (the spokes) they associate with the flagship.
"We do have over a hundred thousand virtual brands in the US alone," Calleja said, estimating that there may be more than one million globally, with endless applications yet to see widespread adoption. A straight-to-your-boarding-gate delivery service at Dubai International Airport, for instance, poses obvious use cases at casinos, on cruise ships, and the like. "This is hard competition," Calleja warned. "A lot of these did not exist two or three years ago. So we really need to be prepared for it."
Deskill, Cross-Train, Gamify
Clearly, restaurants are in for an exciting, challenging future. To get there, the industry will have to overcome a few immediate hurdles—namely, a shrinking workforce combined with rising food and labor costs, all against the volatile backdrop of Covid-19. "More people are leaving our industry than ever recorded," Calleja said. "And this is not only in the US. We're seeing it even in low labor markets like Southeast Asia or the Middle East; it's happening exactly the same. People are finding other jobs. So we as designers and creatives need to find out new ways of designing our restaurants."
One solution: deskilling. By simplifying operations and menus while leaning on equipment and pre-batching, restaurants will have more freedom to hire inexperienced workers (or, as Calleja put it, to hire for personality and attitude rather than skill). At the same time, cross-training will prepare these workers for whatever challenge comes at them. "We do a lot of cross-training in our restaurant labs," Calleja said, recommending the use of short, gamified training modules on employees' mobile devices. "We've been able to be cashflow-positive during the whole pandemic. At the peak, we don't have anyone in the back of the house or the front of the house. Everyone is cross-trained on all stations."
Better Living Through Automation
Recent advances in robotics technology will also help restaurants survive the labor crisis. One of the biggest disruptors will be automated kitchens—like the RoboChef Calleja recently used in Dubai, which allows customers to order personalized meals on their phones. "You don't need to buy the equipment anymore," he said. "You rent it. It's cooks-as-a-service." (He also described the automated cafeteria in Beijing's Olympic village, with robotic kitchens and servers built into the ceiling.)
Drone technology is already transforming off-premise dining in China, where companies like Tencent, Alibaba, and JD have achieved 15-minute delivery times by sending food via drone to drop-off stations; customers can either pick it up themselves or have a runner take it to their door. Pizza Hut, meanwhile, has partnered with the Israeli firm Hyper Robotics to create an autonomous pizza-slinging machine. Not only can it make 50 pizzas in one hour, but it can also fold boxes, load in the pie, and store them in a heated cabinet for delivery drivers, all with zero human interaction.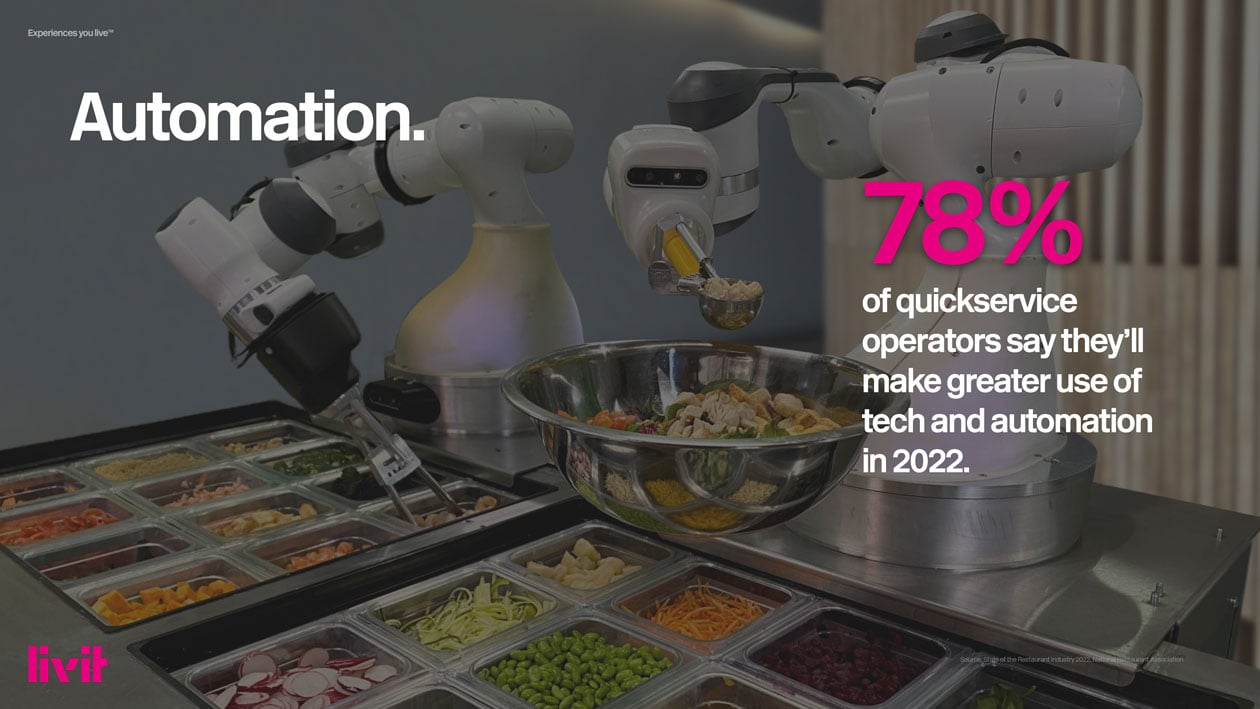 Other new kitchen technologies work in tandem with their human counterparts, optimizing the restaurant experience for customers and employees alike. As Calleja explained, Many Asian restaurants are already using robotic dishwashers advanced enough to distinguish between at least 20 different types of tableware. In Sweden, Max Hamburgers uses AI-powered fulfillment cameras to ensure no bag leaves the restaurant until it's exactly as the customer ordered. "Machines," Calleja concluded, "are much better than we as humans are in doing these things."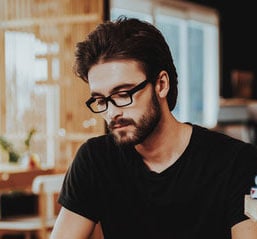 Posted by
Steve Manning is a journalist based in Idaho. When he's not writing, he can usually be found at the theater or taking his dog on a hike. If he could only go to one restaurant for the rest of his life, it would be Al's Place in San Francisco.
Chain Restaurants Reimagined.
The Retreat to Reimagine Restaurant Development, Design + Technology.
Oct 1-3, 2023 | Miami Beach, FL
Learn More