No matter the industry, there's one big challenge most development teams struggle to tackle effectively, or enthusiastically.
But if you ask Roger McClendon, achieving greater sustainability in restaurant design doesn't need to feel like an impossible undertaking.
However, YUM! Brands' Chief Sustainability Officer is quick to add a caveat: successfully changing the status quo is going to require a lot of teamwork.
"I would argue you can't get there alone. You can't do this without building great teams. It's about connecting with the right people."
McClendon had no qualms acting on his own advice when addressing attendees at RestaurantSpaces, using the opportunity to share what YUM! has learned along the way in its sustainability journey.
Taking the stage was also an obvious opportunity for some boasting about the company's successes, but then again, that's kind of the point. When one takes the unknown plunge into greener restaurant development, it's understandable they would expect to benefit from the positive PR that comes with it. It's a perk, McClendon said, that makes the investment well worth considering in the current climate.
"Millennials and Gen Z want to know how your company is dealing with all of this.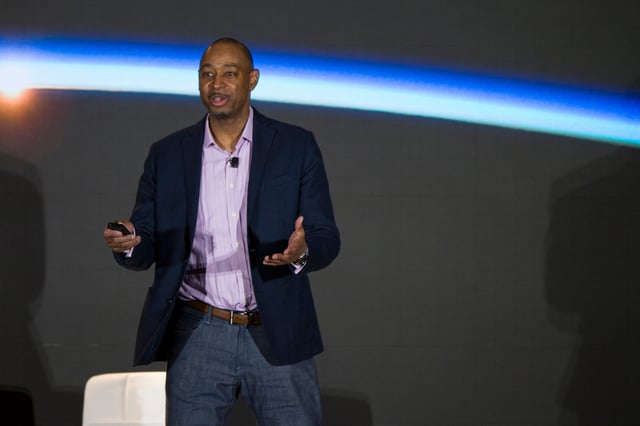 "Whether you believe in climate change or not, you have to accept the challenge."
In an time of rapidly rising costs across the board, successfully winning favor with the next wave of customers, McClendon believes, is what truly unites all restaurateurs under a sovereign cause. This is particularly true today, especially in states where updated minimum wage laws have already been introduced.
"We're chasing the same thing. We're all chasing growth," McClendon said. "When it comes to sustainability, you don't have to sacrifice making the money. You have to leverage technology and innovation and think differently to balance both."
There's Money to be Made
If brands want to cut costs and boost profits, then reducing energy consumption is an ideal place to start.
Sharing the stage with McClendon, Richard Young, of The Food Service Technology Center, said brands often overlook the money-making potential of increased energy efficiency, as the industry fails to comprehend just how much energy it consumes.
Highlighting Northern California as an example, the organization's Director of Education emphasized restaurants account for 12% of the area's total power consumption.
"I don't know if people realize just how big food service is as an energy user," Young said.
"You're some of the biggest energy purchasers in the country. You are the mouse that roared."
When looking at America as a whole, Young believes even small reductions in consumption could have significant flow-on effects.
"The food service industry buys $40 billion a year in energy. That's a lot. If you could cut those costs by just 10 percent, that's $4 billion back into the revenue stream. That's the same as growing the industry by half a percent," he said.
Small Steps Lead to Big Leaps
Successfully reducing utility bills begins with the simplest of measures. So simple, Young said, it's difficult to believe many restaurateurs are yet to implement them.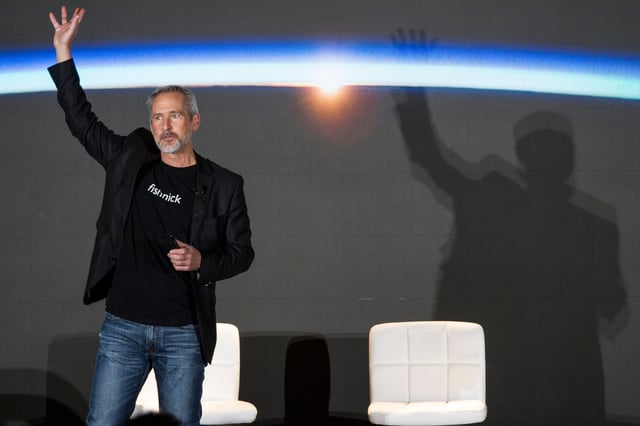 "Fix your leaks and change your light bulbs," he said. "I go into restaurants all the time and still see old school lighting. Changing to LEDs is a no-brainer and a really easy way to save energy and make money."
McClendon backed up Young's insistence on switching from halogen lights, and explained each LED replacement can save businesses as much as $40 a year. Meanwhile, if chains want proof of the efficacy of such simple initiatives, Young pointed to Arby's recent success in cutting 15% of its annual energy costs.
Restaurants also need to examine their back-of-house operations in the search for savings. Old, inefficient equipment including HVAC systems, ventilation and holding units continue to drain costs at an overwhelming amount of locations. Young said it's astonishing that less than half of American restaurants have made the switch to energy-star appliances. And with as much as $1,000 available for gas fryer upgrades, for example, countless operators are "leaving money on the table. Everyone in chain restaurant development, especially long-term legacy brands, should be buying premium fryers."
Young drew on another case study to highlight his point. In an attempt to offset the exorbitant costs of an existing broiler, Mediterranean chain, Yalla, upgraded to a high-efficiency chain broiler. The change resulted in a $12,043 drop in one location's annual power usage.
"They cut their gas bill by 60%. More than half their energy bill disappeared just from replacing one piece of equipment," Young said. "To me, this is carbon management made easy, because every BTU of gas that you save is a direct carbon saving."
Bonus Benefits
As well as reducing costs, McClendon suggested chains fail to consider a multitude of auxiliary benefits to be gained from simple energy-saving measures. Investing in LED lighting, both inside and outside of a given location, he said, can drastically improve aesthetics and enhance atmosphere.
"It's not just about saving energy. It also comes down to lighting design. When you do it right, it can make your food pop, add warmth to your environment, and the experience feels much better," McClendon said.
Deciding to make a serious investment in sustainable design also allows companies to connect with customers in new and exciting ways. Innovative initiatives spark conversations about the issue, cultivating brand loyalty among a customer base that values genuine effort in an age of widespread climate change awareness. Working out how to weave this sustainability story into designs, in ways that engage and inspire guests, is a challenge in itself.
"You have to listen to the voice of the customer. 90 percent of them believe we have a responsibility, as corporations, to think about the environmental and social impact our operations have," McClendon said.
Yummy Success
McClendon is the first to claim that YUM! has been listening carefully. The significant effort the company has made across the world in recent years is clear to see — something he admits was unavoidable, given the company's sheer size.
"Being in more than 135 countries, with over 44,000 restaurants and growing at six a day, all this waste adds up."
In order to truly understand its environmental footprint, YUM! embarked on a worldwide deep dive into its energy usage, which, McClendon said, "revealed 25% of our usage could be attributed to waste."
This comprehensive analysis resulted in the development of YUM!'s Blueline standard. The framework has led to big wins, including an average 40% reduction in utility costs in Thailand, as well as LEED certification at multiple KFCs in China.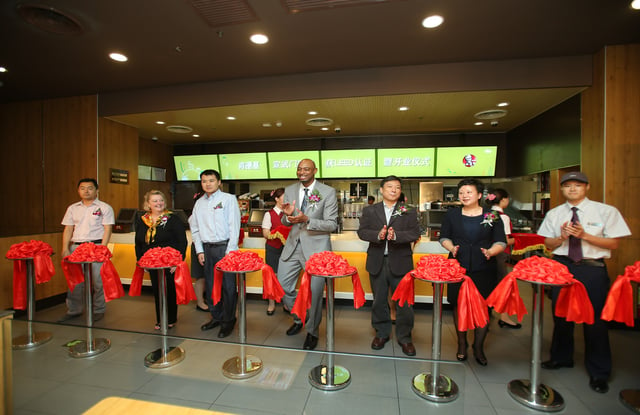 Multiple KFCs in China have received LEED certification, thanks to YUM!'s Blueline standard.
But the real win for YUM! has been the exchange of knowledge among its vast network of operators, all motivated to find new ways of reducing their footprint. For example, McClendon praised franchisees in establishing a PaceSetter program, allowing locations to compare energy usage across the company globally. The initiative encourages healthy competition and incentivizes greener practice.
Well Worth the (Team) Effort
The future of sustainable restaurant development will rely on this kind of concerted, interactive innovation. Without it, Young believes, progress will stagnate before it even begins.
"Much of the world recoils at this notion of energy efficiency," he said. "It can get complicated, it can get political, it can get emotional."
Reiterating their emphasis on the importance of collaboration, the duo drove home the need to work together in the fight against what they call "institutional amnesia. We're so focused on day-to-day costs and operation," Young said, "but we always forget about the bigger picture."
And with states like California striving for net-zero commercial developments by 2030, the need for a widespread paradigm shift is more pressing than ever. For McClendon, achieving this begins with the design department.
"Once everyone on these teams understands the benefits and agrees to a new standard, then you can handoff to operations and make sure they're actually executing everyday," he said.
Cutting carbon and introducing energy saving measures will require a sustained and dedicated push. While the adjustment period isn't likely to be comfortable, jumping in sooner, rather than later, will ensure a company's status as an early adopter with more money to show for it. Failing to act, on the other hand, will only tarnish you a late responder with a higher utility bill. This distinction is sure to prove invaluable to one's bottom line as the future unfolds.
10 Actions to Take Today
Conduct location performance analysis

Reduce hood ventilation rates

Reduce general exhaust rates

Optimize HVAC design

Use the right amount of indoor light and power

Utilize high performing exterior lighting

Use superior energy efficient holding equipment

Select energy efficient equipment

Reduce walk-in refrigerator energy waste

Work toward greater water conservation
---
For more on innovation in restaurant development + design, join us at RestaurantSpaces place February 24-26, 2019 in Miami Beach.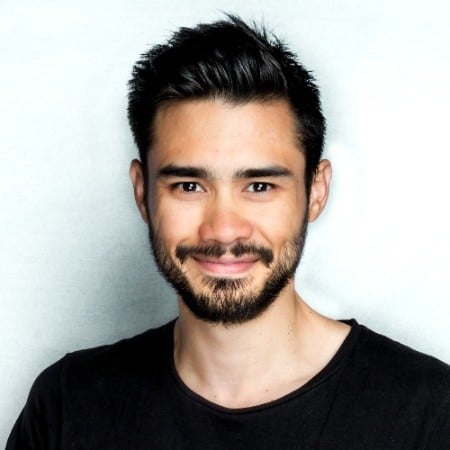 Posted by
Content + event producer with an innate, insatiable curiosity. Fixated on retail, restaurant, and hospitality design.
Chain Restaurants Reimagined.
The Retreat to Reimagine Restaurant Development, Design + Technology.
Oct 1-3, 2023 | Miami Beach, FL
Learn More