From that first inkling of an idea right through to first service, every design team knows creating the look and feel of a restaurant is fraught with countless obstacles.
How to best navigate that journey was in the spotlight at RestaurantSpaces, as a panel of seasoned restaurant design and construction leaders gave some valuable insights into going from concept to scale.
Perhaps the most powerful takeaway of the discussion revolved around an idea we tend to shy away from - good design starts with learning how to fail.
The Power of the F Word
For former Buffalo Wild Wings Chairman, James Damian, fostering a company culture that allows extensive experimentation is essential.
"You've got to be open to the unexpected discoveries that occur from failures. "If that's embedded into your culture, you're going to become a company that invests in innovation," Damian said.
The benefits of failing, and failing often, are regularly espoused by business experts. But understanding exactly why companies should embrace the F word can be puzzling.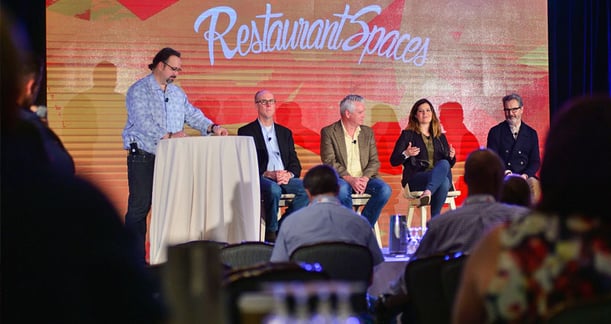 Before he was Pieology's Senior Director of Design and Construction, Hans Milberger was a Development Manager at Apple. He knows failing freely generates a constant supply of good ideas from dead projects, using Apple's failed mini-store concept as an example.
"No one remembers the mini-store, but there's now the ubiquitous back-lit panels, as well as the stainless steel interiors - that all came from the mini-store concept. Unexpected results came from that," Milberger said.
Also plugging the power of failure, panel moderator Christopher Collins of Nvironment Design praised the ability of startups to generate new ideas while operating under a cloud of potential failure.
"That entrepreneurial or aggressive spirit is something everybody needs to cling to, especially as the industry continues to evolve," he said.
Collins pointed to the nature of incubator kitchens in forging this latest wave of startup innovation.
"Startups can't afford to have a test kitchen. They'll collaborate with other ventures as a way of leveraging purchasing power. It really is tremendous to see that effort and innovation happening in the culinary world," Collins said.
Dealing with the Decision Makers
Though striving for creative freedom is easier said than done, especially at organizations where implementing any change can be an uphill battle. Damian stressed the need for design teams to do their homework.
"If you don't do the work on the front end and if you don't engage the C-suite and the Board, things can go south really, really quickly," he said.
"If that conversation is not happening, whatever concept you decide to pursue is probably going to be filled with a lot of landmines and will likely fail miserably at the point of execution."
But not everyone harbors the same mindset. Chief among them is Juliana Strieff - of the McDonald's Creative Design team.
"Don't wait for permission, even from those above you."
"We do a lot of very under the radar, guerilla design work. Stuff that just wasn't going to happen until it had progressed to a certain point," Strieff said. "We're rolling out a project right now that no one wanted to have anything to do with and it's been a wild success. There are ways of getting things done outside the normal channels."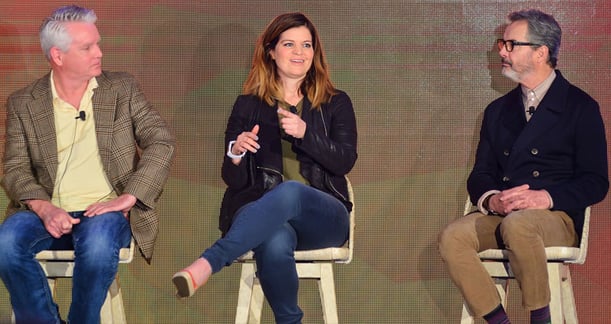 The Three C's of Concept to Scale
Even once a project is approved and up and running, it can very easily run into major roadblocks with a lack of company cooperation.
For Terry Long, Senior Director of Property Development, Design and Architecture at Brinker International, cohesion, collaboration and communication are your cornerstones for success in getting from concept to scale.
"For us, it's all about programming. It's everything. You use that as your roadmap to get through the process," he said.
"We'll create a massive spreadsheet so we can follow the design through," Long said. "We make that spreadsheet available to everybody on the team. Everybody in the C-suite all the way down to our suppliers.
"If you don't have a good program, you're not going to have a good product."
Timing and procurement might be one thing, but Milberger knows the secret to better team-wide communication begins with greater understanding.
"I think it's important as designers and constructors to continually educate the other stakeholders in our organizations about what we do. You can't just build something and throw a sign on the building. It's not that simple," Milberger reasoned.
"I find myself constantly in meetings early on educating everyone involved of the design process. The sooner you get that collaboration and that trust among everybody, the easier it is to move forward with an initiative."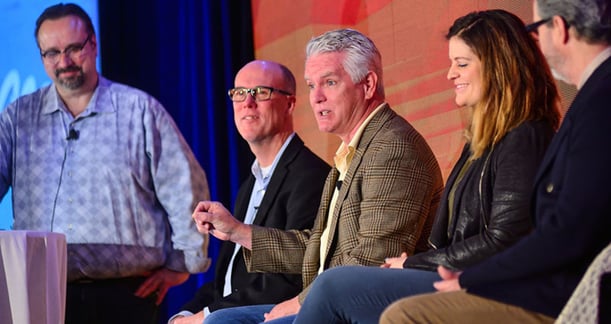 Keeping the Concept Intact
For chains with a large franchise base, coherent messaging is especially important to ensure a concept remains consistent by the time a project breaks ground.
"I feel like 10% of my job is figuring out the problem that we're solving. Another 10% is creating that design, getting that solution. But that's only 20%," Strieff said.
"80% of the job is communicating really well.
"We are very careful about how we control that messaging. And when it comes to our owner-operators, explaining why design is important and why I'm asking them to spend money on something is so essential."
In getting franchisees on board with a design concept, panelists highlighted the value of first approaching enthusiastic "evangelist" operators, before carefully crafting a rollout that suits a company's specific needs.
"We'll handpick one or two, maybe three restaurants. We'll go ahead and initiate an approved plan. We'll give it a run time. We'll get our insights group to go out and get feedback from the guests. Then we'll tweak it, based off that," Long said.
Solutions in Supply
Though for projects to even get to this stage, design teams must also look outside of the brand, ensuring vendors are on the same page early on in the game.
"We don't do anything without getting certainties around supply," Strieff said. "For instance, 'Can this gorgeous French chair that I want show up on time?' The worst thing that can happen is for someone higher up to come in and say 'I've got this alternative and it's exactly the same.' It's never exactly the same."
"The procurement and supply chain group is my best friend, it's like my right arm."
However, as every design team knows, cost mitigation is an inevitable directive from the powers that be. Long suggests a good relationship with the supply chain team can also provide solid solutions when costs blow out of proportion, as they tend to do.
"I literally go back to our suppliers and say 'Here's what we would like to have, but we can't afford this. What other wood species, what other alternatives are available? How can you help us take money out.' And they come through, time after time," he said.
While workarounds of a concept are, unfortunately, a begrudging reality in the design world, Strieff stood by her belief in fostering creative autonomy.
"Speaking as a designer, I suggest telling your designers the big picture. Let them meet that goal. Don't tell them you need cheaper wood or different materials. Empower them to meet your expectations," Strieff said.
Customer is King
Though one thing all the panelists could agree on is for design teams to keep the customer squarely in their sights.
"The voice of your customer is your sword and your shield against the naysayers."
"Those who insist it costs too much, that don't believe in a concept - go to them armed with the voice of your customer. That's why we're in business in the first place. You've always got to place customers first and foremost," Damian said.
Watch the full discussion in the video below. Enjoy!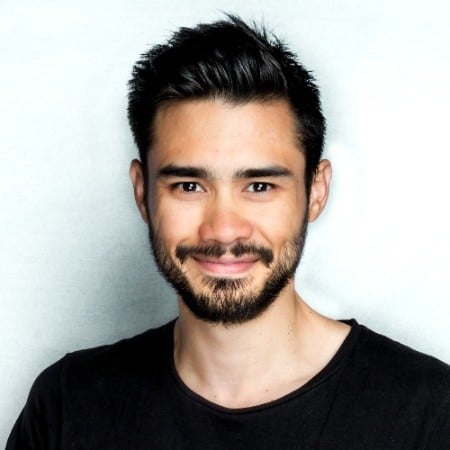 Posted by
Content + event producer with an innate, insatiable curiosity. Fixated on retail, restaurant, and hospitality design.
Chain Restaurants Reimagined.
The Retreat to Reimagine Restaurant Development, Design + Technology.
Oct 1-3, 2023 | Miami Beach, FL
Learn More