Two years ago, it was very apparent that the relationship between customers and chain restaurants was changing. But it was an evolution that brands, in general, weren't coping with well. As customers changed their ways, the industry struggled to adapt their stores in a way that met guest expectations.
Fast-forward to now, and that relationship is still in flux… but today, the dynamic is different. If there's anything that was very clear at RestaurantSpaces Spring, it's that chains have spent these last couple of years taking a long, hard… honest look at themselves. And the effort is paying off.
When some of the country's largest and fastest-growing chains came together at the Omni ChampionsGate Resort in Orlando this week, it offered real proof of an industry more in the driver's seat of the transformation taking place.
Rethinking… Everything
It's a very crucial point for the restaurant industry. Having spent the pandemic ideating at a rapid rate, most chains have successfully altered course, now putting new game plans into action. But with next to no opportunities to meet with peers in-person, restaurant development and design leaders have had little chance to benchmark against what everyone else is doing.
At RestaurantSpaces, those in attendance fulfilled this clear and pent-up desire to learn and share. What was also obvious? There's a lot to be excited about.
In an illuminating fireside chat, Popeyes President Sami Siddiqui spoke of how they managed to come up with six new prototypes in just 18-months, as well as orchestrate a major overhaul in the back-of-house (BOH). He also announced publicly for the first time that the legacy chain is currently trialing a new POS system, developed in-house, at 20 locations.
In our opening session, The State of Play, we heard from Tiffany Vassos of Dave's Hot Chicken, Andrew Bello of Inspire Brands, and sweetgreen Chief Development Officer, Jim McPhail, about how they're experimenting and aiming for flexibility in the face of the unknowns yet to come. Their discussion around supply chain disruption and inflated construction costs also kickstarted ample hallway conversations for the rest of the event, as attendees turned to each other for support.
Innovation talks on the mainstage also explored these trends further. Dutch Bros' Aaron Harris dove into how the cult coffee chain is powering impressive growth with modular construction. We also learned how Checkers and Rally's is streamlining both BOH and FOH operations, as well as turning to AI to improve the drive-thru. Papa Johns provided a glimpse into its system-wide remodel program. Panera Bread and design firm, ChangeUp, looked at the ways their collaboration on the Next Gen bakery cafe has elevated both experience and convenience.
Audiences also walked away from the event with a handle on the radical future restaurants have ahead. Always a RestaurantSpaces favorite, Ben Calleja, Founder and Chief Experience Officer of Livit, detailed many tech advancements happening abroad that will one day impact the industry here. Nima Fazeli, EVP of Real Estate and Development at sbe, provided a fascinating update on how the hospitality company's food-tech platform, C3 by sbe, is transforming the trajectory of virtual brands... a very eye-opening preview at how this developing segment will continue to alter guest expectations and, ultimately, the physical restaurant experience.
RestaurantSpaces also sought inspiration from perspectives outside of the industry. Vince Kadlubek, Founder of the revolutionary, immersive multimedia experience collective, Meow Wolf, left restaurant leaders inspired and a little blown away, opening their imagination to the endless ways that physical spaces can affect the guest.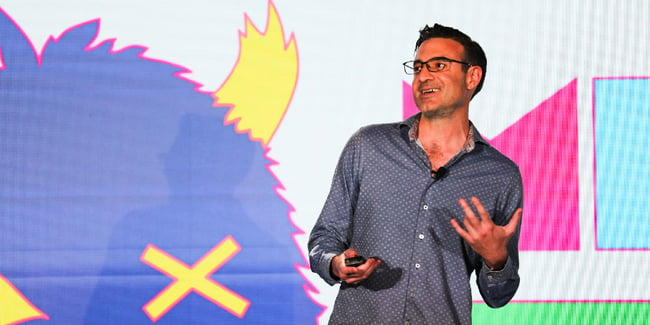 The Power in People
And of course, no RestaurantSpaces gathering would be complete without myriad opportunities for people to connect authentically with one another.
We kicked off the event with a dine-around at the popular Disney Springs, stopping in at the House of Blues, The Edison, and Chef Art Smith's Homecomin' restaurant. Others stayed back at the resort to enjoy a casual Pitch & Putt tournament.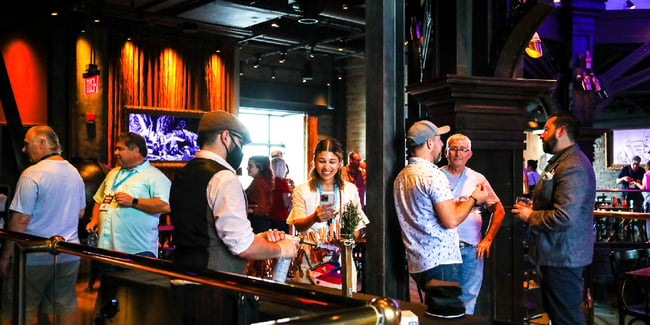 Before the industry-specific content got underway, we enjoyed a night of comedy (a first for RestaurantSpaces!) featuring upcoming Irish comedian Sean Finnerty and headliner Roy Wood, Jr., best known as a correspondent for The Daily Show with Trevor Noah.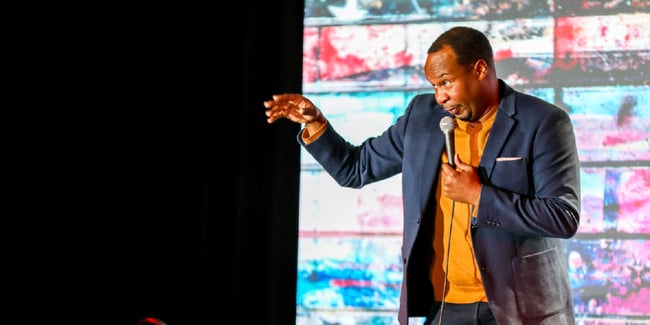 On top of our content program and networking activities, 20-minute pre-scheduled one-on-one meetings also allowed restaurant operators and vendors to collaborate on potentially bringing future projects into being.
To top it all off, we all took a trip to Universal Studios for a private experience at The Wizarding World of Harry Potter, helping everyone solidify all of the great new relationships they'd made throughout the day.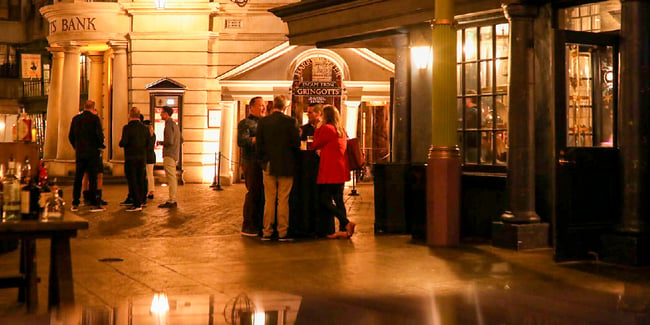 It was, without a doubt, a RestaurantSpaces to remember. For us, an absolute joy to see everyone come together in an environment where they felt comfortable being themselves, away from the pressures of their daily grind — a great reminder as to why we set out to do what we do. It was also promising to welcome many more leaders who'd never been to an in-person RestaurantSpaces experience before. In fact, we've never had so many newcomers from so many top brands.
We can't wait to see you all when we get together again in Santa Barbara for our fall edition, happening October 2-4 in Santa Barbara. Learn more and request an invite here!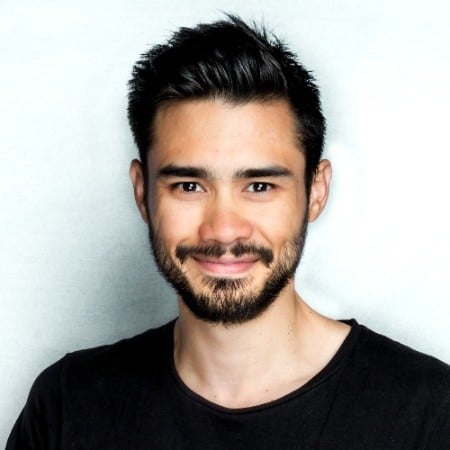 Posted by
Content + event producer with an innate, insatiable curiosity. Fixated on retail, restaurant, and hospitality design.
Chain Restaurants Reimagined.
The Retreat to Reimagine Restaurant Development, Design + Technology.
Oct 1-3, 2023 | Miami Beach, FL
Learn More