Rush hour has just kicked in and kitchen staff at a popular gourmet burger chain work frantically to keep up with the flood of orders coming in.
Meanwhile, front of house, three to four sweaty, impatient delivery riders in brightly colored shirts struggle to find a spot to drop their cumbersome insulated backpacks. Their facial expressions range from an apathetic listlessness to mounting impatience and irritability.
Such a scene is one diners have likely grown accustomed to since third-party delivery services exploded into existence. The image also encapsulates restaurateurs' well-documented frustration at how best to coexist with the ballooning trend.
For many brands, subscribing to the likes of UberEats, DoorDash and Grubhub is less than ideal. The agreements offer little, if any, bumps to profits while simultaneously eating away at their bottom line. At the same time, forgoing an app listing means missing out on vital brand exposure.
What this means is restaurant chains have no choice — they need to be in the third-party delivery game. And as Red Robin's VP of Business Innovation, Jason Rusk said at RestaurantSpaces, companies had better dig in for the long haul.
"I promise you, this is not going away. That's like saying QSR isn't going to have drive-thrus anymore."
"The world is changing."
From the outset, vaguely labeling third-party players as a mere "digital integration" issue and tossing it into the future-problem-basket may be a big temptation. However, whether chain leaders realize it or not, achieving a desirable outcome relies heavily upon optimizing the physical design of their locations.
If restaurants aren't geared for the realities of off-premise, third-party delivery will only continue to bruise companies' bottom lines.
Bringing in a Backline
Growing fast-casual chain, Roti Modern Mediterranean, is one example of a company experimenting with innovative design solutions in an attempt to keep up with shifting consumer behavior.
Last year, online orders represented one to two percent of Roti's business. In 2018, that share has jumped to 10%. One of their 30 locations even attracts as much as 20% through third-party apps and the brand's proprietary ordering platform.
In dealing with such a rapid and significant uptick, VP of Development, Michele Dodd, said there was an obvious need to enhance kitchen operations.
"Beside the profit and loss of our locations," she said, "I'm looking at the physical attributes of delivery. My interest is in the customer experience."
And due to the nature of Roti's open, fast casual assembly-line layout, the customer experience was taking a hit. When putting together a meal from online, Dodd and her team realized staff were having to disengage with guests.
"Because online orders were interspersed with those in the restaurant, it affected the customer standing in front of you, who has to watch you make a separate order before theirs."
In order to offset this, Dodd explained they've "been redoing restaurants to add a backline, so that when orders come in online we can separate those experiences."
Virtual Solutions
Such an attempt to enhance the customer's journey on-premise in the midst of a rapidly changing delivery scene is gradually becoming commonplace and is well worth the investment.
A report out last week revealed close to 60% of diners visit restaurants just as often, if not more than they order from their sofa. Additionally, stats from NPD show while delivery is well and truly on the rise, it still represents just three percent of all restaurant sales — proof brands need to continue evolving their physical presence.
Understandably, Dodd admits there's a lot of problem-solving ahead to whittle down an optimal approach.
"It's not like you can easily rip out some of your seating areas and put a backline in there," she said. "It's got to happen in your kitchen. And with rents always going up, especially in urban areas, you've got to make every square inch matter."
This is one of the reasons some chains are adopting solutions that sit outside of their existing portfolio. Investment continues to flow to cloud kitchen providers, allowing restaurants to outsource online orders and help prevent these sales from muddying the dine-in experience.
Some are taking a DIY approach to such a plan of attack. Chick-Fil-A is unveiling two of its own delivery-focused prototypes in Nashville and Louisville this month. They will feature kitchens with double the usual floor space — presumably to pump out greater volumes of off-premise orders as online demand increases.
Meanwhile, Bloomin' Brands has been testing virtual kitchens for the last year with its Outback Steakhouse and Carrabba's labels. After opening one delivery-only Express unit last fall, the casual dining company has since unveiled another four more, with at least another to come before year's end.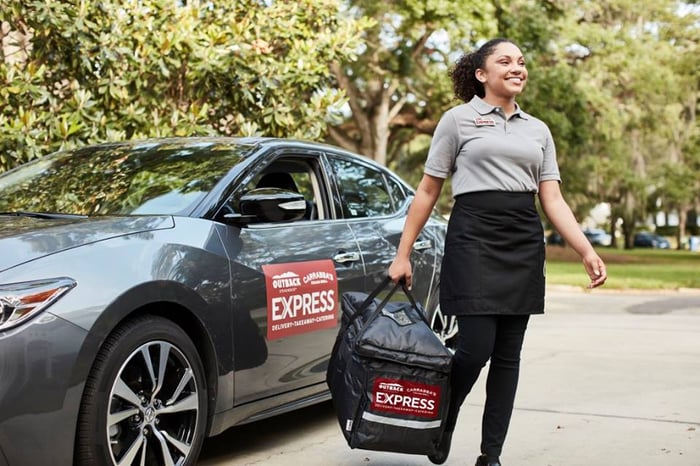 While the locations service third-party, they also allow Bloomin' to take greater ownership of delivery, and as a result, food quality — something EVP and Chief Development Officer, Suk Singh, said has led to better customer experiences.
"You do get higher food scores with your own delivery vehicle than using third-party aggregators."
Embrace the Change
Red Robin is another chain doing its best to move with the times, opening its own Express test unit late last year.
Rusk highlighted the casual dining brand's "holistic approach" and attitude shift as the reason behind its success in delivery so far.
"When you think about sitting on your couch and ordering a burger that you love from DoorDash, and getting the convenience of having it delivered to your door… It's life-changing," Rusk said. "Disruption is happening all around us and we embrace the fact our consumer is changing."
Enhanced packaging to preserve food freshness is one measure Red Robin has taken to ensure happy couch customers. Rusk reasoned it's an example of wholeheartedly committing to working with third-party, instead of against. Doing so allows restaurant design and development teams to pinpoint where improvements can be made across the board.
"We knew that the building was a big piece of this as well.
"Not only does operations have to deliver on the delivery experience, but your building has to be set up for it too."
"You have to have a big enough space to keep the volume of to-go boxes you need, and you need clear stations, so you know, as a guest, or delivery driver, where to go pick up your food."
Trailblazing Unchartered Territory
But Rusk conceded brands need to be bold and get inventive if they want to become true trailblazers in the "wild, wild west" of the delivery economy. In fact, now may be the perfect time to let imaginations run free, with so few restaurants having "figured it out yet."
However, there are a few infamous figures exerting serious influence.
Since re-positioning itself as "a tech company that sells pizza", Domino's has managed to build a formidable empire over previous years and remains unscathed by third-party players. Recently snaring an accolade for its technological innovation, the giant continues to reshape consumer expectations around delivery. Fellow upstart pizza purveyor, Zume, is another potential major disruptor eager to shake up the system.
Restaurant chains will need to stop viewing delivery and dine-in as separate customer experiences and start asking serious questions around how to create fresh, craveable encounters, whether they take place on the sofa, or in a booth.
"How does your brand come across to consumers off-premise?" Rusk asked. "If I'm paying $10 to have a Red Robin burger delivered to me, what makes Red Robin's brand come alive differently?"
This hunger for newer, better experiences certainly seems to be peaking alongside a growing desire for faster, more seamless delivery, as well as increasing expectations around quality food. Such a cocktail of rapidly developing consumer character traits certainly presents unique challenges for those who design and construct the restaurants of the (very near) future.
---
Join us at RestaurantSpaces in Miami Beach (February 24-26, 2019) to explore the intersection of restaurant development, design, technology and guest experience.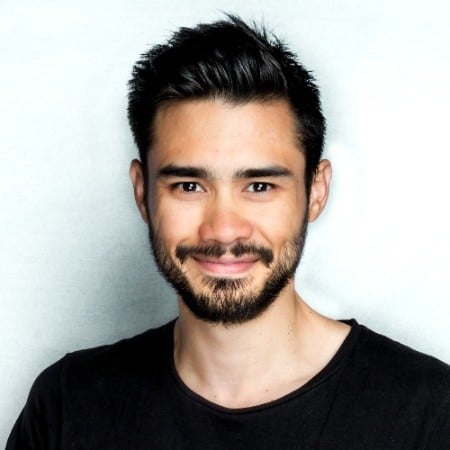 Posted by
Content + event producer with an innate, insatiable curiosity. Fixated on retail, restaurant, and hospitality design.
Chain Restaurants Reimagined.
The Retreat to Reimagine Restaurant Development, Design + Technology.
Oct 1-3, 2023 | Miami Beach, FL
Learn More