This is part one of our two-part exploration into how the chain restaurant could evolve over the next decade. In this installment, we look at the future of delivery, off-premise kitchen providers, and personalization. You can read part two here.
In 2016, Deloitte released a report looking at the restaurant of the future. Closely examining customer trends and opinions, the resulting research put forward insightful considerations to help chains craft a "winning guest experience."
Today, most of the report's suggestions have been in operation for some time. Forward-thinking brands have seamlessly implemented mobile ordering, adapting their restaurants to accommodate the shift. It seems new strategies are emerging every month to capitalize on a rise in to-go sales. Chick-Fil-A has even adopted a report recommendation to arm drive-thru attendants with tablets to speed up the ordering process.
In two short years, Deloitte's image of the restaurant of the future has already been realized.
What this demonstrates is just how fast innovation and technology are progressing. So fast, in fact, that attempting to look too far into the future of foodservice (not to mention, writing articles about it) is about as effective as trying to find your phone's snooze button at 5:30 in the morning.
It also heralds the emergence of a restaurant industry radically different from anything ever seen before.
"There are really two movements that are happening," according to Aaron Noveshen. "One of those movements is in full service, and the other movement is in limited service."
Founder and CEO of the consulting firm, The Culinary Edge, Noveshen believes that limited service is where most of the dynamic transformations will take place.
"There's a hypothesis around the future of takeout and its need to exist at all
."
"It's going to be more about convenience than design. 2030 is going to have more robots, substantially more delivery, and smaller dining rooms. Dine-in within the limited service space will probably continue to have some level of comfort for the few seats that are there, but I think they will shrink more and more."
The New Drive-Thru
To be able to envision a reality where quick service and fast casual concepts can no longer justify a dine-in component, it's important to understand the meteoric trajectory of delivery trends to come.
Significant to-go growth, coinciding with declining dine-in traffic are already forcing chains to adapt their restaurant designs, in some cases adding a second makeline to handle a spike in online orders. Meanwhile, companies are also increasingly turning to delivery-only kitchens.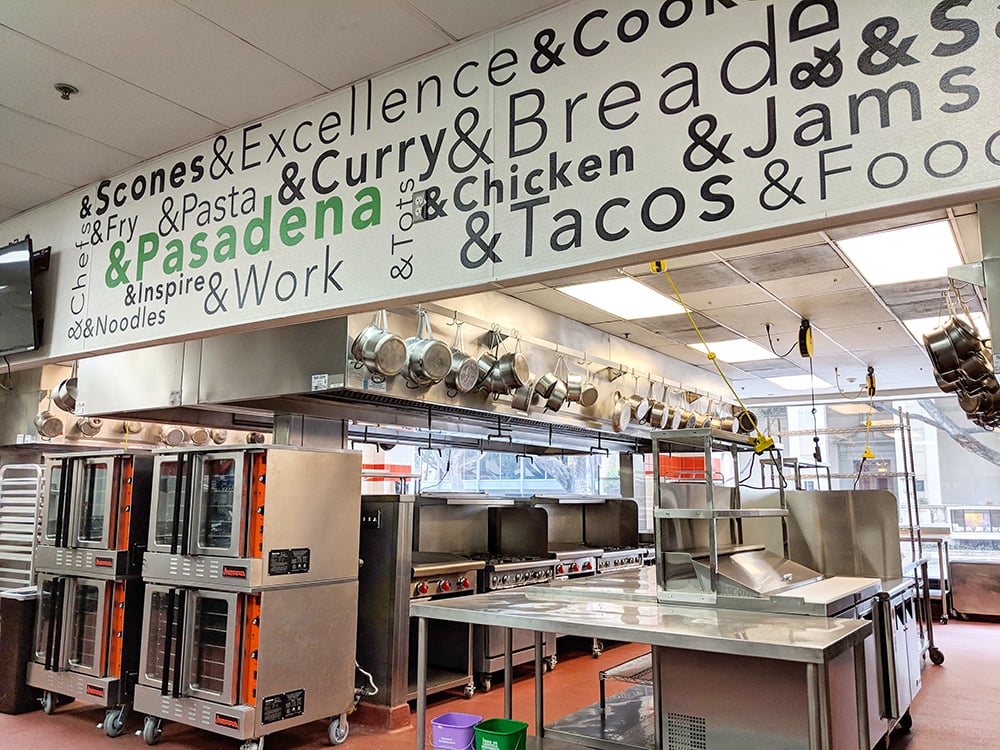 Kitchen United's Pasadena location
Kitchen United is one such player providing off-premise facilities to help chains keep up with rising demand. Chief Operating Officer, Meredith Sandland, said these early developments suggest that having food delivered could soon become the accepted norm, rather than the exception.
"As we shift from a time when people went to products, to a time when products come to people, the footprint those services demand needs to change to reflect how people are consuming."
A hint of what's ahead can be seen abroad. In countries where delivery is extremely commonplace, Sandland cited delivery penetration being as high as 30 to 70 percent of overall restaurant revenue. By comparison, "in the US, excluding pizza, that amount is something like five percent," Sandland said. "There's huge growth coming. For restaurants to be able to handle that amount of off-premise consumption, the old retail model just doesn't make sense operationally."
Having recently opened its second location, with plans for several more to pop up throughout 2019, Kitchen United's leadership team is stacked with former foodservice executives. Sandland herself arrived at the company after a six-year stint with Taco Bell, helping to drive a $1 billion sales uptick as the brand's Chief Development Officer. She believes so strongly in the potential growth of virtual kitchens, that making the latest career change was an easy decision.
"Delivery is the new drive-thru," Sandland said. "If you were to go back to the 50s and ask people what they thought of drive-thrus, they probably would have asked you what a drive-thru even was — they didn't really exist then. Now they're a fixture of the American landscape. We are going through the same thing with delivery."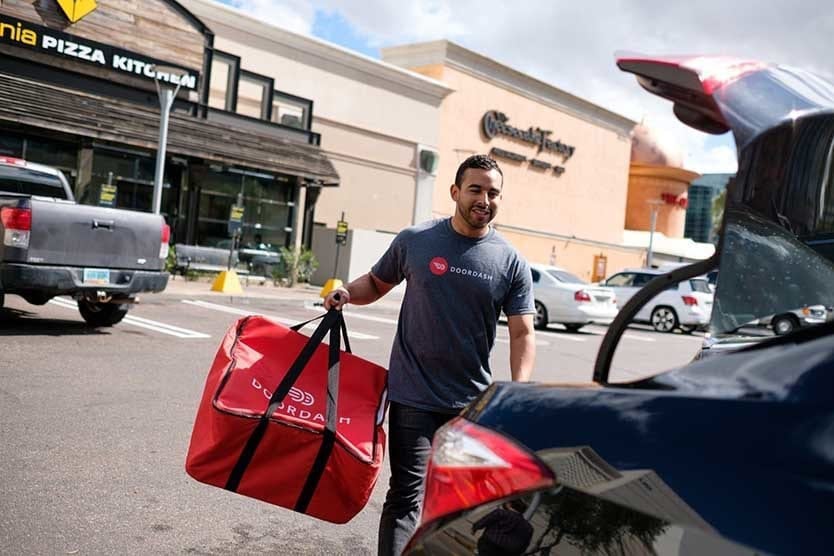 The Cheesecake Factory is the latest chain to partner exclusively with DoorDash
Further, Sandland seems unfazed at the prospect of increased competition in the burgeoning sector. Former Uber CEO, Travis Kalanick, leads CloudKitchens, another virtual kitchen provider, while other concepts, such as pods, are beginning to enter the market. Despite this, Sandland is confident "the demand is going to be large enough that there is absolutely enough room for multiple players."
"Delivery is the new drive-thru."
Indeed, multiple providers may actually be required, as chains capitalize on the trend as a means of maximizing profits. Noveshen said it's easy to see how off-premise food production could "become an incredibly compelling model. With virtual and ghost kitchens, a company might be able to build out a restaurant for $50 thousand. It may only do 50 percent of the sales, but compared to the $1 million dollars it would have taken to get a traditional restaurant up and running…that's a strong economical setup."
An Argument for Data Collection Hubs
Though not everyone is quick to dismiss the value of physical dining spaces in limited service.
"Of the last five years, we've seen one of the largest investments in physical presence across the board take place in 2018," Healey Cypher said. "So many companies aren't just opening new stores, but spending a lot to make their existing locations better."
As CEO of ZIVELO, Cypher has felt the effect of this spending firsthand. The company is behind all the kiosks appearing in McDonald's, Burger King, and Wendy's (more partnerships are on the way, though Cypher was decidedly tight-lipped on this front).
ZIVELO kiosks at Wendy's
Much more than the latest technology fad, Cypher said kiosks offer just a small glimpse at the immense amount of information a restaurant will one day be able to harness. What the interactive interfaces provide are the foundational building blocks to turn physical dining spaces into living, breathing data collection hubs.
"If companies aren't gathering as much data as they can right now — in a respectful, legal, explicit way — they may already be looking at a future that isn't very bright for them. They're behind the curve. You need to know this stuff. You need to get predictive," Cypher said.
From an operational standpoint, failing to adopt such a view could result in heavy consequences for chains. The next few years will see data-driven automated inventory management become common practice, and a vital means of increasing efficiency and minimizing costs.
Personalization: The New Frontier
As the ability to gain insights from big data improves, failing to jump on board will also mean missing out on opportunities to make menu and design adjustments that might positively influence customer behavior.
CAVA is an example of a chain already enhancing the customer experience and improving the flow of service with this kind of technology. TGI Fridays is another, having turned sales around in the last year thanks to effective analytics strategy. Providing a mobile device with the bill is one in-store initiative the casual dining chain has utilized to elicit feedback from guests.
While these examples are certainly impressive, the future potential of this technology is far more exciting. Aside from only going off previous purchase history, Cypher said other data points will help individualize store encounters even further.
"How does a customer's experience change depending on what sporting events have just happened, or what the weather is like? If it's Christmas time and cold outside, you might be offered a salted peppermint mocha as part of an ongoing promotion, since mochas are a regular order of yours," Cypher said.
By 2030, being able to master personalization will likely be a deciding factor in whether a quick service or fast casual brand can justify its customer-facing locations. As thoughtful investment in new technology enables a better blend of convenience and memorable experience, Cypher believes stores will become quintessential touchstones on the journey to customer loyalty.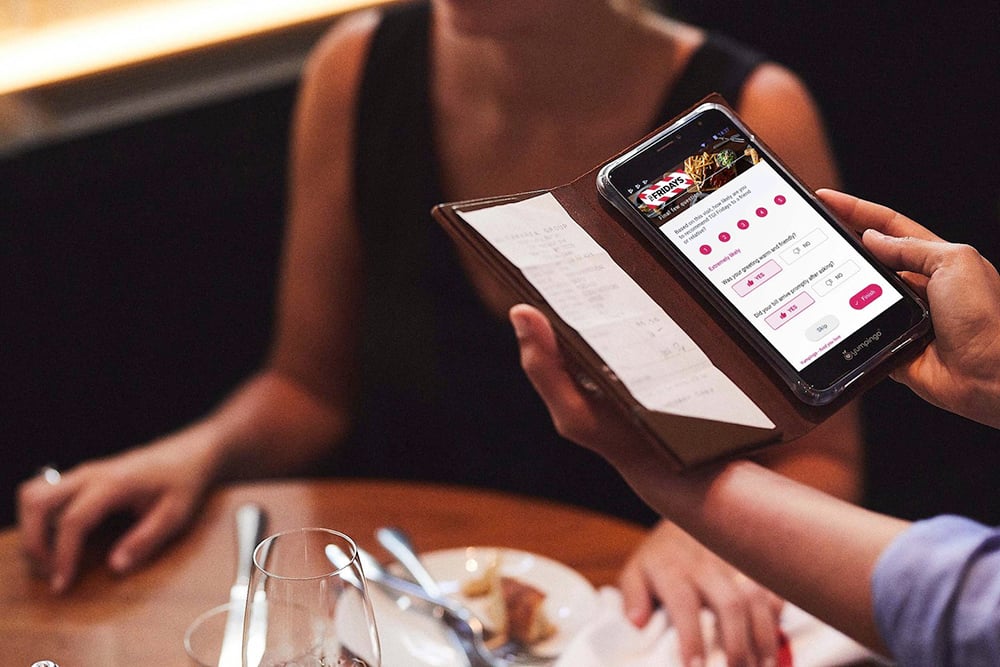 TGI Fridays collects customer feedback with the bill
"I think the future's going to get really fascinating when you think about how AI effects multiple person experiences," he said. "Is the restaurant primarily made up of families right now, or a bunch of drunk college students just hanging out? How does the store change? How does the externally-facing messaging change? How do the promotions change? All that sort of stuff is going to become this new frontier we're yet to break into."
Advancements in emerging voice technology will push the boundaries of personalization even further, as companies seek to engineer a future without phones.
"It's already possible to recognize patterns of who's speaking, notice when they walk through the door and tell what their mood is," Cypher said.
"Eventually, restaurants will be able to deliver an experience you actually want, before you even know you want it. In that way, technology should allow staff to be less focused on repetitive tasks and more focused on serving you better."
For the repetitive stuff, there'll be robots.
---
Part two of our speculation on the restaurant of 2030 can be found here. In it, we dive into automation and the evolution of human-centric, theatrical dining experiences.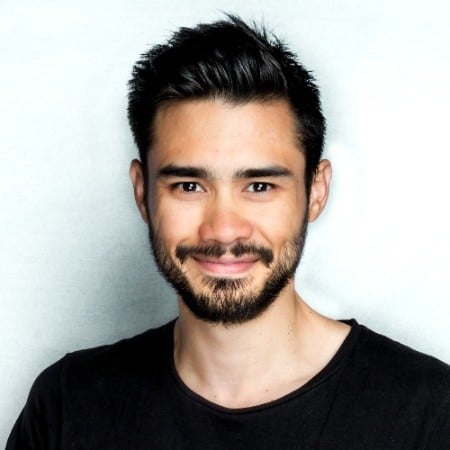 Posted by
Content + event producer with an innate, insatiable curiosity. Fixated on retail, restaurant, and hospitality design.
Chain Restaurants Reimagined.
The Retreat to Reimagine Restaurant Development, Design + Technology.
April 14-16 | Los Angeles, CA
Learn More